Tea tree oil comes from several Australia based plants. The name might confuse with the general black or green tea but it is not the same 'Tea tree'. Tea tree oil has a number of beauty benefits it's used in a wide range of beauty products. Dermatologists recommend tea tree oil for skin problems like acne, rashes, itchy skin, dry scalp, dandruff and this is also used to reduce excess hair in women.
Tea tree oil is harvested from the fresh Tea tree leaves. It can be stored in its purest form in a well-maintained temperature unit.
1. Dr. Bronner's Tea Tree Pure-Castile Liquid Soap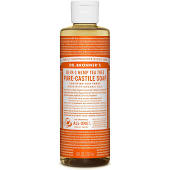 This magic soap has 18 best uses. Usages of this soap are; face, body, hair, teeth, bath, and shaving. Don't take a break! The list doesn't end here. It is also feasible to use this soap in household purposes like dishes, laundry, all-purpose cleaning (Including windows, toilet, dog washing).

Dr. Bronner suggests diluting 1/2 OZ or 2 squirts of this pure castile soap with 2 gallons of hot water. The creamy foam of Pure-Castile liquid Soap is good to use on baby, bath, beach, body, dentures, deodorant, shaving, aftershave, silk, wool, pets diapers, car, hand and foot soap.
One important thing to note is, this Soap is completely chemical free. This soap is made of Water, Saponified Organic Coconut, and Organic Olive Oils (with Retained Glycerin), Organic Hemp Oil, Organic Jojoba Oil, Organic Tea Tree Oil, Citric Acid, and Vitamin E.
2. The Body Shop Tea tree oil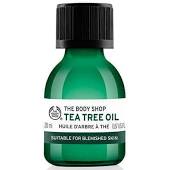 This comes in a green glass bottle with 0.33 OZ & 0.67 OZ. Helps skin which is prone to blemishes, blackheads & oily skin. As per The Body Shop, this product is clinically proven to give clearer skin from one week.

Though the price is more for this tiny bottle, a small drop of tea tree oil does a great job. It will not dry out a pimple on very next day. You need to apply 2-3 times in a day on the affected area.
Apply to the affected area/pimple with the help of cotton. This doesn't have a sexy smell so be sure not to breathe much!
Find more: Best tea tree oil products for skin care
3. Paul Mitchell Tea tree special shampoo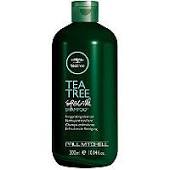 Paul Mitchell has come up with a great shampoo suitable for a dry & oily scalp, loss of hair, dandruff, itchy scalp and also it stops flakes. This shampoo contains natural tea tree oil with lavender scent. Small quantity generates enough foam to wash hair thoroughly.

It's a great deal since 10 OZ bottle comes for 2-3 months if you wash your hair once in a week. 33 OZ bottle stays almost a year!! Many people have given positive reviews and are stick to this shampoo for a long time.
This is more like a cleanser than a shampoo which leaves strands refreshingly clean and full of shine. If you have any of the above problems with your hair (dry & oily scalp, loss of hair, dandruff, itchy scalp) then it is definitely worth giving it a try.
4. The Body Shop Tea Tree Skin Clearing Mattifying Toner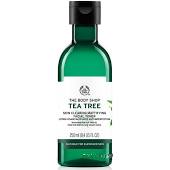 The body shop has a great product 'Tea Tree Skin Clearing Mattifying Toner' which removes residual makeup and impurities. This is a boon to people who does makeup almost every day. With shake-to-activate mattifying powders, this toner minimizes the appearance of pores and leaves skin feeling clean, toned, refreshed and visibly clearer.

For better results use it after a cleanser and then apply moisturizer to avoid dry skin. The scent is light hence it can be applied before going to bed.
There will be always residual even after cleansing hence it the best advice is to use this toner which helps to unclog the pores.
This toner has the Tea Tree oil ingredient hence there is no doubt the results are effective.
5. OGX Hydrating TeaTree Mint Conditioner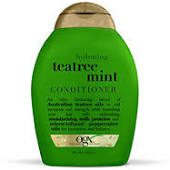 Tea tree oil is great for Acne and hair care. Hence a lot of skin & hair care products have infused tea tree as their main ingredient.
OGX Hydrating Tea tree Mint conditioner has great ingredients and features making it one of the best Tea tree oil product for hair care.

This conditioner nourishes & strengthens each hair shaft thus leaving it soft, smooth & shiny. The aroma of this shampoo gives fresh feeling every time you wash your hair and works best with Tea tree oil based shampoo.
This conditioner detangles hair, improves texture, adds shine, smooths, softens and is suitable for people with dry scalp.
6. Avalon Organics® Tea Tree Scalp Treatment Shampoo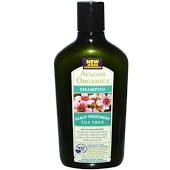 Another great hair product with Tea Tree oil as an ingredient.
Strong and healthy hair comes from simple, healing ingredients found in nature. Being suitable for all hair types, Avalon Organics shampoo helps in soothing irritation & leaves hair soft & healthy looking.

Coconut content moisturizes the hair thus enhancing the hair shine. Since this is plant based shampoo made with organic botanicals & essential oils is very gentle and effective.
11 OZ bottle is available for around $6 bucks. Avalon Organics shampoo helps to fight dandruff and itchy scalp.
7. 7th Heaven Tea Tree Peel-Off Mask
Tea tree oil, witch hazel and willow herb are the key ingredients of this mask. Peel Off masks are gentler and more effective than scrubs whilst leaving skin incredibly purified and smooth.
This mask successfully removes the dead skin cells after every use and nourishes new cells to grow. In result, your skin will look healthy and glowing.

Cleanse your face, apply this mask, relax until it dries out completely, peel off, rinse the face thoroughly. You will feel great and fresh after every usage. It will not take out the black & whiteheads all at once.
Repeated use is necessary to get better results. For people with severely clogged pores, this mask is way more beneficial.
8. California Baby Tea Tree & Lavender Shampoo & Bodywash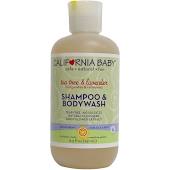 California Baby Tea Tree along with Lavender Shampoo & Bodywash comes with a non-irritating formula which means no tear for babies. This watery shampoo has a fresh lavender scent, Vitamin E, effective against dandruff, cradle cap, dermatitis, and lice.

Tea tree oil has anti-bacterial and healing properties, while French lavender is calming and soothes frazzled feelings and irritated skin and scalp. This shampoo leaves hair clean and shiny, won't strip your little's hair of natural oils.