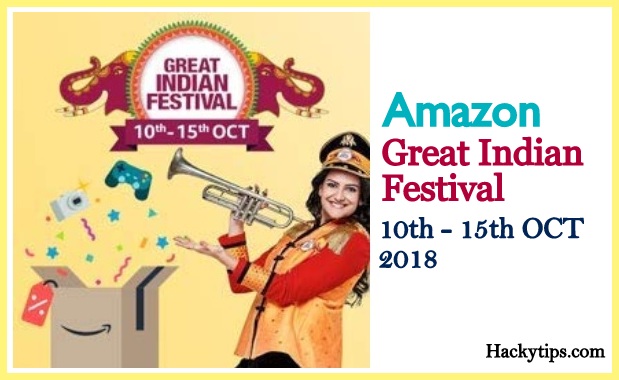 October is the month of happiness. For some people October is Fall month, for some October is a holiday month and for Indians, October is the month of festival.
Dasara, popularly known as Navaratri is celebrated for 9 days in almost all the states of India. Many people gather to worship Durga who is the main deity of this festival.
This year Amazon is making Navaratri festival more special with its 'Great Indian Festival'.
Great Indian festival is happening from October 10th to 15th on Amazon website & App. Amazon had launched hundreds of good deals as part of this festival.
Let's see the offers in detail.
1) Amazon Pay offer
Recently Amazon has come up with it's own wallet option called as 'Amazon Pay'. Instead of adding cards to payment method or filling card details while checking out, Amazon Pay can be used for instant check out. You can recharge anytime and use it for the faster checkouts.
In this Festival, Amazon is offering ₹300 back when you recharge Amazon Pay with ₹3000 or more.
What you need to do?
Recharge or Load ₹3000 to your Amazon Pay between 28th Sep to 8th Oct.
₹300 will be added within 3 days of recharge.
Offer can be applied only once and per customer.
If your payment fails for the first time, you can recharge again to avail the offer.
Thus you will get cash back along with the flexibility of easy shopping.
Why Amazon Pay?
When we can use our cards for the payment why do we need Amazon Pay?
Amazon Pay has extended its horizon now. Not only in amazon, but Amazon Pay can also be used in other merchant websites for payment.
Benefits of Amazon Pay are;
Instant Checkout
Fast refunds
Special offers from Amazon whenever you load money
Other Payment options like mobile & DTH recharge, movie tickets, bus tickets etc.
2) No Cost EMI
Many of us have big-budget-things in our to-buy list. Along with handling household expenses, middle-class families have to maintain many needs like rent, school/college fees, monthly bills etc.
Now, this is the time to buy your most wanted product for which you are waiting for years.
Amazon Great Indian Festival is offering No cost EMI on top brands Cameras, Fridge, TV, Washing machines, dishwasher etc.
Amazon is offering;
Buy now Pay later in easy installments
There is no additional charge or interest on EMI. You pay the exact amount of the price in Installments.
You can Pay EMI using all major banks credit/debit cards.
How to avail No cost EMI offer;
Not all the products on Amazon have No cost EMI option. First, check the products that belong to No cost EMI and then proceed.
This offer can be combined with exchange offers. Your exchange amount will be deducted from the total price and the remaining amount will be divided into EMI.
You cannot combine Amazon Pay balance with No cost EMI offer. Before proceeding deselect the Amazon Pay checkbox.
3) Exchange offers
As part of the Great Indian Festival, Amazon is bringing a great deal of exchange. It is time to throw your old things and buy new things in exchange.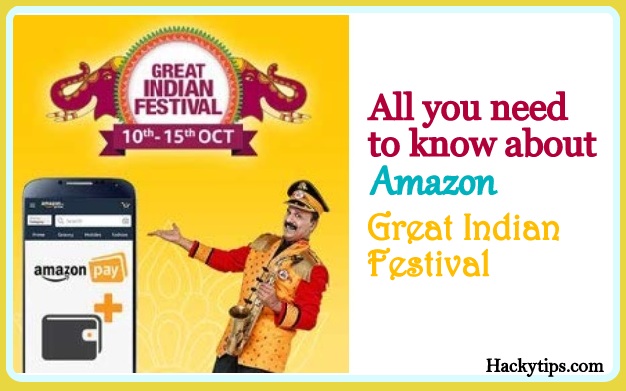 What you need to know about Amazon exchange offers;
Amazon offers the fixed price for each model irrespective of working condition of the devices.
Once you make the purchase with the exchange offer, Amazon agent will come to your house to collect old device.
Your old device should be in functioning mode. If it is not working or dead the offer will be rejected and you have to pay the extra amount or return the product.
Only one device can be exchanged at a time.
Exchange offer can be combined with No cost EMI offer.
You can Pay using Amazon Pay balance if there is no EMI offer on the product.
Don't try to cheat because everything will be thoroughly checked.
4) Amazon Pay EMI
Along with EMI option & exchange offers, this year Amazon is introducing new 'Amazon Pay EMI'. This is nothing but the e-credit card given by the Amazon.
Amazon is offering up to ₹60000 credit which can be paid later in 3 to 12 months installation. There will not be any hidden charges or processing fee on this credit.
All you need to do is verify your address & identity using Adhar & PAN card. Amount will be credited to account once after the successful verification.
Link your bank debit card to your account to pay EMIs automatically.
Things to know about Amazon Pay EMI;
Currently, it is available on the app only.
You should be 18+, have valid ID proof (Adhar) & PAN card.
To payback the EMI you should be having Account in one of these banks – HDFC, ICICI, CANARA, CITI, KOTAK MAHINDRA
Currently, Amazon is taking only above banks debit cards.
Amazon Pay EMI is applicable for single item purchases.
Available only for purchases above 8000.
This offer cannot be combined with Exchange offer.
5) 10% Instant discount
In every online sale, e-commerce websites like Amazon, Flipkart etc give gives an instant discount on some of the bank cards. For every transaction with SBI debit/credit card, 10% discount will be applied automatically.
This time Amazon is offering 10% instant discount on all SBI debit and credit cards. If you purchase any item in the Great Indian Festival using SBI card you will get 10% discount.
How to get a 10% instant discount;
For faster checkouts add card well before the sale.
SBI can be SBH, SBT, SBM, SBP etc.
Can be combined with the exchange offer.
No cost EMI + 10% discount + Exchange offer – This deal can save you a lot of money.
6) Deals by Partner Merchants
Amazon had got a partnership with other merchant sites for this Great Indian Festival. Swiggy, Yatra, book My show, & Urban clap has joined hands with Amazon to make this festival super exciting.
All customers will get up to ₹1650 back & Prime member will get up to ₹2300 back as part of this offer.
How to grab this deal;
Shop on Amazon App using any online payment method.
You will get an email & SMS within 48 hours.
Collect these unlocked deals.
Go to Merchant websites (Swiggy, Yatra, book My show, & Urban clap) and pay using Amazon Pay.
Within 5 days cashback will be credited.
Check out these websites for the amazing deals with Amazon Pay.
Few smart tips to shop wisely during the Great Indian festival;
Install app and login with your account.
Prime members will get early access to deals.
Make sure you are quick enough to add all the offers and check out before it gets out of stock.
Keep your device model name, IMEI number handy to check the exchange offer.
Add Payment card in advance to avoid the delay.
Confirm the address before the start of the sale to avoid wasting time on filling address column.
Before the start of the sale add your things to wishlist.
Turn on notification in your app for the wishlist to receive an instant notification whenever that product lists on deal.
Keep checking new deals on the Amazon homepage.
Participate in Amazon's social activities to win surprising gift hampers.