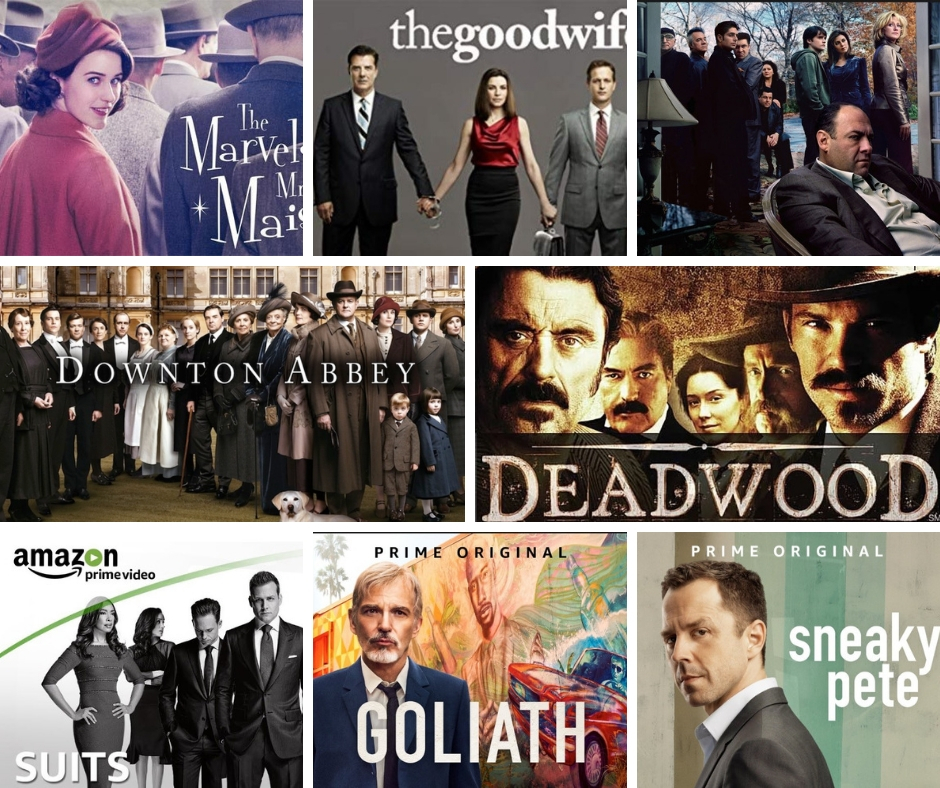 Amazon Prime has some of the best TV shows. Initially, when Amazon entered the streaming market there were very few good shows. But now Amazon is investing more on its originals making the list bigger.
Amazon and Netflix are giving neck to neck to fight to lead the market. While Netflix has a higher number of subscribers, Amazon Prime subscription has more advantages.
Netflix has more shows and movies compared to Amazon but Amazon is attracting people with more good shows day by day. Keeping the battle aside, Amazon & Netflix both are good.
You can take Amazon Prime membership to enjoy the benefits of fast delivery, Amazon music & Prime video.
1) The Marvelous Mrs.Maisel
This Golden Globe & Emmy award winner is one of the funny shows on Amazon Prime. The story is about a Housewife becoming a stand-up comedian.
Mrs.Maisel is one happily married woman who always takes care of her appearance, cooks well, mother of two, married the love of her life and hence is a typical Housewife.
This series was set in 1958. Mrs.Maisel was blamed for broken marriage even though it was not her fault. Her strength was compressed with the name of Housewife and her existence was always ignored.
Mrs.Maisel becomes a role model for all such Housewives and rocks the floor which was acquired by male chauvinists.
The show makes you laugh your heart out! Don't miss the laughter bomb.
"Why do women have to pretend to be something they are not?"

– Mrs. Maisel
2)  Suits
A well-known law firm in NewYork hires a lawyer who doesn't have a law degree! The main pillars of this firm are Jessica Pearson, Harvey Specter, Louis Litt & Donna.
Mike Ross who joins this firm becomes an integral part of it. His smartness & close bonding with Harvey makes him one of the big shot lawyer.
However, things start falling apart when people come to know the truth about Mike. The law cases, personal stories, legal battle makes it one of the interesting show.
Cast and plot of this series are so perfect that you will be glued to TV once you start watching. It is addictive! Every person in this series is smart and vibrant giving the feel of real smartness.
My favorite character from this series is Donna. Ideally, there is no person exist who is as perfect as Donna! She can do anything possible.
"It's going to happen because I am going to make it happen."

– Harvey Specter
3) Sneaky Pete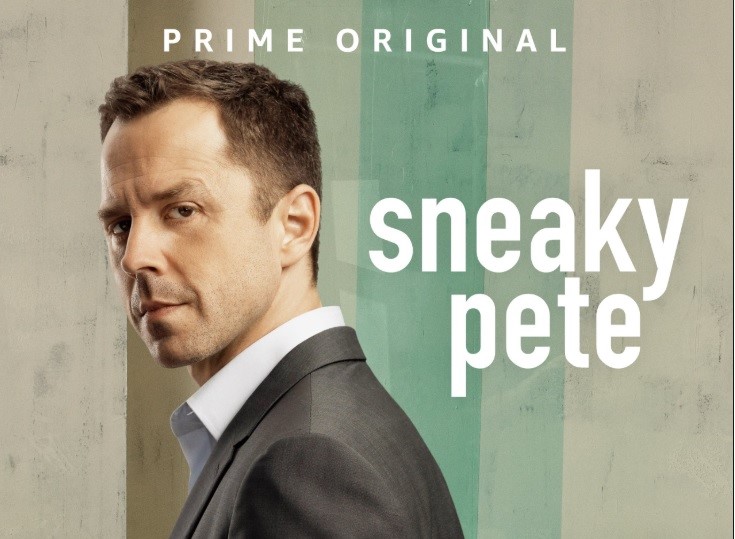 Do you like crime thrillers? Then watch sneaky Pete!
At least for the sake of Giovanni Ribisi, you should watch this show. He is just brilliant.
Sneaky Pete is the story of a man who adopts the name of his cellmate and joins his family. Since the family has not seen him from childhood they accept him as 'Pete'.
A series of events takes place as he struggles to maintain his secrecy. He tries to run away from his past but those gangsters find his new address and start troubling him.
There are countless twists without affecting the flow. Every scene, every episode keeps you connected without wasting a single second.
"When a liar gets caught in a lie, they don't come clean. They build a bigger lie."

– Pete ( Marius Josipovic)
4) Goliath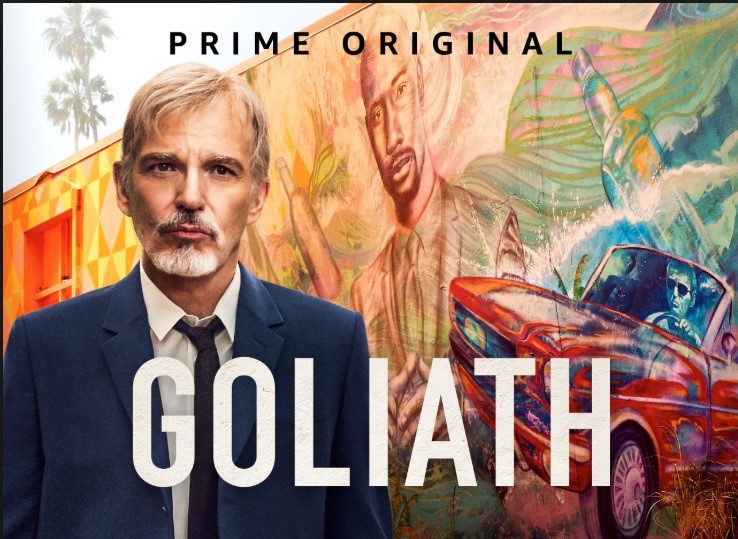 Amazon has the best legal drama shows. Goliath is one such story that revolves around the law, courts, law firm, lawyers, judgment, hearing, arguments, right and wrong.
Goliath is the law firm name built by Billy McBride & Donald Cooperman. Billy's own law firm expels him and this makes him alcoholic. Staying away from family, trying to keep his shit together Billy tries hard to bring back his life.
He gets a case where an employee committed suicide and the case has some dark secrets. Billy faces many consequences from the Cooperman and the Borns Tech company.
Billy Bob is the heart of this series. He has given his 200% to this role and is irreplaceable.
"The only thing that is not forgivable is MURDER. Anything else I'd say you can forgive people for"

– Billy McBride
5) Deadwood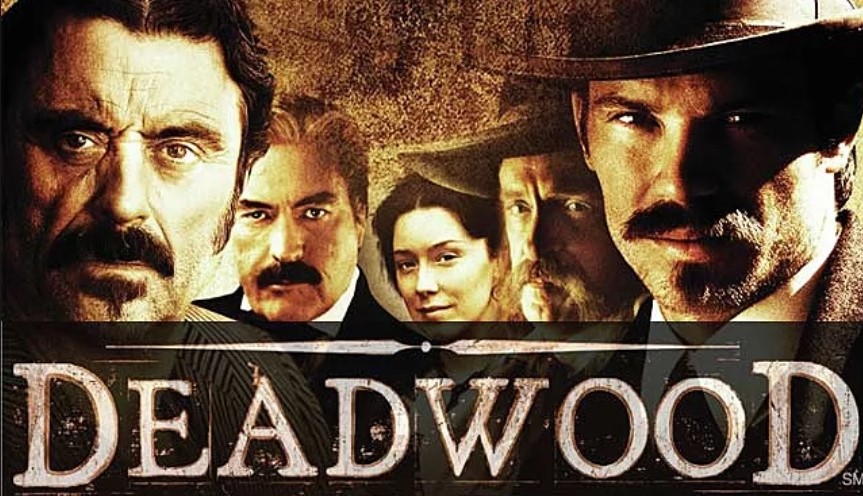 Gold was discovered in Southern Black Hills of South Dakota in 1874. This attracted miners who shifted to the Black Hills in search of fortune. The place was named as Deadwood because of the dead trees in that area.
South Dakota became a city of gangsters, robbers, illegal migrants and eventually one of the densely populated states of the US.
Deadwood is one of the HBO originals and is now available on Amazon Prime.  It shows the life of Deadwood who comes to this place in search of gold.
Deadwood casting is huge with numerous characters. This show is well known for its epic dialogues. The show highlights the life of people in Deadwood in the early 1870s.
"I'd rather try touching the moon than taking on a whore's thinking."

– Al Swearengen
6) The Good Wife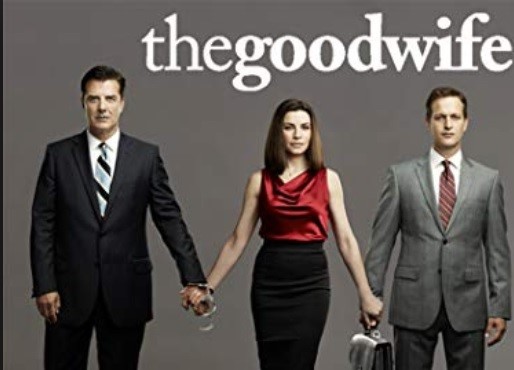 The Good Wife is a mixture of legal battles, family drama, relationships, and politics. It brings everything on your plate and keeps you glued throughout the episodes.
Alicia is a mother of two, happily married to a state senator. After 15 years of happily married life and living in Highland Park of Chicago, Alicia comes to know that her husband has been sleeping with prostitutes.
In front of the whole world, he resigns to his position and goes to prison for numerous reasons. Having a law degree Alicia joins her friend Will's law firm and becomes promising promising lawyer within a few months.
Then the drama unfolds and there is a total of 7 seasons with almost 20 episodes in each season. It runs smoothly hence you can watch it without giving much work to your brain.
The location of the show is Chicago illustrating the rules and regulations of Illinois state.
"When the door you have been knocking at finally swings open, you don't ask why. You run through."

– Diane Lockhart
7) Downtown Abbey
Downtown Abbey is the Soap Opera set in the early 20th century. It shows the life of British servants who worked for the rich estate people.
It was the time when equality was yet in the path of discovery. The owners were bossy and treated servants like slaves. Servants were supposed to household chores, cook food, clean house and everything that is ordered by their highness.
There are several subplots in the series which makes you keep watching season by season. Downtown Abbey is famous because of its thick British accent.
In those days, the concept of a male heir was very dominant in British families. If the people had no son then they used to adopt someone from their relatives. In Downtown Abbey, a similar story revolves around the conflict of relations and greed for wealth.
The show highlights the nature of the relationship between Masters & Servants. The entire show is richly produced taking care of costumes, furniture matching the 20th century.
In 2012, Downtown Abbey was the most nominated British TV series in the history of Emmy's.
"What is Week-End?" – Violet
8) The Sopranos
Story of a man who involved in Italian mafia.  Tony Soprano is the main ingredient of this show, without him it is meaningless.  The story unfolds between the conversations of tony and his therapist Dr.Jennifer.
He talks about his family, wife, kids, business, crimes and everything in front of his doctor. Tony comes in every episode, presents himself on the table and gives you all the possibilities to judge him.
He is a criminal, involved in illegal activities, doesn't respect women, powerful but he has another face of being a family man.
It contains all the elements of a gangster story but is different. The story, cast and direction of 'The Sopranos' is top-notch making it one of the best shows in the history of TV shows.
"Hey, I don't even let anyone wag their finger in my face."

-Tony
9) Fleabag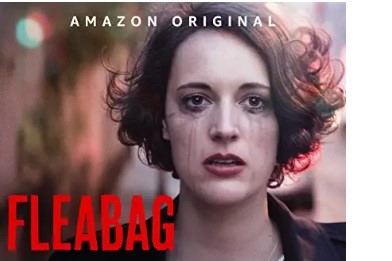 Fleabag is the one-woman show created and acted by Phoebe Waller-Bridge. Story and complexities of a young woman who struggles to find a track in her life.
The show has dark humor and is absolutely feast to watch Phoebe on screen. The second season of Fleabag received more positive responses compared to the first season.
Fleabag also won 6 Emmy Awards 2019 and 4 of them go to Phoebe! For best direction, acting, writing and for the best comedy series, Fleabag bagged the awards.
There is a family drama, relationship chaos, dilemma, sex and everything that happens in young women's life. The story is written perfectly to make the audience glued to the TV and binge-watch the series.
"Chic" means boring. Don't tell the french.

– Fleabag
10. The Man In The High Castle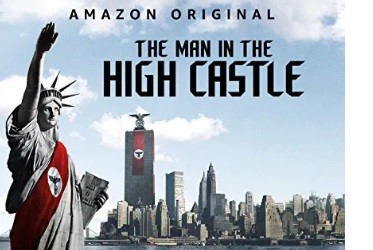 The Man In The High Castle is created based on a novel with the same name written by Philip K. Dick. The story has a deep plot with the concept of  World War II.
After the assassination of President Franklin D. Roosevelt, North America is divided between the United States and Japan. The eastern side is controlled by the Nazis and Midwestern is controlled by the Empire of Japan. The neutral zone separates these two where civilians can live peacefully.
However, a young woman finds movies that are created by a mysterious person in the castle. These movies contain secret messages which can destruct both Nazis and Japanese authorities.
Thus the story revolves around these movies and the person associated with it.
There comes a time when all men must bear the weight of their personality

– Inspector Kido