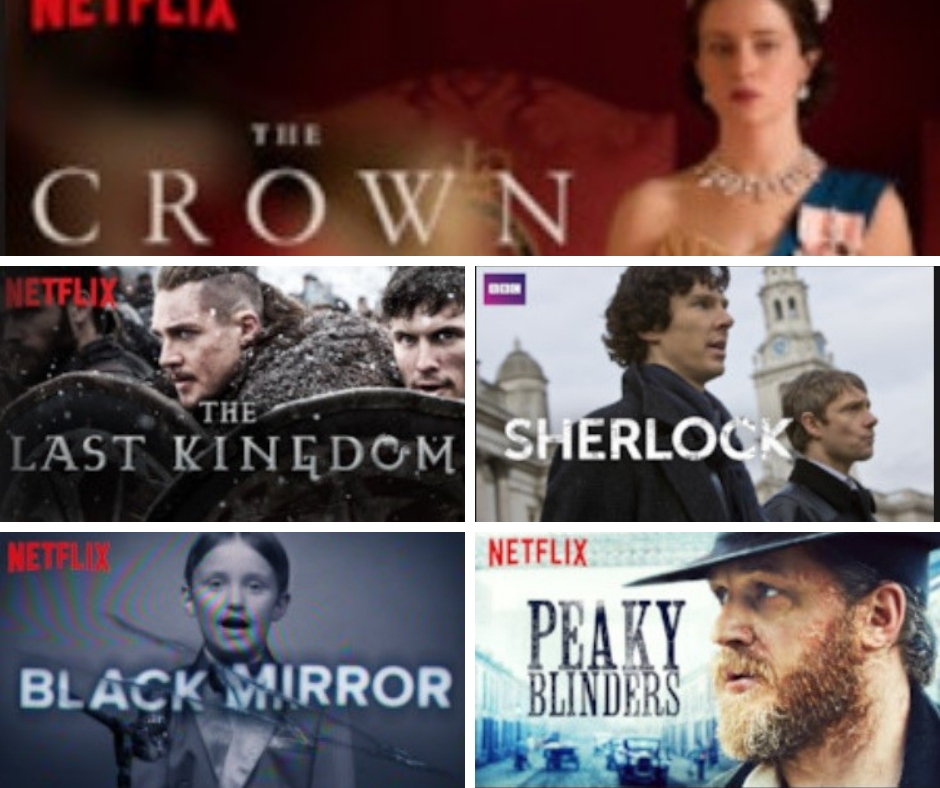 The reason I love to watch British shows is their accent and the level of acting they present on the screen. I'm not comparing American & British shows here. This post is completely different from that debate.
I generally watch all kind of shows so, in this post, I'm recommending British TV shows on Netflix.
Because of the easy availability of streaming companies like Netflix, Amazon Prime, Youtube, etc, every good show is becoming popular globally.
Game of Thrones has a huge range of global fans. Harry Potter books & the series has succeeded in gaining worldwide fans. James Bond is the Hero of many action lovers. Sherlock is the inspiration to people who love to solve mysteries and the list goes on.
Netflix has some of the great British shows. They are good at writing, cast, quality, performances, twists, suspense and everything that a great show needs.
Let's see those 5 British TV shows on Netflix which you shouldn't miss;
1)  The Crown
The Crown is directed by Peter Morgan, who worked on 'The Queen' & 'The Audience' before working on this series. This series is based on the life story of Queen of England 'Elizabeth II'.
The show starts with Elizabeth's wedding who marries Phil the Greek, Duke of Edinburgh. This Show covers almost everything that happened in the royal palace from that day till current time.
Elizabeth had to take over as the queen once after the death of her dad. She was young, innocent, had very little knowledge about politics, and less educated. She learns everything slowly and handles the situations smartly.
Winston Churchill was the Prime minister when Elizabeth became queen of England. Queen had to face certain issues like changing her surname once after the marriage. She was made to retain the 'House of Windsor' and her husband Philip was not happy with this decision.
In the meantime, Elizabeth's sister Princess Margret's relationship with Peter Townsend was being highlighted by the Press and senior politicians. Queen had the responsibility of convincing her sister but Margret was not happy with Queen's advice.
The crown is a real story…
Thus you can see all such incidents which happened in the royal family. The show depicts some bitter truths about Royal Monarchy and shows that they are also human like us. Sometimes Queen had to choose political interest over her family and it made her struggle. Also being a wife, mom, daughter, sister and the Queen is a lot more difficult than we can assume.
Claire Foy filled up the queen role and has done an excellent job. Queen Elizabeth herself appreciated Clarie.  Queen Elizabeth watched 'The Crown' and enjoyed most of it as said by the Quora user.
The entire cast of this show is best when it comes to acting and screen representation. Cast has been selected in such a way that they look almost similar to who they are representing.
Right now, there are two seasons available on Netflix and each season consists of 10 episodes each. Season 3 will be releasing soon and Olivia Colman is replacing Claire Foy as queen.
2.  Black Mirror
Each episode of the Black mirror is different. However, the concept and storytelling remain the same. Black Mirror is a science fiction showcasing the dark side of the technology, and the internet.
There are only 3 episodes in the first season. Each episode showcases what exactly happens if technology empowers human strength.
In S01E01, Prime mister was asked by a Kidnapper to have sex with Pig! That too he wanted it to be live on a National television so that the whole country can watch. In S01E02, a man was living in a closed space where he has to pedal Bikes in order to earn the food, bed and other amenities. He encourages a girl to take part in a reality show by paying 15 million but the judges give her the opportunity to be a porn star. In S01E03 a man destroys his marriage life because of the advance in technology.
I really felt that whatever they have shown is going to be true in the future. What if we can save our memories in a device and rewatch them whenever we need? What if we want to erase some of those memories? What if we want to see someone else's memories?
You can find answers to all these questions in 'Black Mirror'.
There are 4 seasons and the 5th one is about to release. Out of these 4 seasons, my favorite episode is Nosedive(S03E01).
Nosedive is the story of a woman who is living in a world where people rating is the most important factor. One should maintain a rating above 4 (Out of 5) in order to get better treatment from society. People check rating before making any business with them or be friends with them.
We are in the race of a number of likes, retweets or upvotes and can do anything to get the highest number. We share over and over again, deliberately ask friends to like it even though they don't like the content. Social Media has exploited us more than it should be and Nosedive shows one step ahead of its effects.
Each episode will remain in your head. You want to throw away your gadget, close all social media accounts after watching Black Mirror. One of the best British TV shows on Netflix.
3) The Last Kingdom
This is one of the Historical show depicting the 9th century AD England which was divided into many kingdoms. This series is based on Bernard Cornwell's series of novels. The location they have used for this series is very beautiful.
Danes kill Uhtred's brother, father, Saxon family and capture Uhtred & Brida (Saxon girl) as slaves. Uhtred's uncle and stepmother survive in his kingdom.
They grow up in Danish Northumbria with Earl Ragnar. Eventually, it becomes their adoptive home.
Ragnar has a daughter named 'Thyra'. Once Thyra grows up Ragnar fixes her marriage. However, Danes attack the night before the wedding and set the hall into the fire. People were burned alive (sleeping) and Thyra was taken by Danes as a slave. Uhtred & Brida were escaped from death.
Uhtred takes an oath to kill the enemies who killed Ragnar's family.  But he has to choose between his kingdom & adopted fatherland which is one of the turning point of the series.
People actually liked the 2nd season compared to first. There is a change in the story, improvement in production quality, twists and is more interesting to watch.
All 3 seasons are available on Netflix. A better way to understand the history of England and its kingdoms.
Related: Top 20 Shows on NETFLIX
4)  Peaky Blinders
Peaky Blinders is the name of a gangster family which formed at the end of First World War. They are a gang of men who became socially empowered because of their robbery, violence, gambling, and killings.
Peaky Blinders show a crime drama on Netflix is based on the very same gang. It takes place in Birmingham where the whole series of incidents take place.
Winston Churchill (role played by Andy Nyman & Richard McCabe) sends a detective from Belfast to Birmingham. Detective Major Chester Campbell job is to chase the Peaky Blinders in order to clean the city. Tommy, Arthur, Polly Gray are the Peaky blinders family and Tommy is the main character of the show.
After the first world war, Tommy gets the opportunity to extend his circle. Inspector Campbell chases him but that doesn't stop Tommy. Whether Campbell succeeds in catching Tommy and other gangster is the plot of the story.
Next seasons come up with an addition of a few extra characters. Peaky Blinders has maintained its charm in every episode.
Though Peaky Blinders has gangster feel, cast and the plot of the show is ultimate. Most part of the show is not true but it is based on a true story.
One of the great show which makes you curious and feels sad about the characters.
5) Sherlock
Based on Arthur Doyle's 'Sherlock Holmes' series, BBC along with other producers has produced Sherlock series. Now it is available on Netflix and there are 4 seasons available.
Sherlock Holmes is a London based detective known for his detective skills. John Watson, Ex Military officer is flatmate of Sherlock.
Initially Police doubt Sherlock's skills but later appreciates his intellect and agility.
The series contains various investigations. Suicides which were later found out as murders, Bank break-in investigations, weird activities at a military base and many other interesting investigations are carried out as part of this series.
There are only 3 episodes in each series and every episode is different. Many characters come in this series and everyone has done a great job when it comes to performance.
Not just the suspense and investigation, Sherlock is a mixture of fun, witty, humor and mysteries.
Here is me signing off today's #favoriteshow post.
Keep watching!