Recently I'm obsessed with curries and chutney. We Indians are fond of food and have seen a variety of vegetables in our town. Though everything is available here (in the Indian stores) sometimes it is not enough.
I easily get bored with repeated curries or food. Hence I keep trying something new. After trying Hagalakaayi Gojju, Watermelon Rind Chutney & some other Instant Pot Indian recipes I decided to try something out of vegetables that are especially available in the US.
For the first time, I tried Brussels sprouts curry and it turned out surprisingly delicious. Hence today I'm sharing the recipe of Brussels sprouts curry.
When I first saw the Brussels sprouts they looked like mini cabbages. This vegetable belongs to 'Cabbage' family and is edible to eat. Because of its popularity in Brussels, Belgium, these mini cabbages got the name Brussels sprouts.
After some research, I got to know about the rich health benefits of Brussels sprouts. However, I was not sure how to use them in my cooking because I'm not a fan of roasted Brussels sprouts.
Please note these are not the sprouts which we get by soaking grains. Brussels sprouts are one of the vegetable types and can be grown, cook and eat.
I have tried Pulao and curry with Brussels sprouts and both were delicious.
Before going to the recipe, let's see the health benefits of Brussels sprouts.
Health benefits of Brussels sprouts;
Rich in Vitamin C:  Brussels sprouts are rich in Vitamin C which is a strong antioxidant helping to reduce chronic diseases.

Rich in minerals and fibers:

Fibered food helps in digestion. The body uses minerals to perform many functions thus keeping it healthy.

Fewer calories, high nutrition:

Brussels sprouts are perfect for people who are looking for low carbs food.

Reduces constipation:

Fibers in Brussels sprouts helps to clear the motion thus reducing constipation problems.

Fights diseases:

Helps to fight heart diseases, cancer, and brain problems.
Now you know the benefits of Brussels sprouts, let's look into the recipe.
Ingredients:
Brussels Sprouts: 1 bunch (8-9)
Onion: 1 Medium size
Tomato: 2 small
Green Chilli: 2
Chilli powder: 1 tablespoon
Homemade spice powder: 1 tablespoon
Turmeric: 1/2 tablespoon
Cumin seeds: 1/2 tablespoon
Mustard seeds: 1/2 tablespoon
Olive oil: 1 tablespoon
Water: 300 ml
Brussels sprouts Curry recipe;
Wash the Brussel sprouts thoroughly and cut them into small pieces. Since they are little hard, be careful while chopping.
Chop onion, tomatoes & Green chilies and keep aside.
Heat a pan, add oil. Once the oil is hot add sesame & cumin seeds.
Once sesame seeds start spluttering add onion and saute until they turn golden brown. Add green chilies before adding tomatoes.
Then add tomatoes and saute for another minute.
Add turmeric, Red chili powder, Homemade spice powder & salt. Mix everything well and saute until dry masala smell evaporates.
Add enough amount of water. Since Brussels sprouts get thicken with the water, the more you add the more is good.
Add Brussels sprouts and mix well.
Cover with the lid and cook for 1-2 minutes.
Keep mixing in intervals so that Brussels sprouts cook well.
Once the curry is done you can see the softness in Brussels sprouts. You can also check with the fork. If the sprouts are still hard cook for another 2-3 minutes.
Once the curry is done it can be eaten with Roties & Chapathis.
Homemade spice powder recipe:

Fry 2 tablespoons of Split Bengal Gram (Chana Daal), 2 tablespoons of a split black gram (Urad daal) and 2-3 dry red chillies until all the grams turn golden brown.
Turn off the stove and let the mixture cool down completely.
Grind this mixture to a very smooth powder.
This spice powder can be used as an ingredient for any curries, sambar and chutney. It can be stored for a longer time.
Step by step procedure of Brussels Sprouts Curry (Indian style):
1. Wash the brussels sprouts using tap water.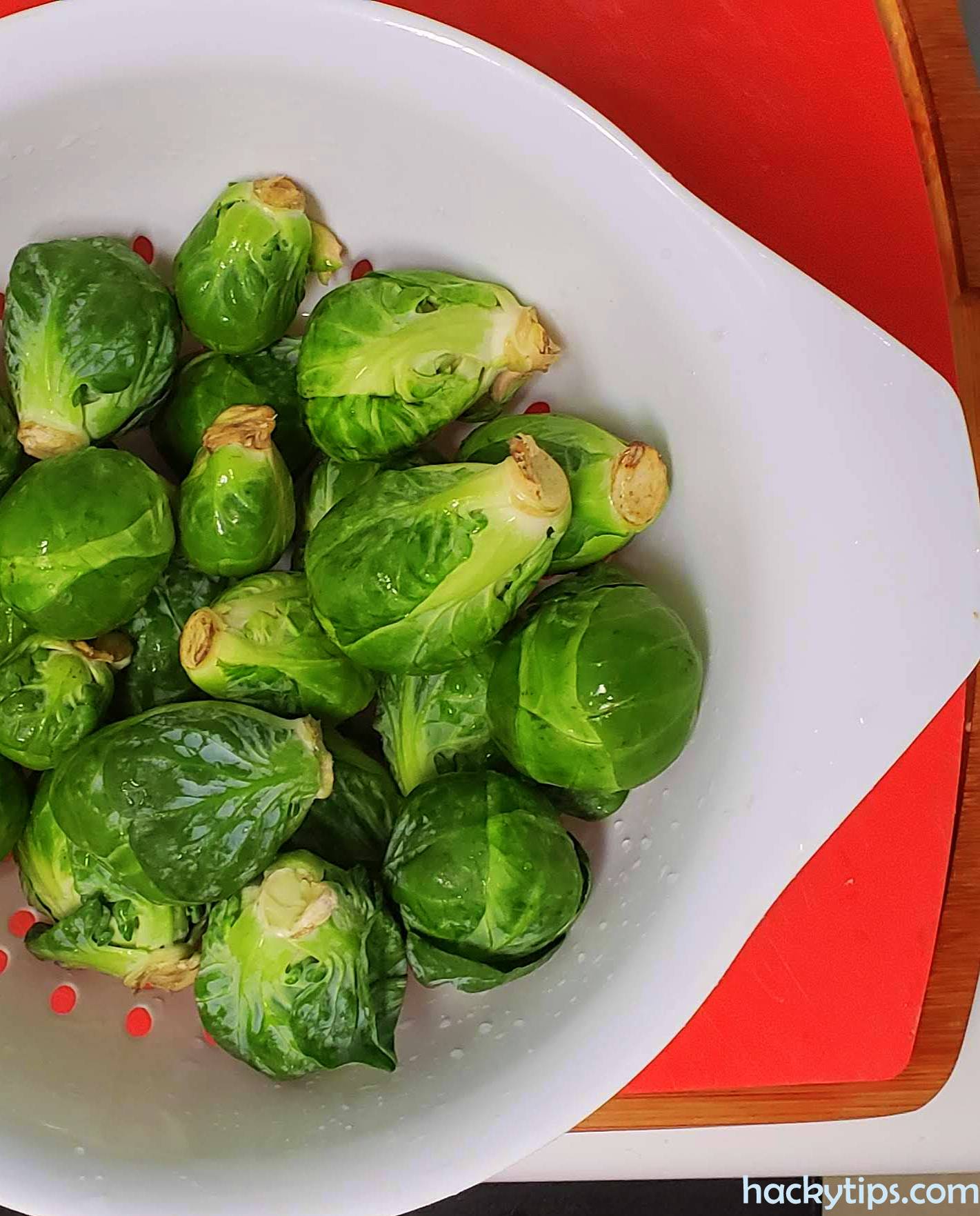 2. Remove the head and chop Brussels sprouts into small pieces.
3. Cut onion, tomato & green chillies as shown in the picture and keep aside.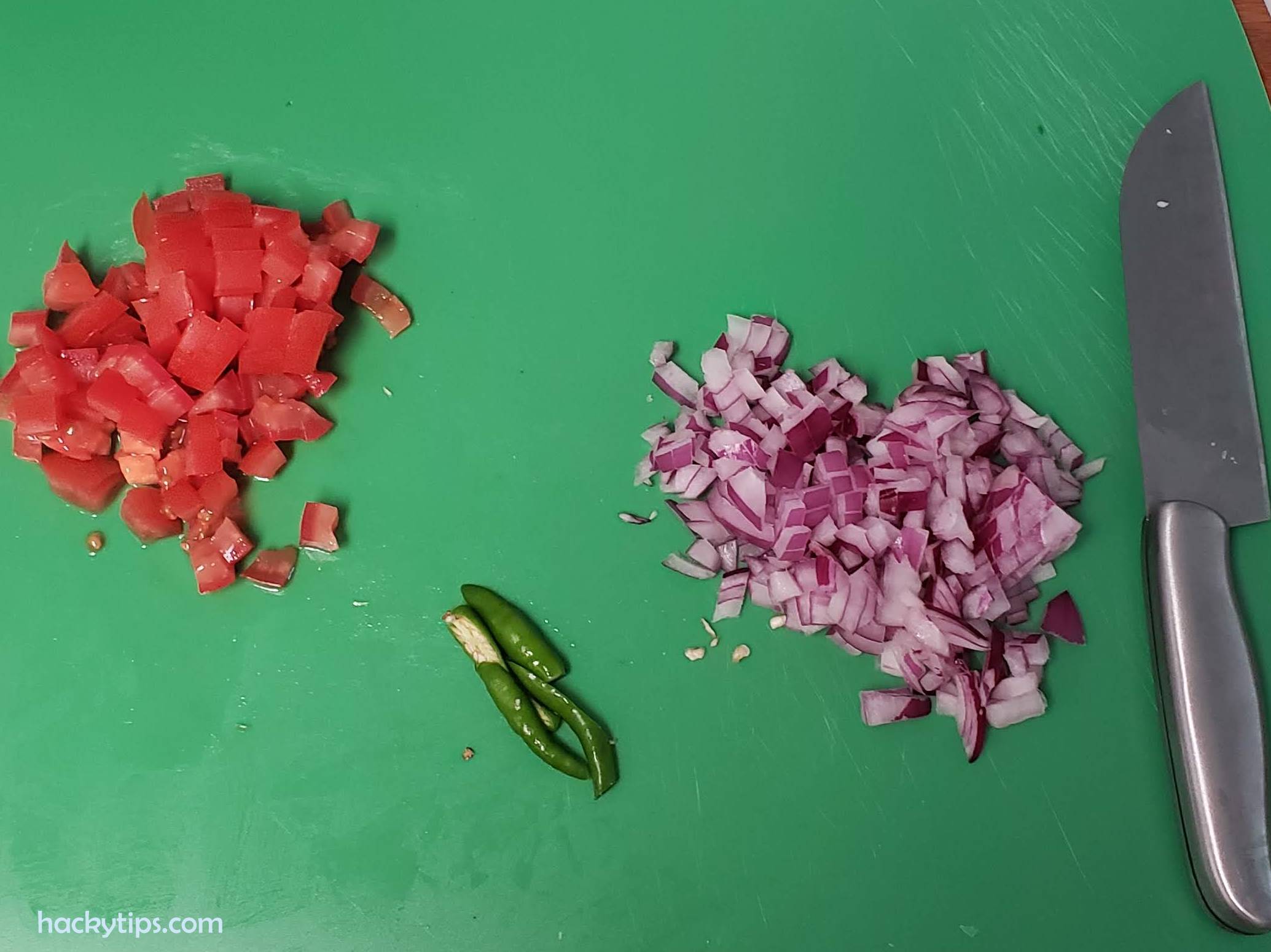 4. Heat a pan, add oil. Once the oil is hot add Sesame & cumin seeds. Wait until Sesame seeds splutter.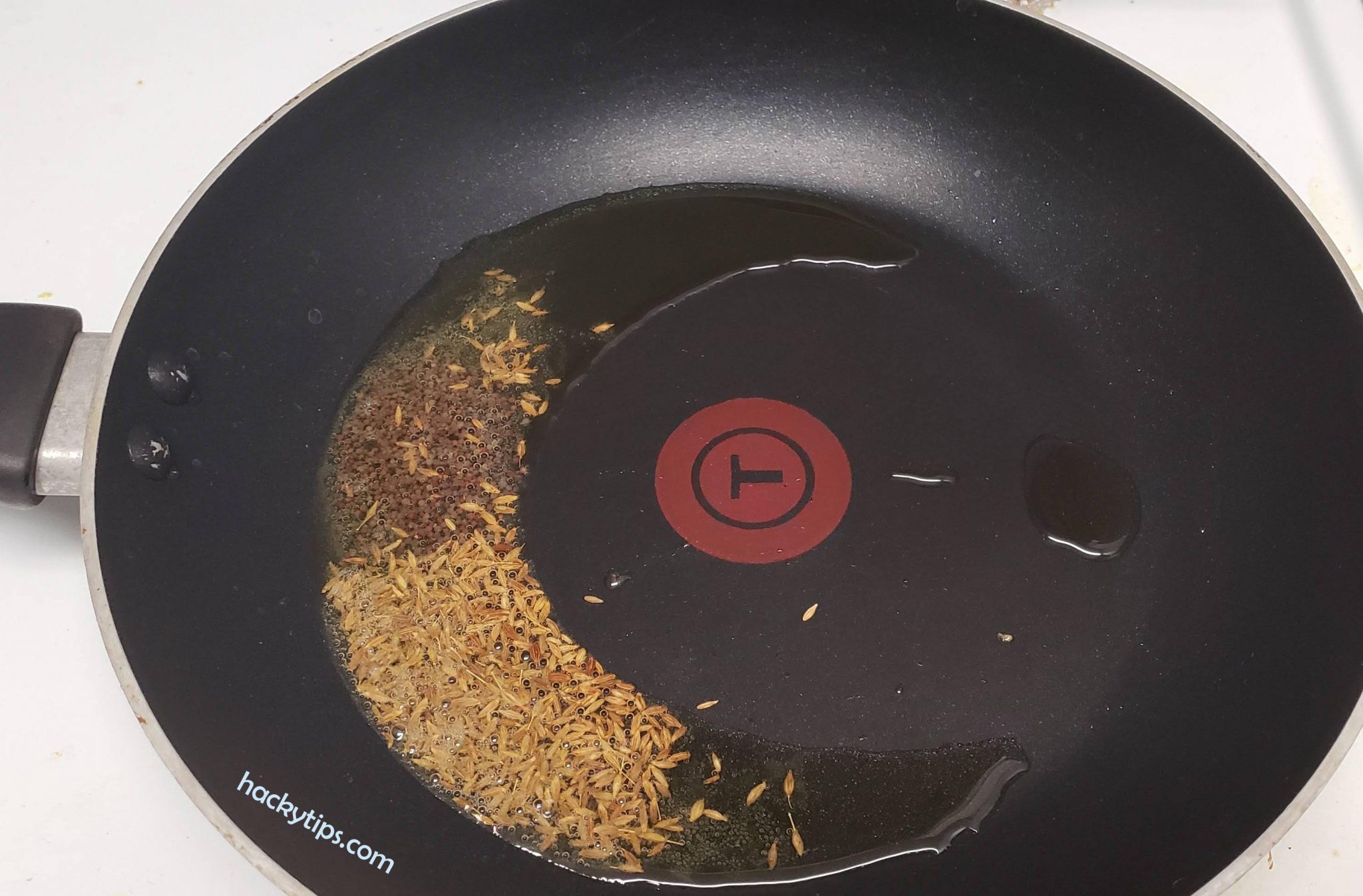 5. Add onion and saute until they turn golden brown. Then add green chillies and tomatoes. Saute until tomatoes turn soft.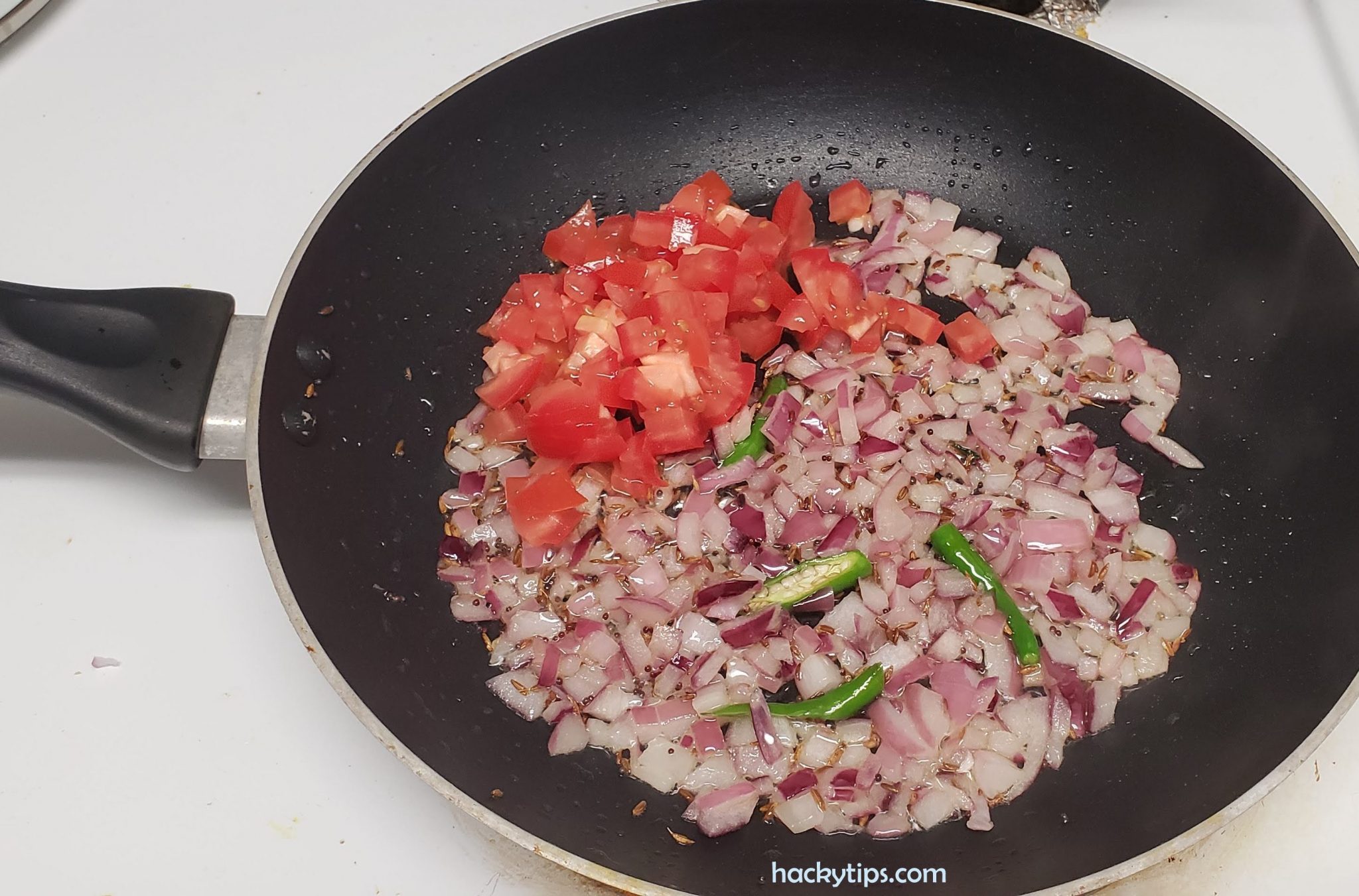 6. Add all the spices as shown in the picture. Mix well.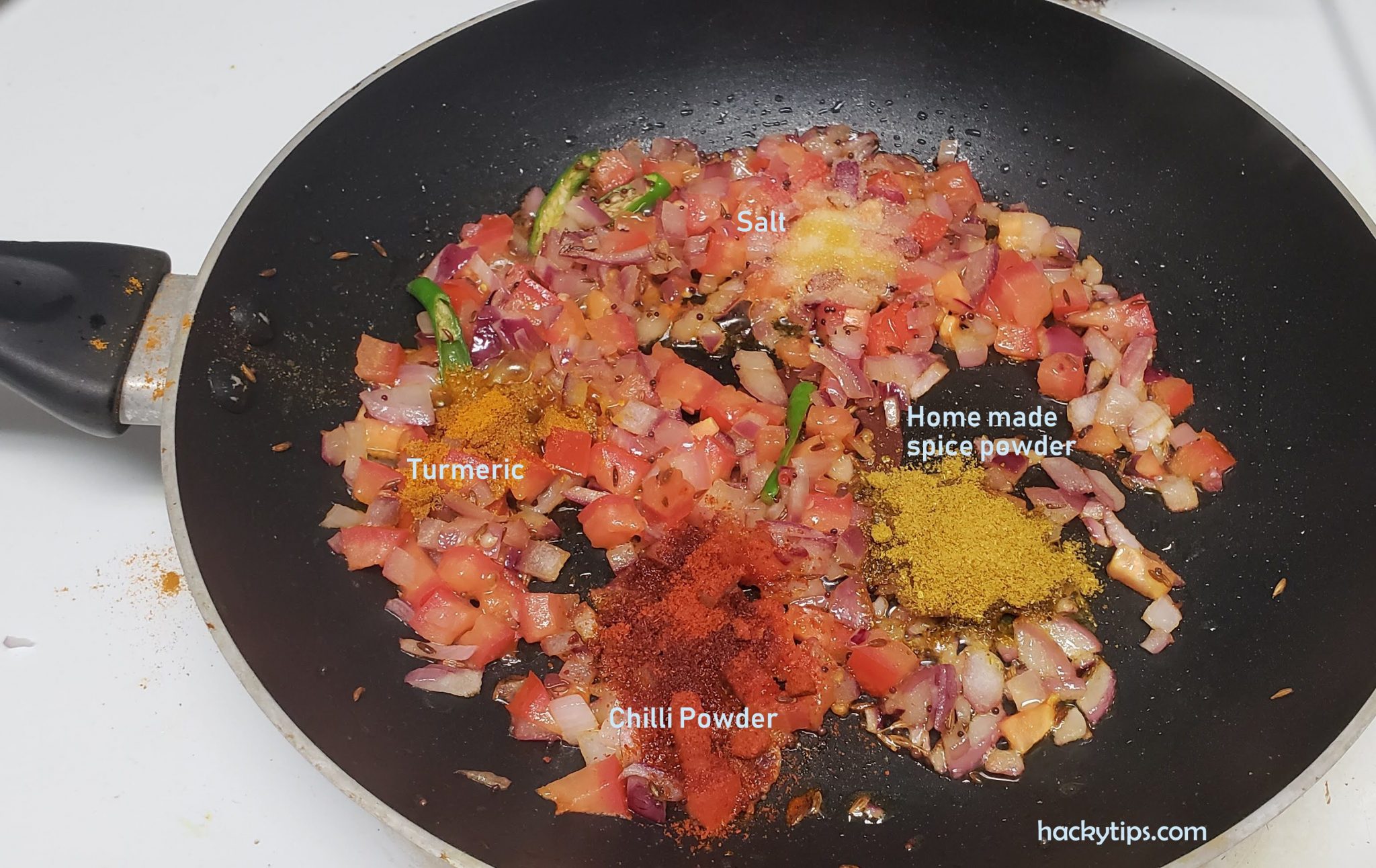 7. Wait until all the spices are mixed well and the dry spice smell evaporates.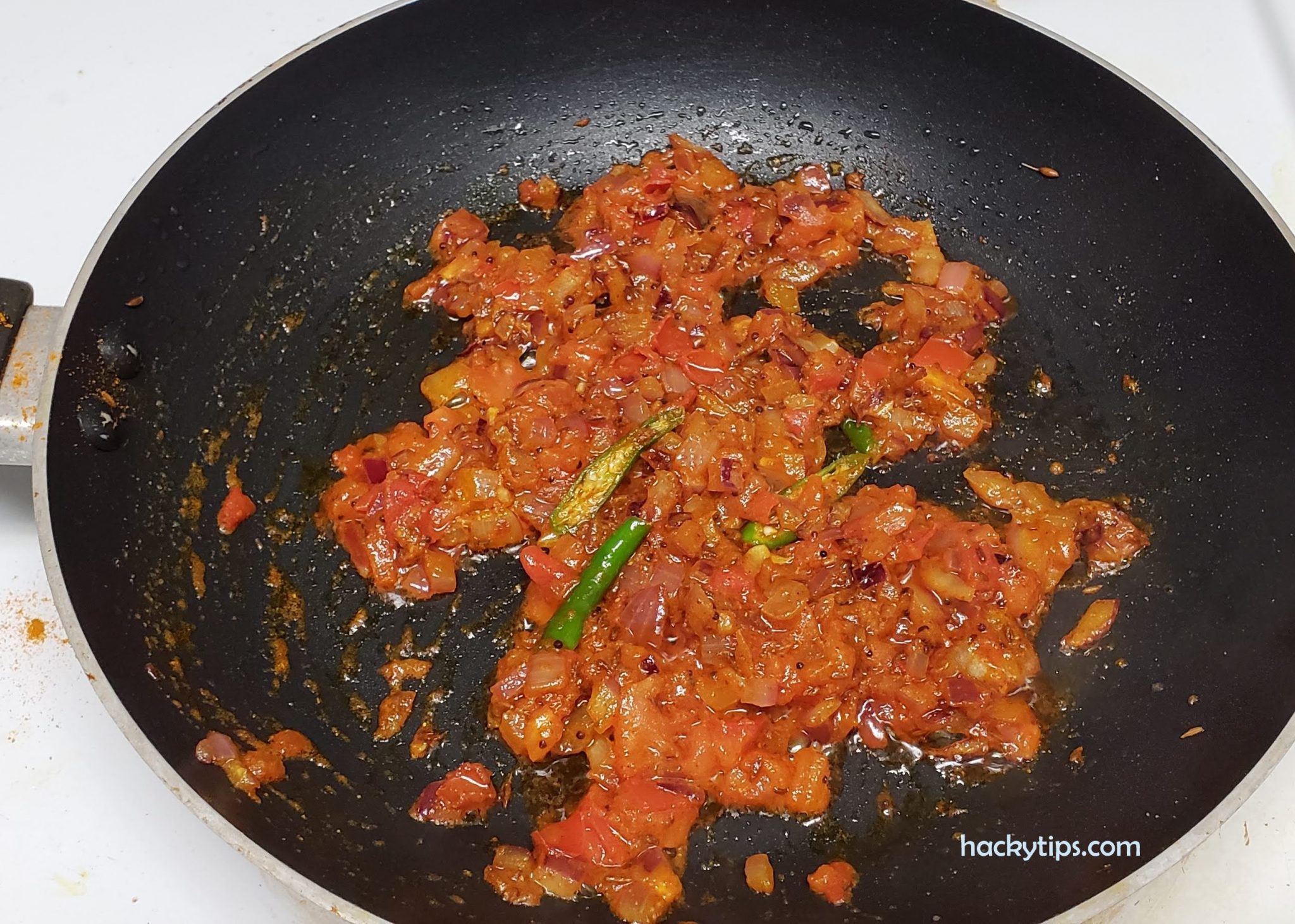 8. Add water to this mixture and let it boil.
9. Now add chopped Brussels sprouts into the pan and mix well. Close the lid to cook for 1-2 minutes on medium heat.
10. Periodically keep mixing to make sure all the brussels sprouts are cooked well. Brussels sprouts curry is ready when the sprouts are cooked soft.
Tip: Once you turn off the stove add little Lemon juice to make the Brussels sprouts curry to make it bit of tangy
Have you ever tried any recipes from Brussels sprouts? Let me know. If you have never tried Brussels sprouts try this recipe and leave your opinion in the comment section.