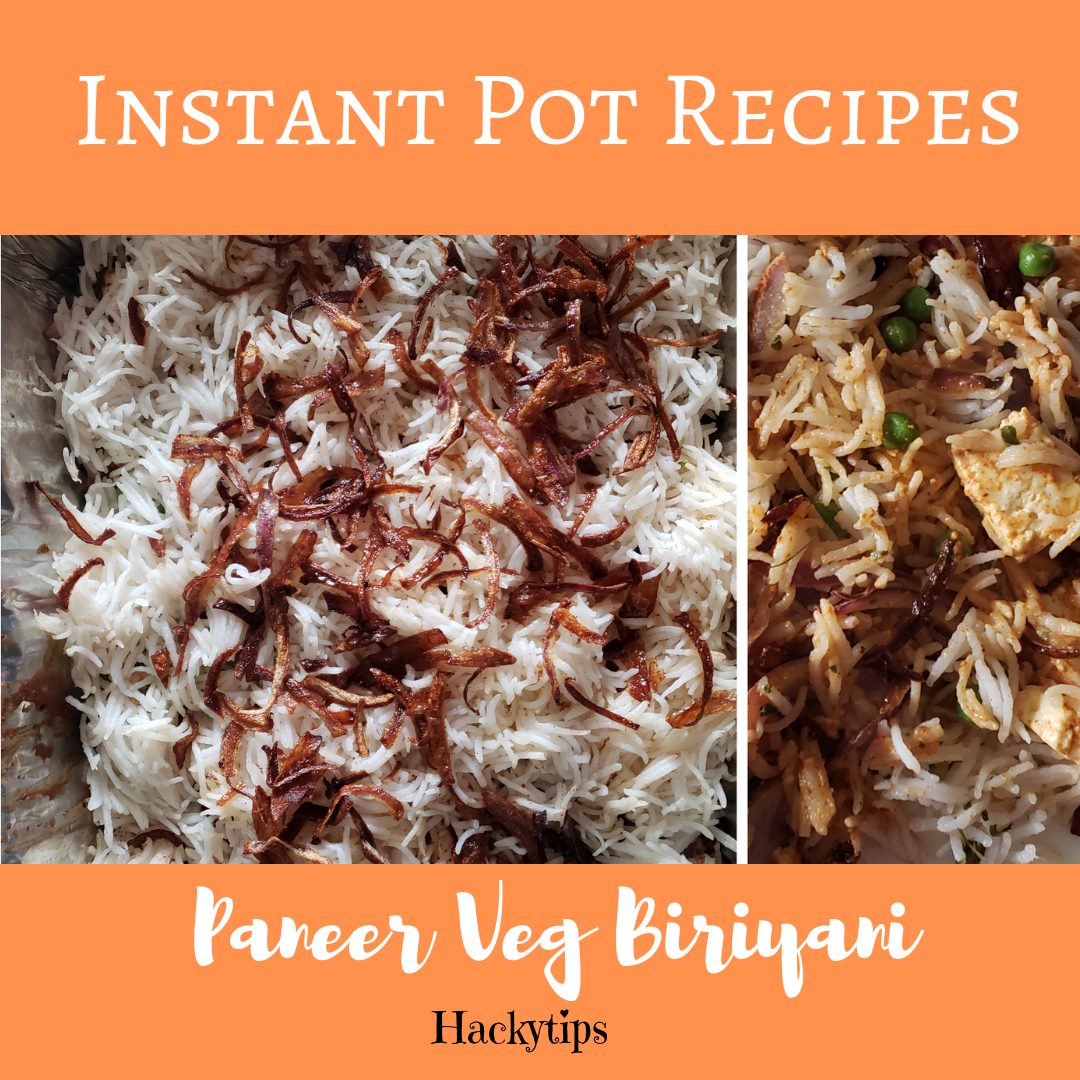 There is a long term debate about calling Veg Biriyani as 'Biriyani'. Non-vegetarians laugh at the term Veg BIRIYANI and gives free suggestion to call it as Pulao!
Well, being vegetarians we know many rice recipes. There is a lot of difference in the preparation of Pulao and Biriyani. Based on the method of cooking we call it Biriyani, that's it!
After purchasing Instant Pot I tried many Indian recipes such as Stuffed Brinjal/Eggplant curry Recipe, Capsicum Rice Recipe and other variety of dishes. Based on my experience I can conclude that cooking in instant pot is quick, easy and convenient.
I'm fond of Biriyani Rice, especially the masala used in the preparation of Biriyani. That's why I keep trying different kinds of Biriyani and here I'm going to share Veg Paneer Biriyani Recipe.
I just prepared the rice in Instant pot and then baked it along with the Masala.
There are many ways to prepare Biriyani but the true flavor of Biriyani emerges only in authentic style. This style is usually called 'Dum Biriyani' where the rice is cooked in a sealed pot for a considerable amount of time.
Thus vegetables(meat) and the rice are covered by the masala with nice aromatic taste. Hence the taste is much better compared to other ways of cooking Biriyani.
Ingredients:
Basmati Rice: 2 Cups
Cloves: 2-3
Cinnamon leaf: 2-3
Black Pepper: 2-3
Oil to fry Onions
Onions: 3 (Medium Size)
Peas: 1 Cup
For Marination
Paneer: 10-12 cubes
Curd: 2 cups
Biriyani Masala: 2 tablespoon
Salt: 2 tablespoon
Preparation Time: 35 mins (Excluding Marination Time)
Veg Paneer Biriyani Recipe;
Let's marinate the paneer one hour before the preparation of Biriyani. You can skip this and instantly mix the paneer and cook along with Biriyani. But marination adds extra flavors of masala to Paneer.
Cut Paneer into small cubes, add curd, Chilli powder, Biriyani Masala, Turmeric and onions (optional). Mix well.
Keep this in the fridge for one hour.
Keep the oil on medium heat to fry onions.
While the oil is getting hot, take Basmati rice in a bowl and wash until the water runs clear. Add cloves, Cinnamon leaves, pepper, salt to this rice and keep it in instant pot. Basmati rice takes less water compared to other types of rice hence add water accordingly. I recommend adding 1 cup water for 1 cup of rice.
Rice for Biriyani should be half cooked hence set the instant pot on Pressure cook for 1 minute.
Now cut long slices of onions. Once after frying Onions shrink in size. Hence more onions add more taste to Biriyani.
By this time oil should be hot enough to fry onions. Add cut onion slices into the oil and fry well. Onions will take longer time to fry hence keep turning them in intervals. Once they turn brown take them out and spread on a tissue paper.
Sprinkle salt & garam masala to these fried onions and mix well. In this post, they suggest sprinkling corn flour on onions before frying in oil. This way onions will turn more crispy once after frying them well.
Now the instant pot cooker pressure must have been released (if not release it manually).
Take the Baking tray and evenly spread the rice in a single layer.
Top it with the marinated Paneer mixture. Layer peas and onion.
Add rice layer on top of the paneer mixture and repeat this until all the rice, peas, fried onions & Paneer mixture is spread evenly in layers.
Cover it with silver foil and cook further in the oven for 10-15 minutes with 450°F.
This cooks paneer, peas and the masala will be absorbed by the rice.
Step by step Instant Pot Veg Paneer Biriyani recipe;
Cut Onions in long slices and fry them in heated oil until they turn golden brown. Once the onion is fried well take them out and sprinkle salt & Garam Masala.
In instant pot, add washed rice, required amount of water, cloves, cinnamon leaf, and pepper. Pressure cook for one minute.
Marinate Paneer with Curd, Biriyani Masala, Chilli Powder, Salt & Masala Powder. Mix well and keep in the fridge for one hour.
Once the rice is cooked spread it evenly on a baking tray. Layer paneer mixture, fried onions & peas.
Cover with silver foil and keep it in the oven for 10-15 minutes. (Preheat oven for 450°F).
Keep some fried onions to add on top of the rice.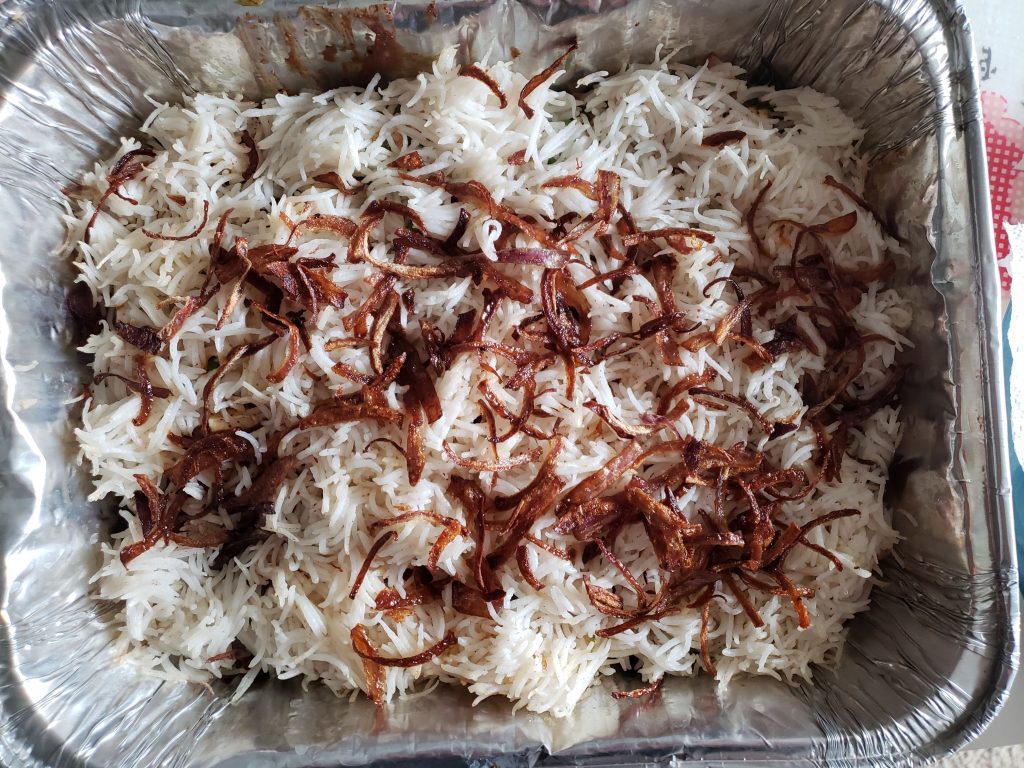 Serve this Paneer Biriyani along with Raita or Curry.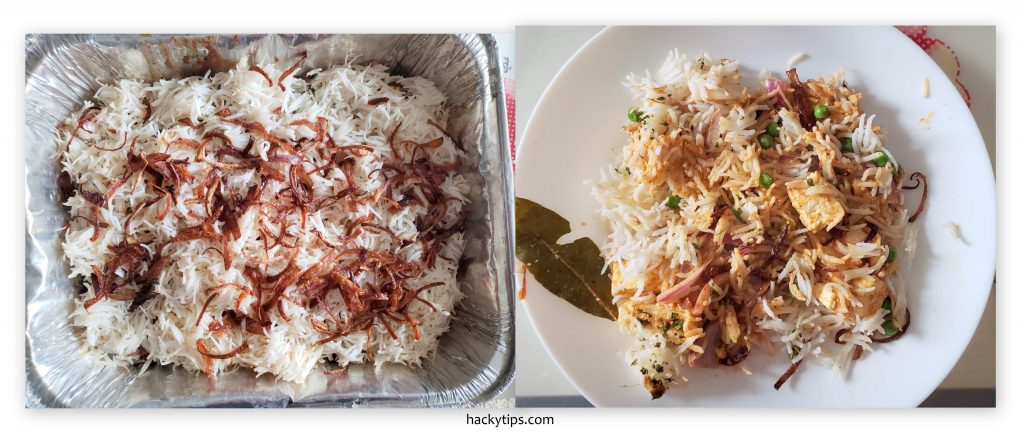 – Pin it –
"#BharatKaZaika is a blogging event conducted by #BlogBoosterIndia. Hosted by Aditi, Mahesh, Pragun, Preeti, Saba, Sanjota, Sudip, Suhasini, Supriya and sponsored by Habhit Wellness Private Ltd."