Jackfruit is originally from south India. This fruit comes with hard skin and has a unique way of cutting it. Fruits and seeds will be layered inside and need skillful hands to cut the fruit tactfully.
Inside it will be sticky hence apply oil to your hands before cutting the fruit. Otherwise, the sticky part will be difficult to wash away.
Jackfruit is the best thing that happened to vegetarians. The sweetness of this fruit makes everyone to drool over it. And what about that nice aroma? even after 2 days we can smell the flavor of Jackfruit in house.
Health benefits of Jack fruit;
Raw Jackfruit helps to balance the blood sugar levels hence is very good for diabetic patients.
Good for skin and eyes.
Strengthens the immune system.
Jackfruit is a rich source of fiber. Helps with digestion and blood circulation.
Good for Asthma patients.
One of the protein-rich fruit.
Not only the fruits but every part of Jackfruit can be used in different ways. If you have ever been to Kerala then you must have come across Jackfruit chips. These chips are made using the raw Jackfruit.
The yellow petal-like part surrounding the fruit can be eaten like chips by frying them in oil. These sweet, crispy chips will leave you wanting more.
Seeds can be used in many ways. Boiled seeds with a little salt or Roasted seeds are edible to eat. Some people make curry, Dal, Bhaji, Sambar and many other recipes using Jackfruit seeds.
Health Benefits of Jackfruit Seeds;
Iron content helps to prevent anemia.
Vitamin A in Jackfruit seeds improves eyesight.
Vitamin A is also good for healthy hair.
Proteins in seeds help to build muscles.
Today in this post I'm going to share Jackfruit seeds sambar recipe. Nice blend of boiled Jackfruit seeds and cooking it along with masala powders gives a delightful taste.
Here is the Jackfruit seeds sambar recipe;
Ingredients:
Jackfruit Seeds – 10 – 15
Chilli Powder – 1 tablespoon
Sambar Powder – 2 tablespoon
Tamarind – half lemon sized
Mustard seeds – 1/2 tablespoon
Cumin seeds- 1/2 tablespoon
Turmeric – 1/2 tablespoon
Salt – As per the taste
Garlic – 2-3 cloves
Dry Red Chilli – 1
Curry leaves – 8-10
Grated Coconut – 2 tablespoon
Steps to prepare Jackfruit Seeds Sambar;
Soak Tamarind in medium hot water. This makes it leave juice until we prepare the rest of the stuff.
Keep Jackfruit seeds in pressure cook and whistle 5-6 times. They take more time to cook completely hence make sure they are well cooked. If you are using Instant Pot then set it on Pressure cook for 5 minutes.
Once the pressure is released take the boiled seeds out and drain the water. The hard skin of the seeds will come out automatically if they are cooked perfectly.
Remove the hard skin from all the seeds.
Bled these seeds along with garlic, Dry red chili, and salt. Don't add too much water while grinding. Add a little amount of water in intervals to finely blend the seeds.
Take a vessel with depth to prepare sambar, add oil and keep it on medium heat.
Once the oil is hot, add mustard seeds, cumin, curry leaves, turmeric, and dry red chilies.
After 2-3 minutes, add the blended mixture and stir well.
Now you can add water according to your preference. If you like the sambar in thin consistency then add more water.
Add Chilli powder, sambar powder, Salt, turmeric juice and let it boil.
Adding jaggery is optional.
Check the taste and add more chili powder or salt if required.
Keep it on medium heat for 8- 10 minutes.
Once the Sambar starts boiling add grated Coconut. This is also optional.
This sambar tastes heavenly along with hot rice. Nice topping of ghee can double the taste.
– Pin it –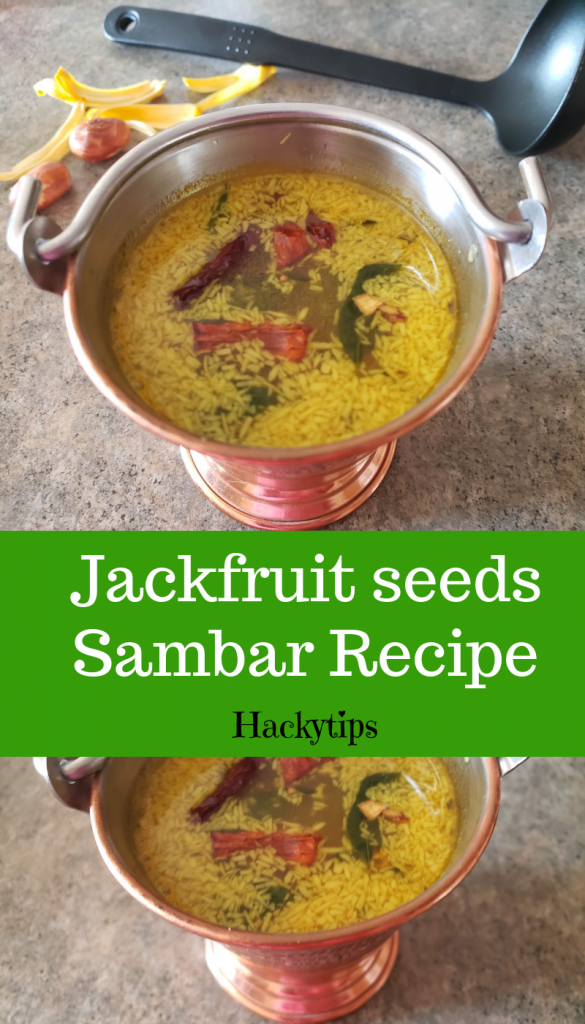 "#BharatKaZaika is a blogging event conducted by #BlogBoosterIndia. Hosted by Aditi, Mahesh, Pragun, Preeti, Saba, Sanjota, Sudip, Suhasini, Supriya and sponsored by Habhit Wellness Private Ltd."