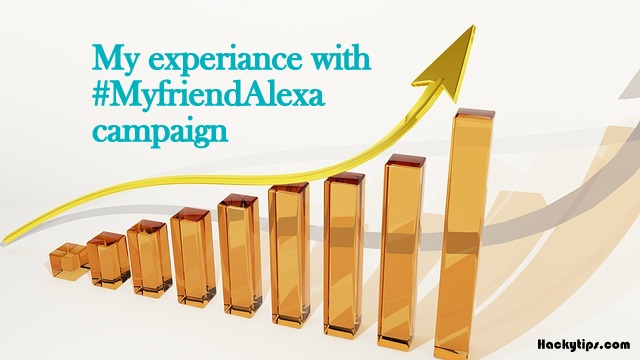 One year back I decided to start this blog with very little knowledge about blogging. All I had was my ability to write good content, hard work and most importantly my determination.
According to me starting a blog is not difficult. Anybody can buy a domain, install website and set it up. That is the reason there are thousands of blogs getting created every single day.
However, the difficult part lies in maintaining a blog.
Keeping up the same determination for years, posting regularly, enthusiasm can make one's blog successful.
Like many, I too started a blog, chose a beautiful theme and started writing. I hardly knew about blogging communities, social media presence for a blog, promotion etc.
Blogging terms SEO, MOZ rank, Snippet, CTR, SERP analysis were sounded more like a Harvard terminology. I thought it will take me decades to understand everything about these terms.
Slowly picture started getting clear. As I read more and more other blogs I got to know enough to improve the visibility of my blog.
I learned Settings and installation of Yoast SEO plugin by reading many technical blogs and videos. Google Analytics helped me a lot to understand about website traffic.
Thus it was fruitful journey altogether.
However, I was not part of any joining communities. I took some time to realize that finding fellow bloggers is as important as finding the right audience in blogging.
After joining Blogchatter I came to know about the #MyfriendAlexa campaign which was scheduled to happen in September. Without having much idea I registered to it through their website.
All I knew was I have to publish 2 posts per week thus a total of 8 new blog posts in the month of September.
After the completion of the campaign, I'm here to write about my experience.
What is #MyfriendAlexa Campaign?
As already mentioned, #Myfriendalexa is the campaign run by Blogchatter, a blogging community where hundreds of bloggers post their content every day. Registration to this community is completely free.
After the success of previous 2 seasons, 3rd campaign was scheduled in September 2018. Online registration opened 2 months prior to the campaign and surprisingly this year 200+ blogs registered for it. Yes! That shows the popularity of this campaign.
Rules are completely set by Blogchatter team and everything will be communicated well in advance.
This year #Myfriendalexa campaign rules;
Compulsory submission of 2 blog posts per week and a total of 8 blog posts at the end of the month.
Along with writing, there will be a number of blogs to read every day.
BlogChatter sends a reading list every day which has to be finished on daily basis.
Reading list is a preplanned list by Blogchatter. Your blog can come any day on the list.
You should compulsorily read the blog, comment and share it on social media.
Prior to the campaign, you need to submit your reading & writing hashtags. For example my reading hashtag this year was #sanjreads and writing hashtag was #hackytips. Every time you write a post share it on twitter with writing hashtag. Whenever you read others blog share it on twitter with your reading hashtag. You can choose anything depending on your name and blog name.
How to prepare for #MyfriendAlexa campaign?
It seems difficult to post 2 blog posts per week especially when you are not blogging regularly or running out of ideas to write a blog post. Hence planning well before the #myfriendalexa campaign helps you to manage with daily reading and gives enough time to be a part of Twitter chats happening alongside by Blogchatter.
1st week;
Since Hackytips is a lifestyle blog, I decided to write one post on each topic that my blog covers. The very first week I choose topic Gadgets where I wrote 2 topics about Google Home assistant.
Along with Gadgets, my intention was to cover another part hence I wrote the recipe post of Bitter Gourd Curry which covered cooking. Thus I successfully completed the 1st week.
2nd week;
Travel Essentials post was the 3rd post covering travel. 4th one 20 must watch shows on Netflix took a long time because I was consolidating about 20 Netflix shows!! I could have chosen an easy topic and finish 3rd week but again this post was in Draft from longtime and I wanted to finish it at least now.
Glad my blog was listed after I wrote what to watch in Netflix which received a tremendous response by other bloggers. Yes, the day your blog is on the reading list it will be like a BOOOOM!!
3rd week;
Then comes the Technical part. I still remember the initial days when I spent most of my time in understanding everything about plugins, website ranking, DA, PA etc. Hence 3rd-week topic for #myfriendalexa was Technical covering Blogging side How to install Yoast SEO plugin & All you need to know about Alexa ranking.
4th week;
During the last week of #myfriendalexa, I registered for another Story writing challenge which became an unplanned 7th post. 8th and final post of this campaign was on Beauty/skincare which is 5 Amazing fruit packs for clear and glowing skin – Beauty care.
Yeah, that's how I planned all my posts. Though I started writing posts from the ground, having an idea about the content well before the campaign helped me a lot.
Along with writing I was completing my reading list, reading, commenting, sharing them on my Twitter account which was the major challenge of #myfriendalexa.
What is the benefit of #Myfriendalexa campaign?
The most important question! After publishing 8 posts, reading 200+ blogs what I gained from this campaign becomes very important at the end of the day.
Let's look it from Alexa point of view.
This was Hackytips website Alexa rank before the beginning of #myfriendalexa. Past 4 months data has been collected. You can see the improvement in ranking in 4 months.
Alexa rank graph during #myfriendalexa, which means from 1st to 4th week of September.
As you can see Alexa rank improved rapidly in September.  After the end of 4th (While writing this post) week, my website Alexa ranking is 481325 and US ranking is 87519.
India ranking (which is not showing here) has come down to 56k which was more than 100k before the start of #myfriendalexa.
What I learned from the #myfriendAlexa campaign is that all you need to do is regular blogging. Read other blogs and share them on twitter to improve social visibility.
Along with Alexa ranking improvement, I came to know some awesome blogs like Jaipur Thru My Lens, Living Herself, Kreative Mommy and some awesome bloggers like Mahesh, Sonia, Neha Tambe, and many others.
4-5 days were spent without any reading list. Few bloggers (including me) after the first week received a warning email for noncompletion of reading list even though they were up to date. Blogs which were not active from past 3-4 months were also included in the #Myfriendalexa campaign.
Keeping all such small flaws apart, overall it was an incredible journey and all thanks go to the entire Blogchatter team.
My take away is;
Blog(write) twice a week.
Share more blog links to social media.
Read other blogs, comment and share them on social media.
Write strategically with keywords & SEO analysis.
Keep blogging! 🙂