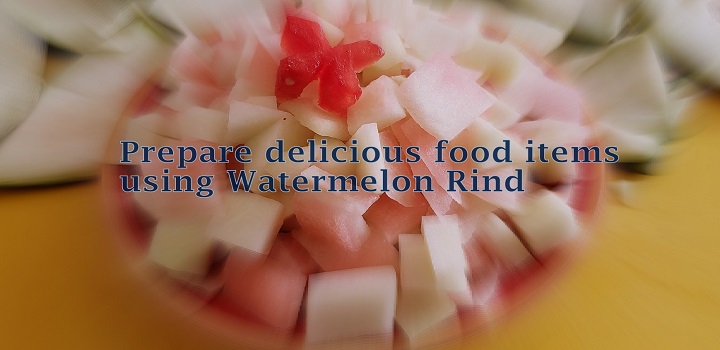 Watermelon is the favorite fruit of summertime. This party-perfect fruit has a number of health benefits. First and most important is, it helps with digestion and dehydration. As most of us are well aware with the fact that drinking liters of water in summer keep us well hydrated. However busy day may not favor us to give enough time to drink water which eventually leads to lot of problems. In such days eating watermelon helps to supply necessary water to the body.
Along with these benefits, Watermelon is also rich in Vitamin C, amino acids and this is a boon to diabetic patients (No spike in sugar level!!!). But today we are here to talk about Watermelon Rinds!
What is a Watermelon Rind?
Rind is the white potion in between the red part & skin of the Watermelon. Red part is the fruit portion of Watermelon which is sweet and juicy. We often eat this part and throw away the rest.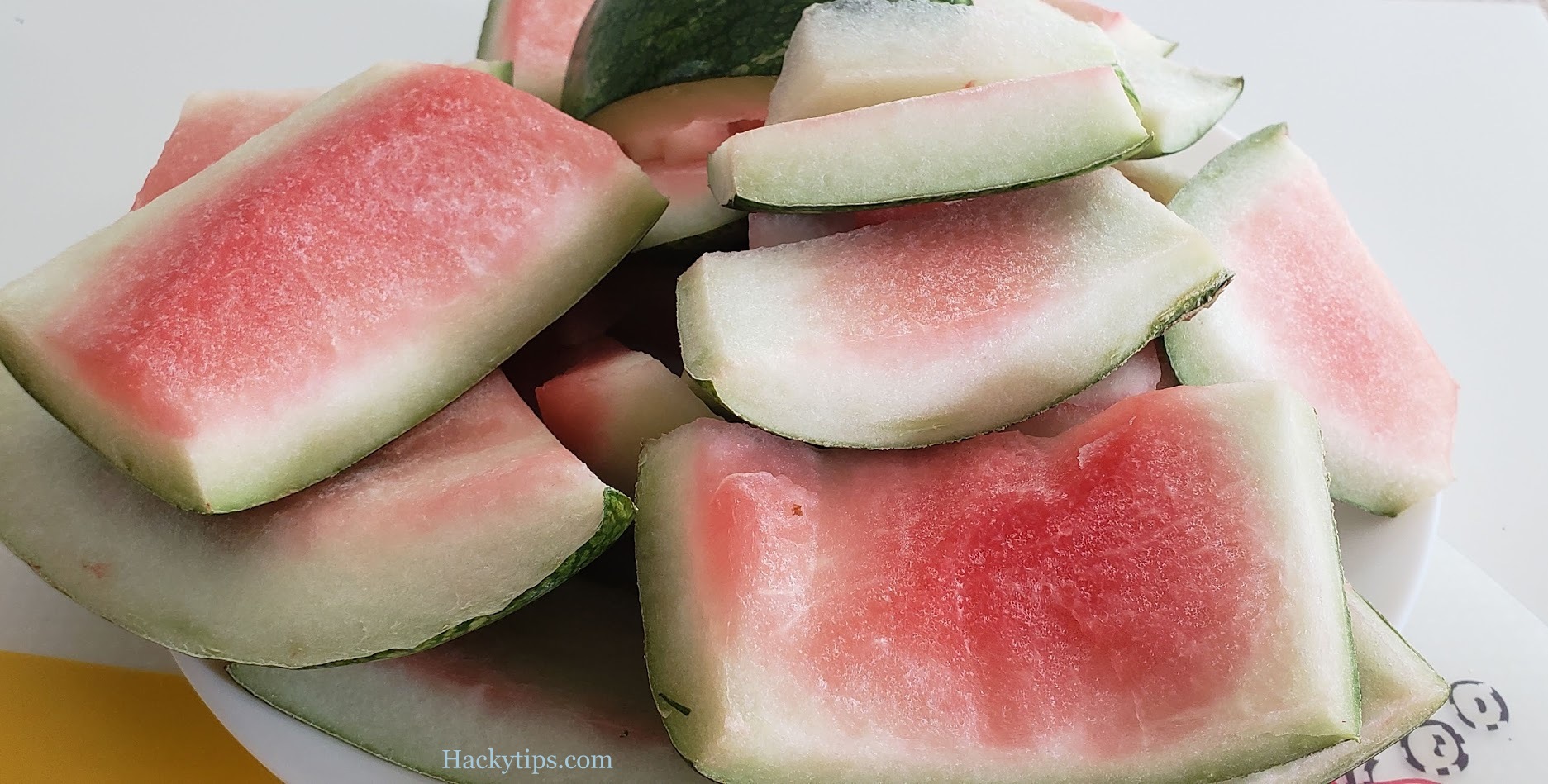 While throwing away plenty of Watermelon skin into the dustbin (along with rind) I was thinking about using it in a better way. Since I was not sure whether Rind is edible to eat or not, I searched the internet then came to know that rind can be used in many ways. It can be used as a pickle, Jam, Candy, Indian style Dosa etc.
I gave a try to make chutney from the Watermelon Rind. I'm glad that it turned out very tasty. This Chutney can be eaten along with Dosa, Idly, Paddu, Chapathis & Rice. Here I will be sharing the recipe of Watermelon Rind Chutney.
Here is the Recipe:
Ingredients:
Watermelon rind – 2 Cups
Oil – 1 tablespoon
Mustard seeds – 1/2 tablespoon
Jeera – 1/2 tablespoon
Turmeric – 1/2 tablespoon
Split black gram (Urad Daal) – 1/4 cup
Split Bengal gram (Chana Dal) – 1/4 cup
Dry red chilli- 2
Chilli powder – 1/2 tablespoon
Salt – As per the taste
Cooking time: 11-12 mins
Step by step process: 
Take out the Rind from Watermelon skin and cut into small cubes. Since skin is hard to cut be careful while taking rind from the skin.

In a pan heat oil. Once the oil is hot add mustard & Jeera seeds. Wait till mustard seeds splitters then add split black gram, split Bengal gram and dry red chilies.

Mix properly and wait until grams turn golden brown. Make sure not to burn them by mixing periodically.
Then add watermelon rinds and mix everything.

Close the lid and cook in medium flame for 4-5 minutes.
Check whether rinds have turned soft and the raw smell has gone. If not cook for another 2 minutes.
Once it is cooked perfectly turn off the stove and leave this mixture to cool down.
Take a grinder jar and add this mixture. Add Chilli powder, salt, add water to get a smooth consistency. Adding too much water may turn it very thin. Add little water as you grind to get the Chatney consistency.

This can be stored in the fridge for more than a week.
Watermelon rind in other recipes:
Along with Cheney, I also used Rinds to make Daal. Rinds were cooked well and hardly be seen in my multigrain daal. This way you can give a complete set of proteins & Vitamins to your children who generally refuse to eat vegetables.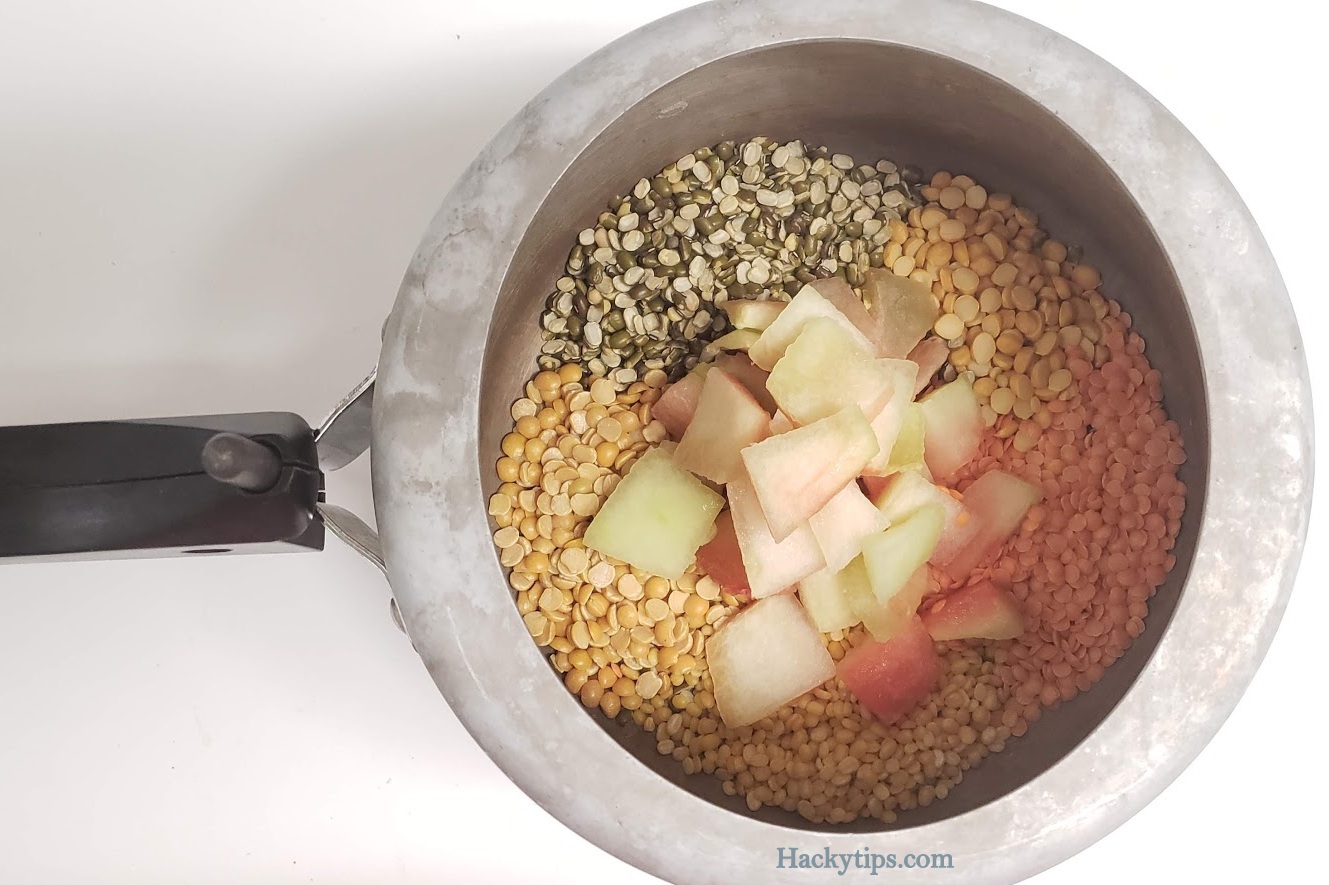 Also, I added these Rinds in Pulao along with other vegetables and again they mixed well with the rice. Since the quantity was very less there was not much difference in taste.
From now on don't throw away the rinds. Use them to make Chatney or Daal or Pulao which we generally cook every day.