One thing that scares every Blogger is the word 'SEO'. You cannot just ignore it. SEO is the main factor to bring your blog in top pages of search results, improves Alexa ranking and makes your blog popular.
SEO is a very huge term to understand, to learn, to implement and to get succeed. However, if you own WordPress blog the job seems not so difficult. Because Wordpress provides a FREE plugin which helps to rock the SEO without any effort. You just need to install this plugin and it takes care of everything once after the activation. Yoast SEO also has a premium version which has really good benefits when you
You might have already guessed it. Yes, it is Yoast SEO, developed to help millions of people like you and me. It is universally accepted and appreciated by the bloggers.
Today we will see how to install the Yoast plugin along with its benefits.
Installation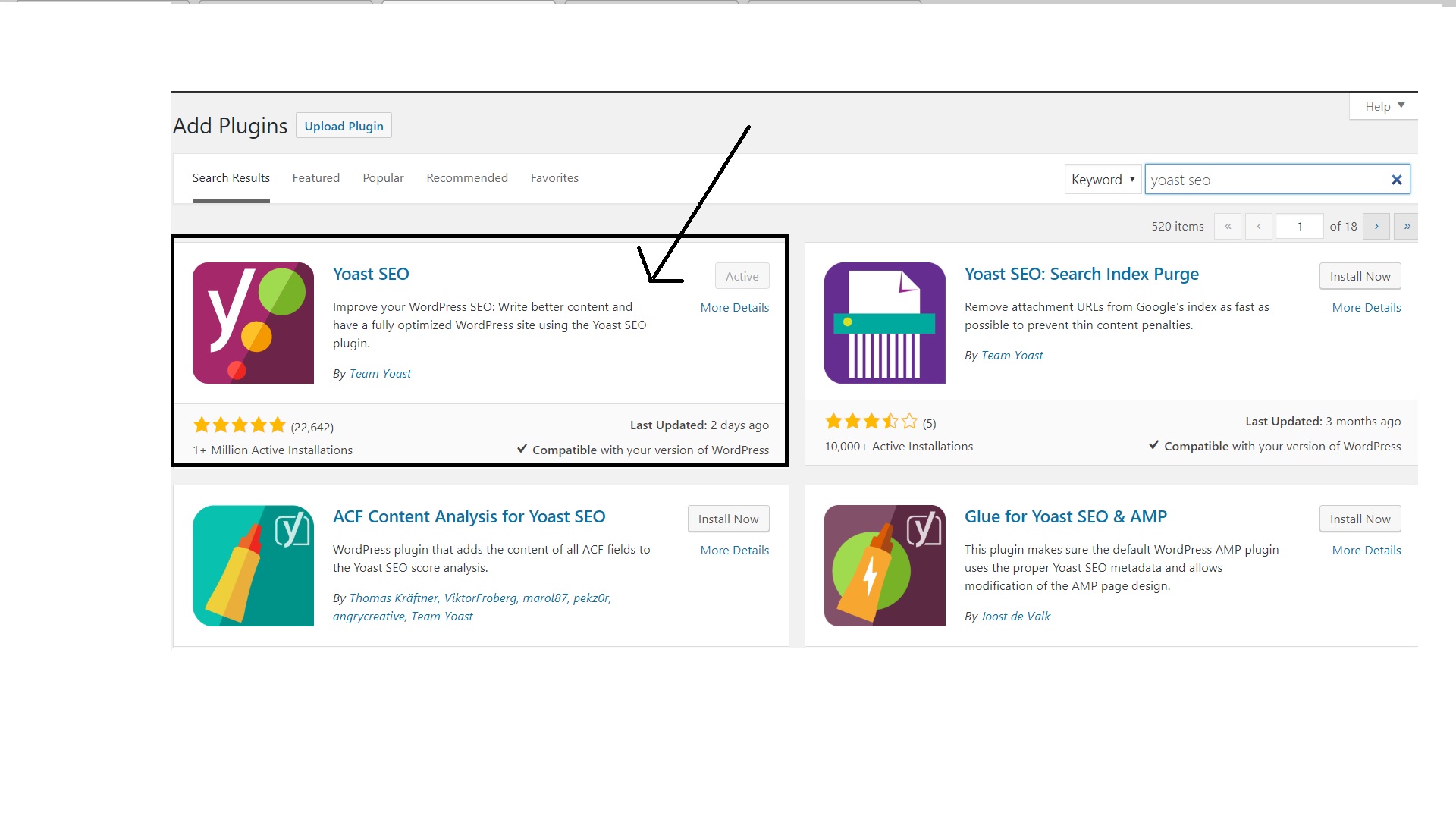 Like all other plugins, Yoast SEO can be installed directly from the WordPress plugin section. Go to Plugins > Add New > Search for Yoast SEO > Click on the first one in the list > Click Install > Activate.
Or you can download the file and upload by going to Plugins > Add New > Upload New Plugin.
Done! Now you can see Yoast SEO plugin at the end of the Dashboard or under settings.
That's how easy it is…
Settings
Once after installation go to Yoast SEO plugin and click on Settings.
Under settings, Click on features tab and make sure they are properly set as shown below.
If you click on the question mark next to every feature you can read in detail. Let's just look at the summary here.
SEO Analysis
Optimisation consists of using the right keywords, tags, meta description and lot many other things which are quite difficult to understand and implement.
Enable SEO analysis and leave the SEO job to Yoast SEO plugin while you work on your blog and content. Yoast plugin allows you to add snippet (single result in a set of search results), meta description (Description Text for the link in search engines) and focus keyword.
As you can see in the image once after you click on Edit snippet SEO title (Title of the post for search engines), Slug (URL extension for the post), Meta description (post summary) can be added easily. If the bar is green then you are good to go.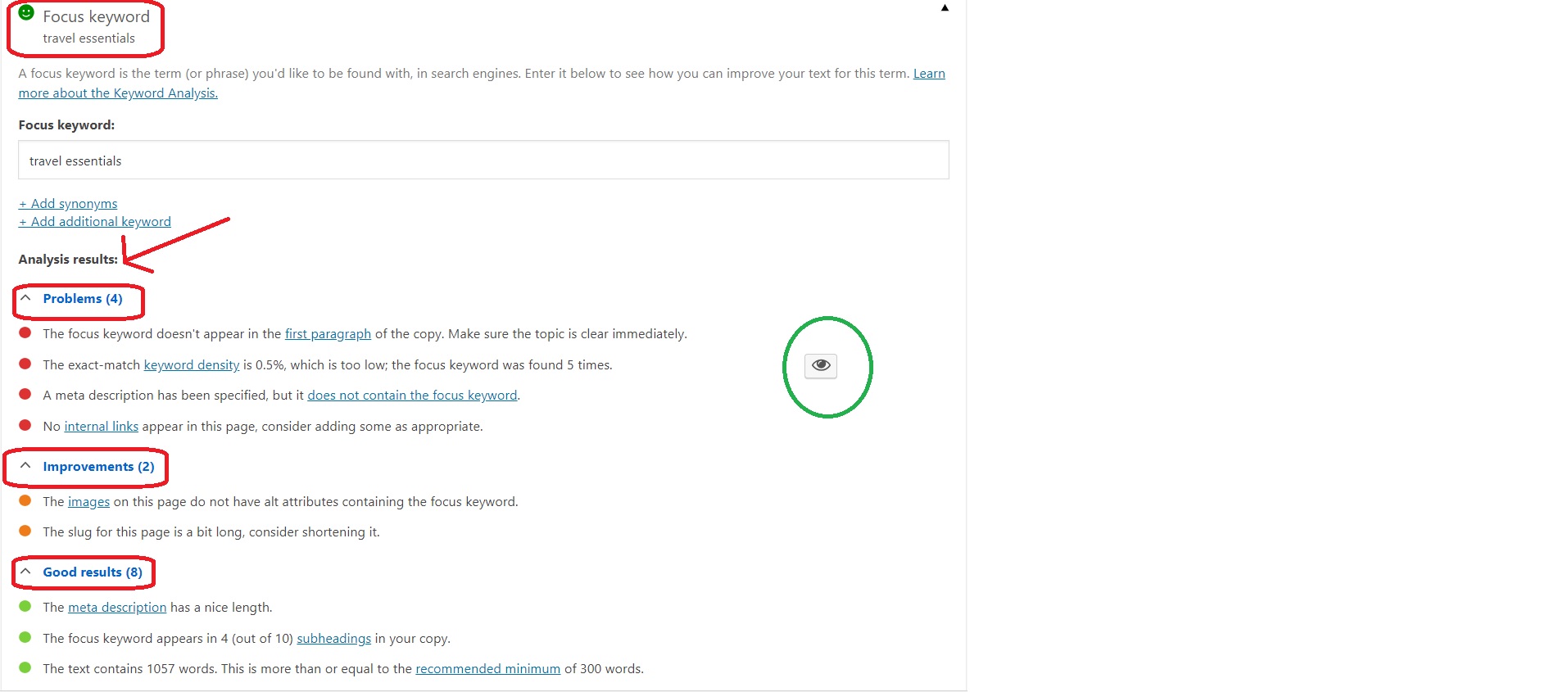 As you scroll down you can add focus word or Keyword which is the main factor of SEO analysis. Currently, for free version there is an option to choose only one keyword whereas in premium version you can add multiple focus keywords.
You can also see the analysis report and make the required improvements. Click on the eye (as shown in image 2) and see the highlighted text in the post to see which part needs improvement.
Readability Analysis
If this is enabled Yoast makes sure that your post is easy to read. Feedback about sentence & paragraph length, Use of subheadings, Use of passive voice, Use of transition words and Flesh reading ease score(This score tells how easy is your text to read).
Yoast gives red (Needs improvement), Orange (Ok), & Green (Good) feedback on your post.
In the image 3, the post contains one problem in the report which is related to transition words. You can highlight the text (by clicking on the eye) and improve your draft.
Cornerstone content
Cornerstone content posts are the one which depicts your business, mission by connecting internally to all other posts. Basically cornerstone content is the top brick of your content pyramid.
If you mark your post as Cornerstone content using Yoast SEO plugin it ranks highest in the search engines. These posts would be extremely well written in order to serve their purpose.

Posts that are similar to one another or if your page has many interlinkable topics then create a cornerstone content linking all of them. This way you are telling search engines what has to be looked at first.
Text link Counter
Text link counter is the count of internal & external links to a post. While you are drafting posts, Yoast SEO plugin suggests adding internal links.

Once the post published internal & External links for a particular post can be seen in all posts section. Premium Yoast plugin also suggests which links can be used as internal links.
Posts which are not attracting readers can be used for internal links to increase the number of views on such posts.
XML Sitemaps
Sitemaps are the agents that communicate between your website and search engines. Sitemap is your site URL list along with the meta description.
Click on the question mark which you see next to XML sitemaps (See your sitemaps). Yoast SEO provides a link where you can download the sitemaps and upload it to search engines like Google search console.
Ryte integration
Yoast SEO plugin provides indexability check. An indexability check is constantly ensuring whether your site is indexable.
This is very easy. When you open Yoast SEO overview you see your website's Ryte indexability. If its green everything is well and good, Grey says that Yoast SEO couldn't verify the status and red means danger!
If it is red, Yoast is saying that your site cannot be indexed! This is an alarming alert and action needs to be taken immediately.
Admin bar menu
Admin bar provides useful links to third-party tools for page analysis which makes it easy to see for any new notifications.
Since this doesn't have SEO or any other benefits to a website you can disable this feature.
Security: no advanced settings for authors
The latest version of Yoast SEO plugin gave an option to hide posts from search engines.
If your website has 3-4 users who are writing posts they will get an option to enable or disable 'show posts in search results' checkbox.
As an admin, if you don't want this you can turn this feature on which blocks authors to do so. Only you get to choose which posts should list under search engines.
Webmaster tools
There are different webmaster tools like Bing, Google etc. Webmaster tools are great ways to submit sitemaps, indexing pages.
In order to do so, we need to add a webmaster verification meta tag to our site homepage.
That sounds extremely difficult, right?
Well, Yoast SEO plugin makes this job easy by allowing to add each webmaster verification code under its setting.
Go to Yoast > General > Webmaster tools tab
There you can see Baidu, Bing, Google and Yandex verification code box. Click on each link to follow the instruction and receive the code.
Add the generated code and save the settings. Job is done!
Search Appearance, social & tools
Search appearance is where you can modify your website look when it lists under the search engine. Which means the title of the website, description of the website can be added.
You can customize the media size, taxonomies, archives, breadcrumbs as you desire.
Social allows you to add your website social media links.
Tools section is where you can export & import settings from different blogs, edit robot.txt file & .htaccess file, Bulk editor allows bulk editing of posts and pages.
You can explore each and every setting of Yoast SEO plugin and get to know more about the plugin. If used wisely Yoast SEO can be your navigator to take your website pages to the top of search engines.