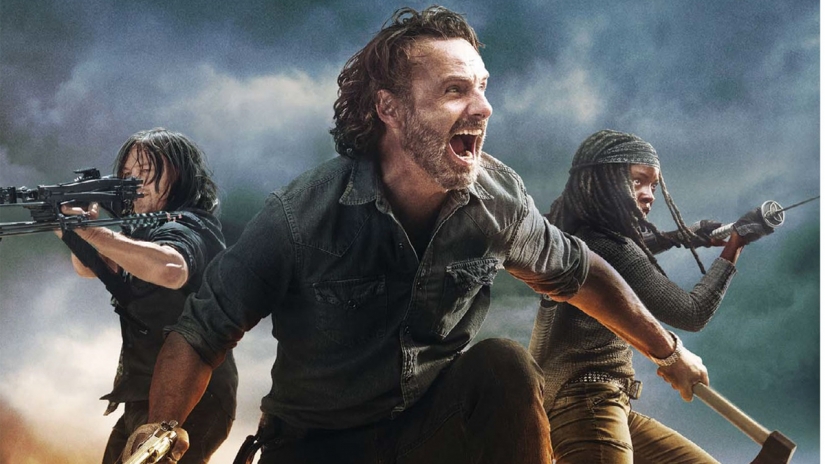 Today is the last day of #AtoZChallenge and I'm here to give you goosebumps! If you are a Netflix geek you might have already guessed the show which I'm going to talk now!
Yesterday itself we have watched the third episode of Game Of Thrones finale season and seen some scary walking dead! What is dead may never die.
Zombies are the common subject of most of the English horror movies. The way dead bodies start getting up with blue eyes, no flesh in the body scares the hell out of people.
Walking Dead is one such series available on Netflix showing us the zombies parade. In this show, there are fewer people and more zombies!
This show is based on the comic books series written by three authors  Robert Kirkman, Tony Moore, and Charlie Adlard. It is one of the best horror comics ever written in the history of the comics.
While making the show they have tried not to be much dependent on comics. Hence people who have read the book may not like all episodes because they seem prolonged.
Story is;
The first episode of the first season starts with Police Officer Rick (Andrew Lincoln) getting up from a coma. When he comes out of the hospital he will come to know that the world is overrun by Zombies.
When he comes home his wife and son will not be there. The whole town was full of Zombies attacking humans and killing them. Escaping from them Rick goes in search of his wife and kid.
After a certain amount of travel, he finds his family, best friend Shane and other survivors living away from Zombies. They are living hidden in order to survive.
This group starts living in the woods. They go to town in search of food, medicines and other basic amenities for daily life. They have to search the stores for grocery and escape from the walkers.
It was difficult but this group fights till the last breath. Living amidst zombies they don't want to give up on their hope.
Life is full of hopes
That is what the creators of the show are trying to convey. The way Rick and team survive in the rotting world, finds ways to fight zombies, create their own human world, develop bonding within a group, emotions, love, and everything will give you hopes.
They have lost their family but found a new one!
I liked the season where they start living in Jail. It was full of zombies but they cleared it and made it as their home. When life challenges you, you have to challenge back!
They even start growing vegetables in jail yard and it was nice to see them happily living together.
It starts getting bored
Yes! The first season was very short with 6 episodes but from the second season, they increased the number of episodes. Thus there are total 9 seasons available on Netflix with 16 episodes each. Hence be prepared to watch a lot of blood & the sea of Zombies.
We can watch up to 5 season max! After that, the story feels dragged with the same content. It feels like never ending! No matter what, zombies keep coming spoiling humans setup.
The irony is people who have dead become zombies! Imagine people from their own group who couldn't survive come back to attack them as zombies. Hence it's like a vicious circle of zombies.
I felt it would have been best if they have made a mini-series instead of a long one. Thus it would have been more interesting.
Don't miss this series
Why I'm saying is, few people avoid this show just because of the zombies. But the show is well made, giving the real feel of zombies and hence it is one of the good show on Netflix.
If you like watching horror shows then this one is for you! Walking dead will literally scare you!
Here is me signing off last post of #favoriteshow series.
Keep watching!