"If you can't change the surroundings change your hair color"
Hair coloring is one of the coolest fashion styles for any season. May it be a single shade, two-shades, highlights, permanent, temporary, blonde, or any other type of hair coloring it always fascinates women to give it a try! But the problem with many people is that they are not sure where to start or think a lot about hair damage because of heavy chemicals. We all know that the lesser chemicals more healthy is the hair. Hence people are scared to break the healthy hair care routine.
But these days, hair coloring products have found ways to make women happy by promising less or no damage. You can find many salons where authentic chemicals are used which will not cause any permanent damage to your hair. Many questions arise before going ahead with hair dying! Which color/style should I try? Should I try by myself or visit solon? Do I need sulfate-free shampoos to take care of my colored hair? and so on… We advise you to carry out thorough research before making up your mind.
In this post, we are going to suggest some of the trending hair color ideas!
1) Modern Twist to the Classic Grunge Hair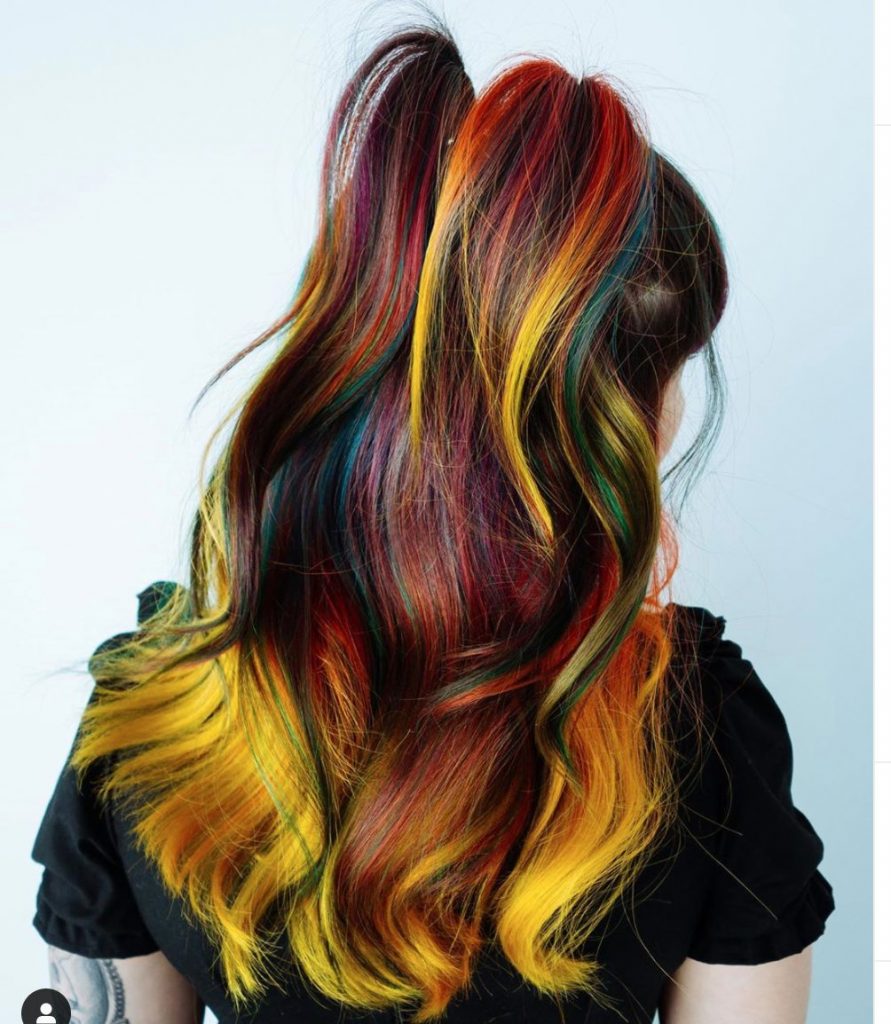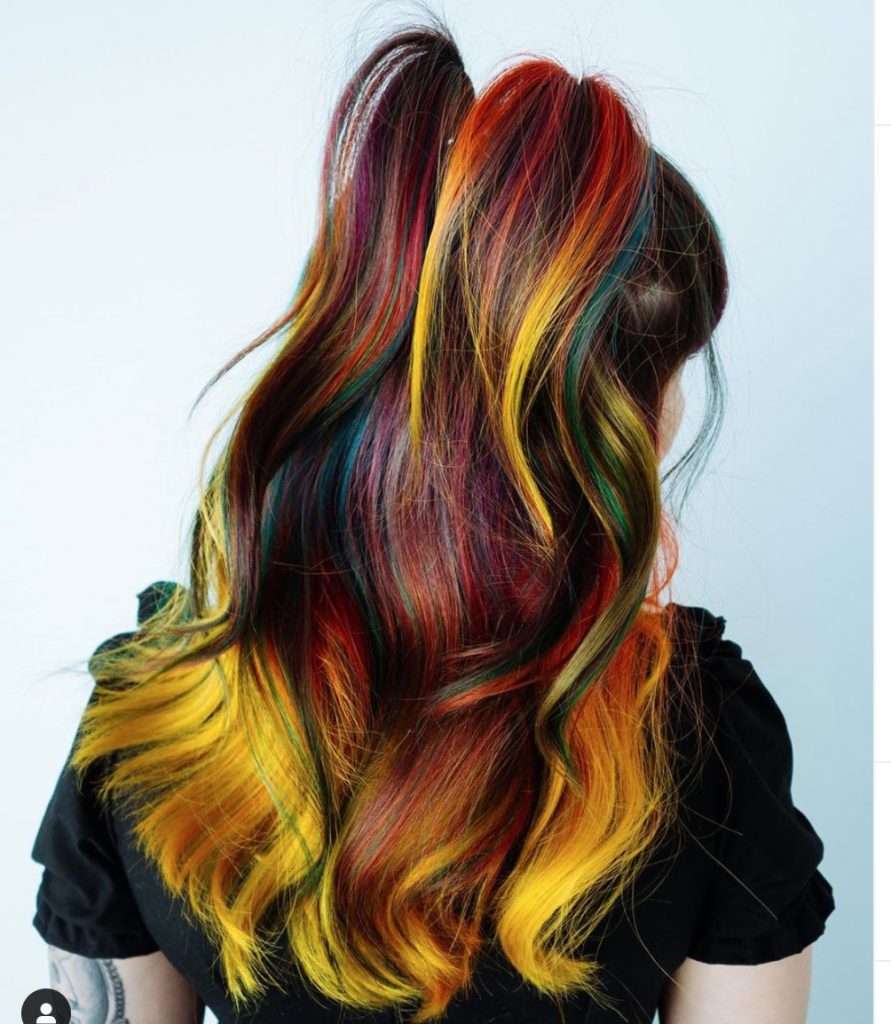 Source: @chrissiearia
The latest trend in fashion is modifying classic styles by giving a modern touch. Classic grunge hair is back on the streets and you can't ignore this new trend. In the 90s Grunge hair was one of the popular trends. It is basically a messy hairstyle where you look straight out of the bed.
Since the grunge hair is back why not give a modern twist to it? Many people try the smoky greyish or blueish color on grunge hair here is an example to show you how the vibrant color looks on this type of hair. A perfect way to dye thick hair!
Buy Permanent Hair Color Cream
2) Rainbow Burst with a Split
Source: @Charli
We have crossed half of 2020 so why not try a twisted hair color to celebrate the new beginning? The year has been worse so far but let's not kill our hope. This hair color is a perfect way to represent our current situation and what we are hoping for in the upcoming days, a bright colorful future!
It is difficult to try this look because you can't imagine how you are going to look after the results. But you will never know unless you try it. It is very important to choose colors wisely. Combinations such as baby pink & baby blue, Black & Blonde, Orange and Red etc are some of the best examples. You can also be creative on the other half keeping the natural black on one side, just like the image shown above. What are you waiting for?
3) Decorative Rainbow Hues
Source: @Katelynn Londonderry
Here is a fantasy dream and you can make it real! We all know that Rainbow Hair Color is a perfect way to decorate your hair. Katelynn tried some colorful butterflies on top of the rainbow and the look is absolutely stunning.
Though you can be creative and use different accessories, this look is suitable for shoulder-length hair or short hair. There are varieties of hair accessories that can be tried and experimented with.
Buy Hair Decoration Accessories
4) Vibrant Magenta Shade for Wavy Hair
Source: @Maggie Elizabeth
For people who are trying to die their hair for the first time, It is advised to pick Magenta because this stunning color will never disappoint you! It suits short, medium, long, straight, curly, and all types of hair.
Just look at the above picture! Mixed with a few other colors this style is looking stunning on wavy hair. A perfect style to flaunt your beautiful hair this summer.
Buy Lightening Hair Bleach Kit
5) Bold and Chunky Rainbow Waves
Source: @Katie Rose
In the early 2000s, Chunky highlights were the hot trend making every woman go gaga over them. After a few years, they faded but now people are giving different looks using the chunky highlights.
Basically, you need to pick a few color combinations and strategically apply on hair highlighting your features. Look at the combination of bold colors used in the above image. You will have a perfect Instagram look 🙂
6) Sunset Spread Over Beachy Curls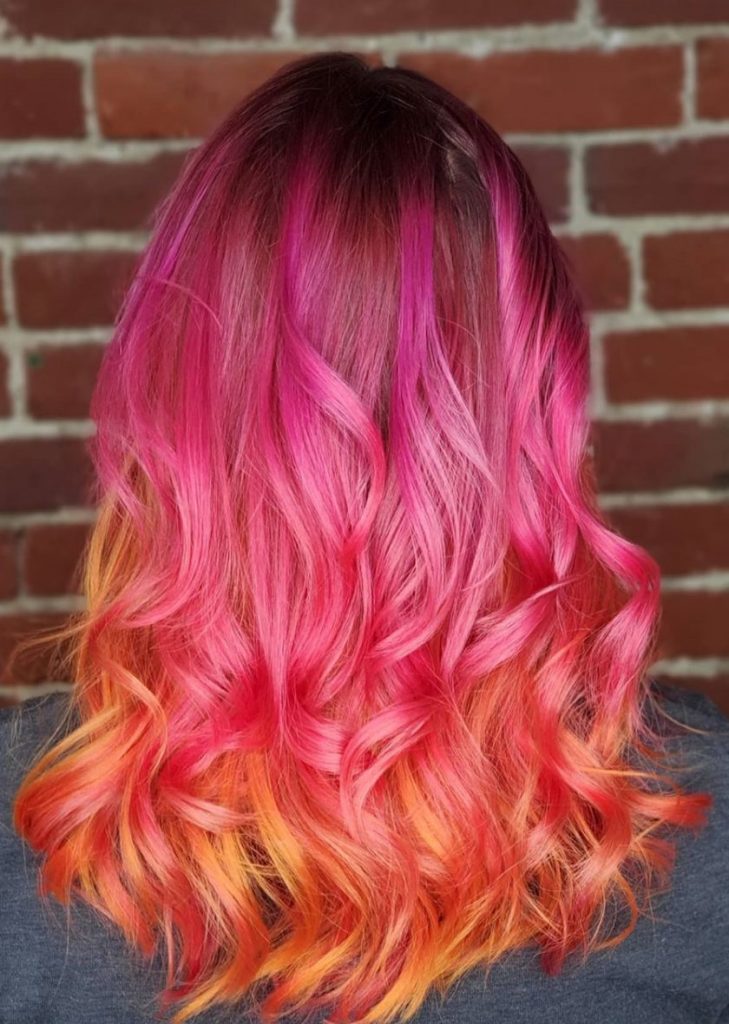 Source: @Christina Dibello
Who doesn't love the combination of sunset colors? Beautiful Red, Yellow, Orange, Pink & Purple shades blended perfectly to give a mesmerizing shade of sunset. This style is a real sunkissed making your hair shine bright under the influence of the sun. You can try Dark Pink to Light Orange or Bright Red to Yellow at the ends or anything that gives a gradient texture of sunset.
The look needs lots of colors and a perfect natural blending. It can turn out messy if you are trying on your own but everything comes only after practice. You can achieve a Sunset hairstyle with deep color at the roots and a smooth transition of light colors through the hair ends.
7) Perfect Hair Bun with Rainbow streaks
Source: @Lynda Luz Chavez Galicia
Hair Coloring is best when you try buns, braids, and accessories to enhance the look. Look at the above picture; without a hair bun, the style looks simple but with the bun, the colors are highlighted and it is looking way more stylish.
Light and elegant hair streaks would suffice the look. Are you a first-timer? If yes then start with fewer and lighter shades. In order to highlight the color use messy hair buns or braids. This way you will get the confidence to try something bigger and brighter.
8) Halo Prism Streaks with Yellow Tips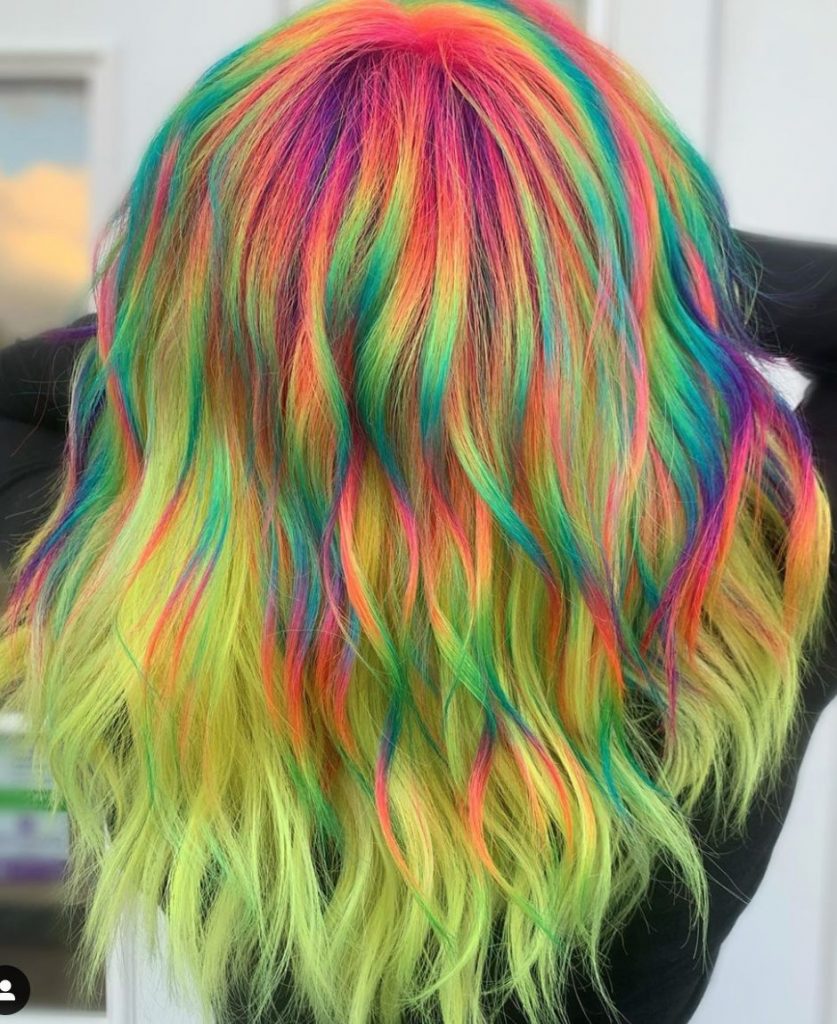 Source: @Tay
Halo Prism Hair Color is completely based on the concept of a Prism reflecting white color into a spectrum of colors. This style is most suitable for short or shoulder-length hair.
Halo Prism is the latest craze among hairstylists. Pastel Hues such as metallic pink, magical blue, soft yellow etc. create multi-dimensional reflections on the hair.
This look is best for blondes or people who have lighter hair tones. this might not be suitable for curly or thick hair texture so be extra careful before choosing this style.
9) Jewel-Tone Rainbow Coloring for Short Curls
Source: @Amber B.
As the name suggests Jewel Tone Hair Colors are derived from the gems Ruby, Emerald, Sapphire, and Amethyst which makes them bright and shiny! The most popular among these are deep red, navy blue, soft yellow, and bright green.
Jewel Tones are perfect for Unicorn hair coloring but recently people are trying beautiful rainbow combinations using these vibrant shades. If you are wanting to try these tones for a really long time then this summer is the right time.
Buy Lightening Hair Bleach Kit
10) Yellow Rainbow Pops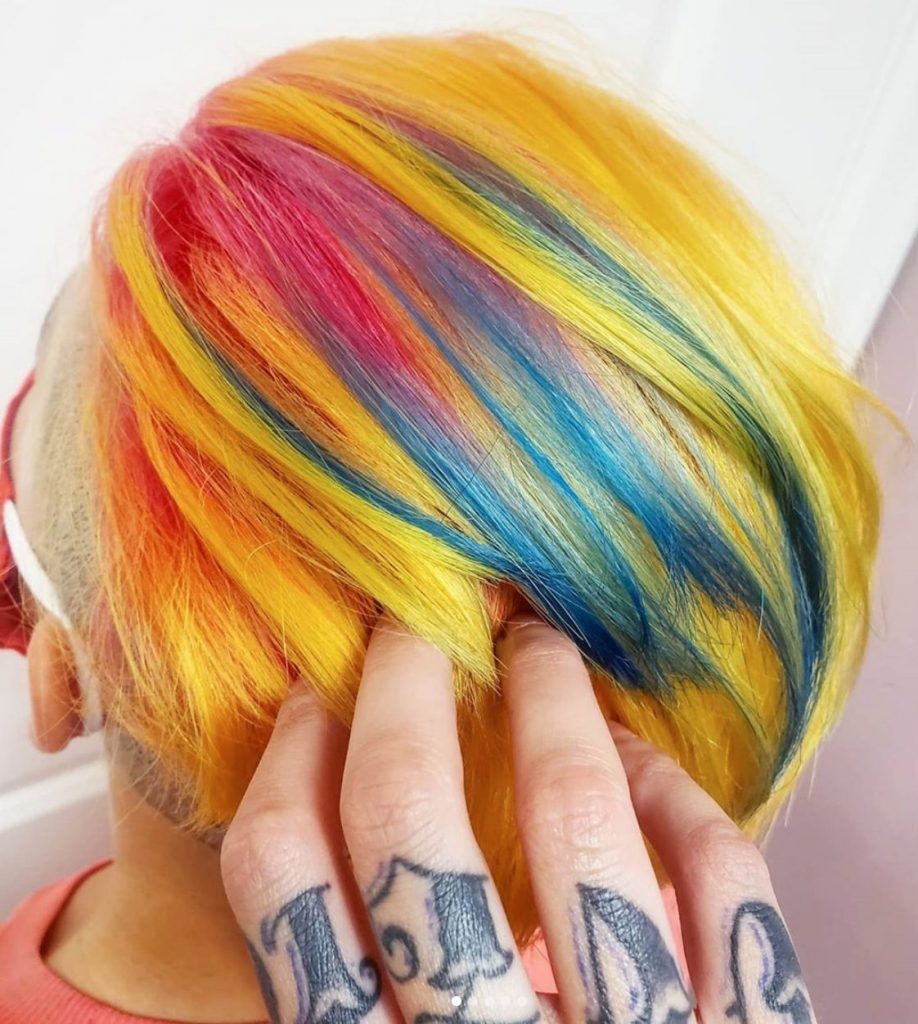 Source: @Raquel Lester
Adding a Pop color to your side bangs or hidden hues can be your type of thing. You never know how fabulous the result will turn out so all you need to do is GIVE A TRY!
There are many varieties of rainbow hair coloring. You can try Pops, Peek-a-Boo, and Mini/Flashy Rainbows to create an extra modern look. From short hair to long hair these pops can be crafted in many varieties using your creativity.
Buy Hair Decoration Accessories
11) Sunset Hues with Purple Streaks
Source: @Jackie
Theme hair coloring is the latest trend that many are willing to try! Here it is not just a hair color but it is a story that is designed on your hair using the best combination of colors.
Some of the examples in theme hair coloring are Sunset, Autumn, Mermaid, Unicorn, Prism etc.
Buy Permanent Hair Color Cream
12) Dreamy Long Rainbow Curls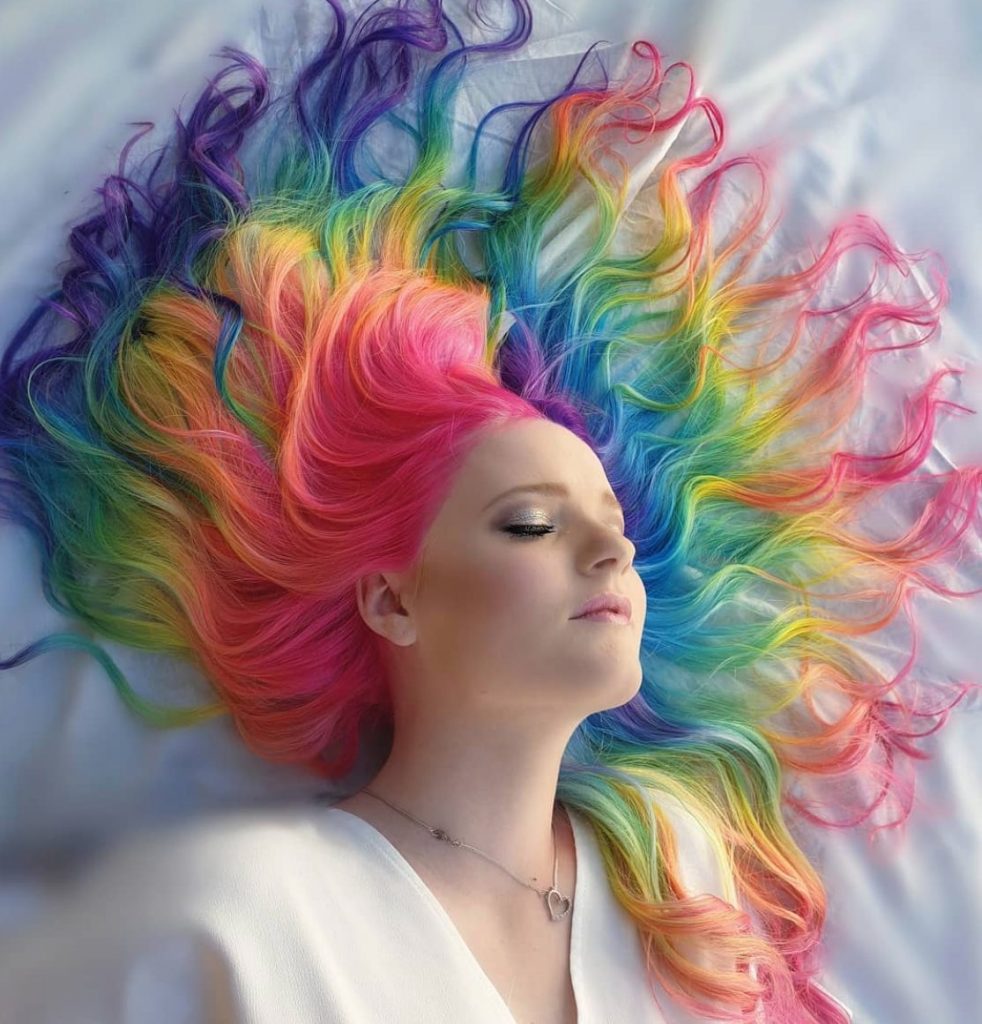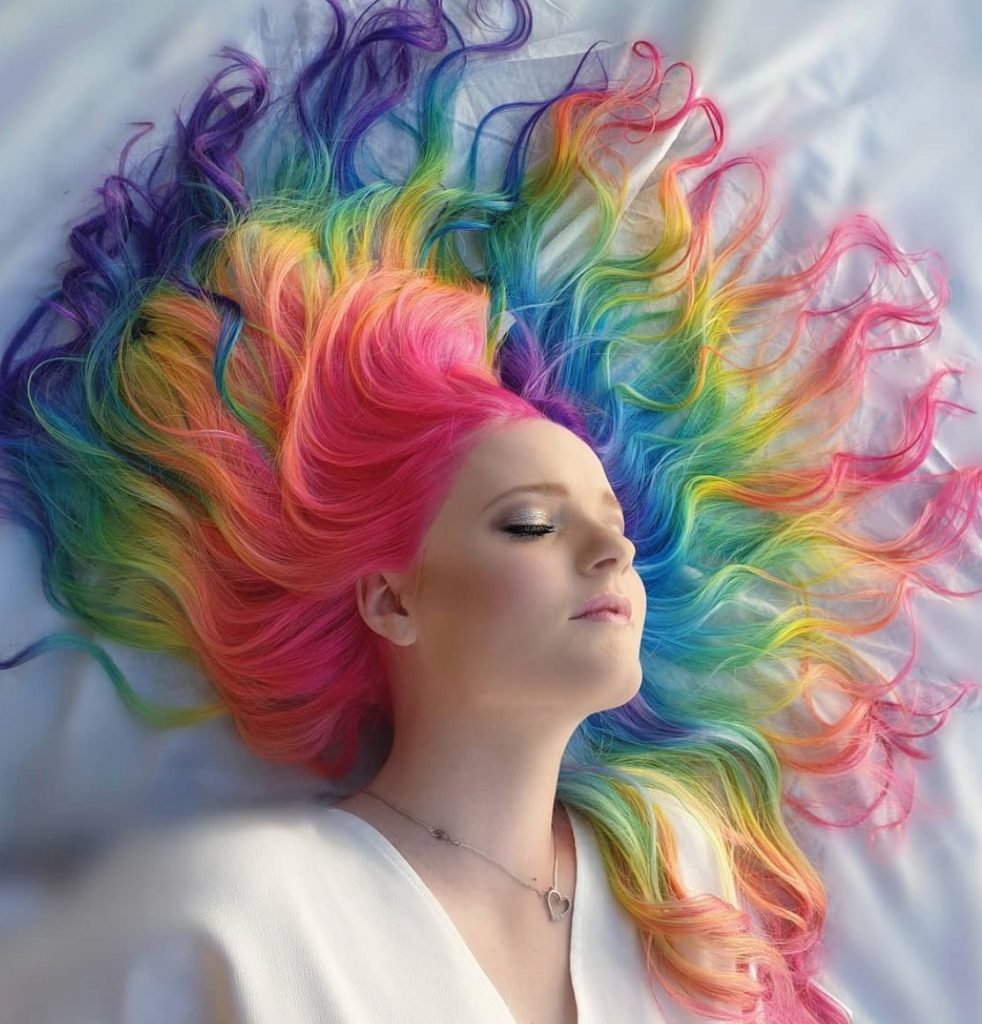 Not everybody can manage hair coloring, especially people with long hair. However, the advantage of waist-length hair is they have more options because of hair length. If you have long hair and going to try coloring on your own then you really need a long time! It is better to go to Solon and get the look done!
The bright colors which look dreamy in the beginning may start fading as time passes. But don't worry! The in-between vanishing look is the latest fab which people are trying exclusively using mild colors.
13) Tropical Rainbow Peak-A-Boo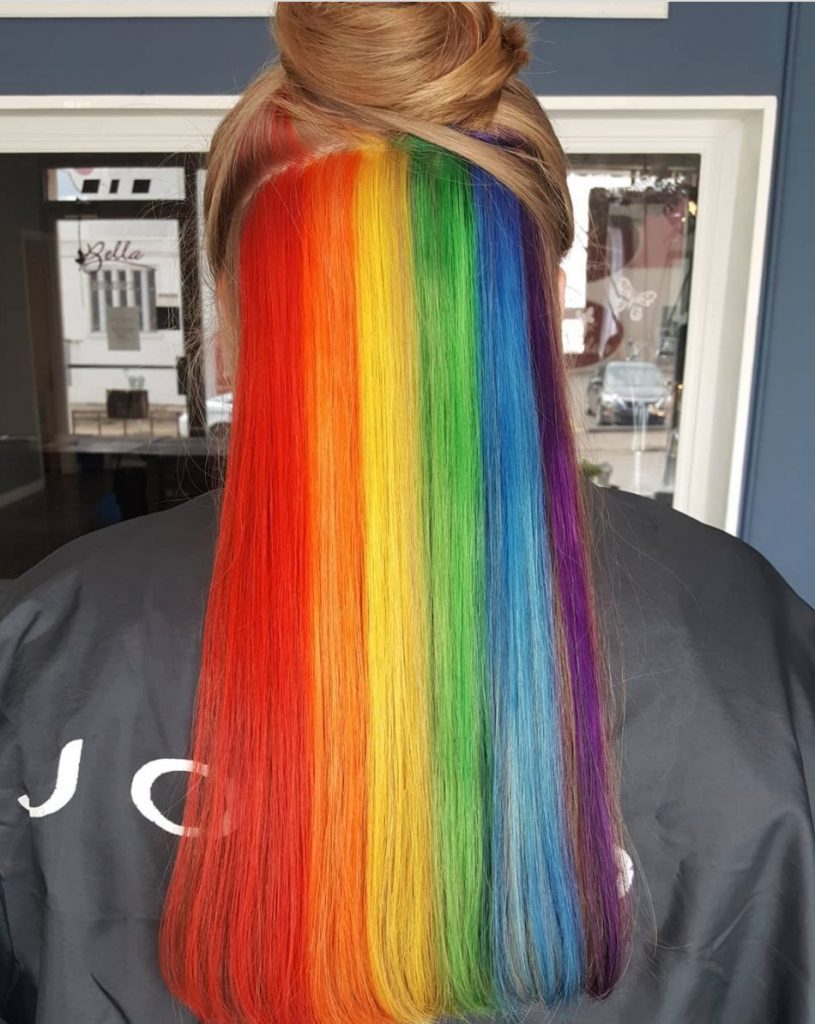 Source: @Antje Woelbern
Finally, we have arrived at our favorite type! What can be more satisfying than watching a peaking Rainbow amidst the mist clouds on a bright sunny day?
Peak-A-Boo is a hidden rainbow coloring usually tried with long hair. Hair buns or braids can be used to highlight the peek-a-boo look!
Buy Hair Decoration Accessories
14) Simple & Elegant Bright Pink
Source: @Hira Laghari
If everything goes perfectly then hair coloring can be fantasy but if something goes wrong then it can be a mess! That's why many people hesitate to try coloring their hair.
Sometimes instead of trying a variety of colors, you can choose one simple & elegant color to make your hair look perfect! There are fewer chances of messing up the style so it is both easy and stunning.
15) Fireball Red Hair Dye
Source: @Michelle Zapanta
Pulp Riot is the leading hair color brand that it providing accessories, and fancy colors to women thus encouraging them to try their creativity. The fireball hair color is one of the most famous and widely used colors from Pulp Riot.
Think your hair is a canvas, yourself as an artist, and try different combinations with the fireball! You can try single or multi-colors to make it look extra vibrant.
16) Rich Pink to Yellow Braid
Source: @Bianca Rose
Braids will never go out of style! That's why stylists have opted to use braids along with hair coloring to create pretty hairstyles for medium-length hair.
Try a messy braid or half braid on your hair. Hair buns/braids pop the hair colors so it is the best way to highlight the hues.
Go ahead and try any of these looks! Which of the above mentioned stole your heart? Let us know in the comment section.