Having a sensitive skin I have suffered from acne for a very long time. Even after teenage acne never stopped bothering me. It may be new beauty products or the monthly period or the changing weather or the body heat I always ended up with a pimple on my face.
I couldn't even realize what is going wrong and what needs to be done to avoid pimples. More than that my face charm was completely taken by the Dark spots as a result of Acne. Though I found solution to lighten dark spots, acne has never left me.
Finally, I stopped everything and started trying home remedies. As part of my daily skin routine, I exfoliated the dead skin cells and then applied a moisturizer to keep my dry skin hydrated.
That's it!
And you know what, that worked! Slowly my acne was cured and dark spots started lightening. I don't say that my problem got solved completely and I got flawless skin.
No!
My skin type itself is prone to acne. I still get a pimple occasionally, but it is not problematic now. My face has been clearer than ever.
I decided to provide vitamins to my face skin and hence started fruit face pack routine. Initially while eating fruits I used to apply part of it on my face.
As a result, my skin really looked fresh and clean. Then I experimented with adding naturally available things like honey, turmeric along with fruits and results were absolutely fantastic.
Today in this post, I'm going to share all the fruit face packs I have tried and succeeded.  You too can give a try as there are no side effects with these homemade products.
Not only people with Acne & dark spots these fruit face packs can also be used by everyone to look fresher and avoid aging skin problems.
Papaya Face Pack
Papaya is well known for clearing skin blemishes. It has active enzymes, phytochemicals, carotenes making it a perfect product for all kind of skin products.
Not only the skin, but Papaya is also good for hair growth, helps to fight dandruff and makes hair soft & shiny.
Skin benefits of Papaya;
Clears blemishes and dark spots.
Helps to improve skin complexion.
Brightens the skin.
Skin exfoliation
Moisturizes skin thus leaving it soft and smooth.
How to make Papaya face pack?
Take a ripe Papaya, mash it to get a smooth paste. Then add lemon juice and mix properly. Wet the face and apply this mixture evenly on the skin. Leave it for 20 mins until it dries and all nutrients are absorbed by the skin. Wash thoroughly with warm water.
Papaya fruit face pack cleanses the skin by removing dust, pollution and helps to clear skin pores. Along with cleaning, Papaya fruit pack removes tan, sunburn thus resulting in skin brightening.
Strawberry Face Pack
I know you love strawberries, who doesn't right? Have you heard of the skin benefits of strawberries? Well, you might know or not but strawberry has multiple beauty benefits.
Alpha hydroxy acids of Strawberries are effective in removing dead skin cells, Silicic acid, and ellagic acid makes it a perfect solution for most of the beauty problems.
Skin benefits of Strawberry;
Strawberry reverse the signs of skin aging.
Cleanse the skin and keep it healthy.
Acts like a barrier to UV radiation
Improves skin complexion.
Tightens skin pores.
Prevents acne breakouts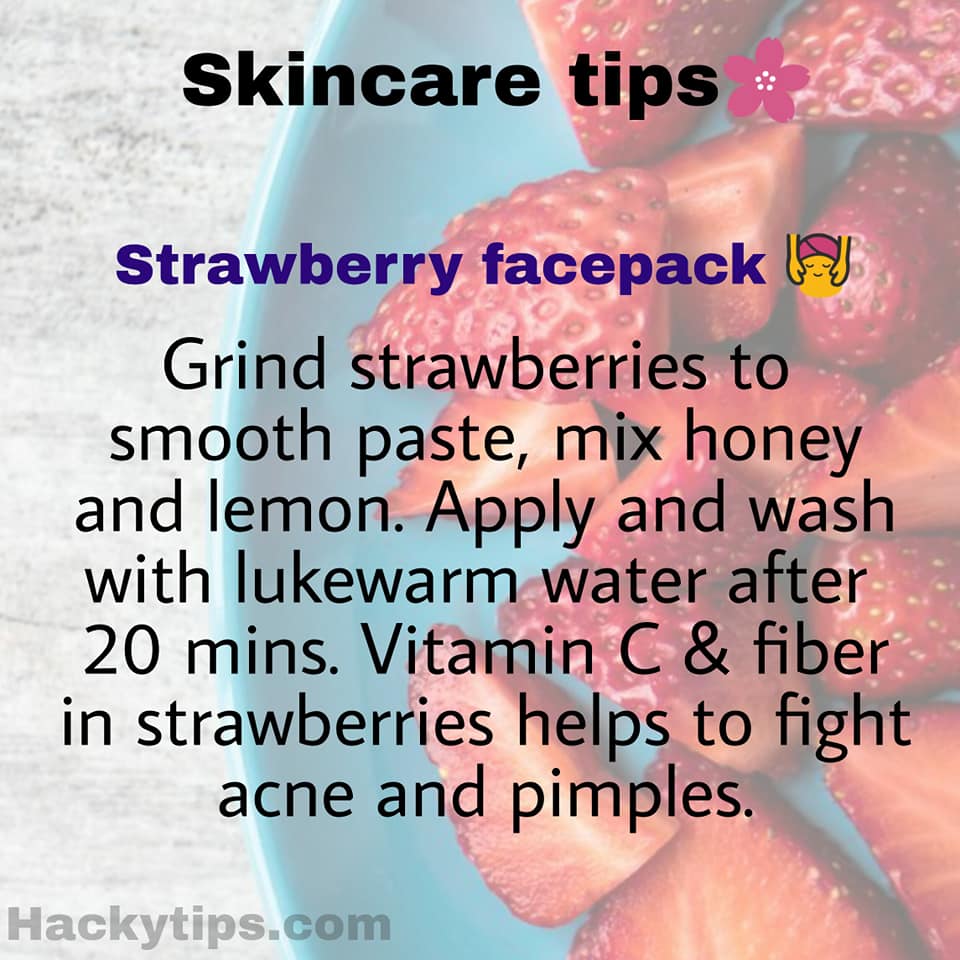 How to make Strawberry face pack?
Choose the bright red strawberries and remove the stem. Grind them to smooth mixture (with no water), mix honey and lemon. Apply on face and wash after 20 mins with lukewarm water.
Along with the above benefits, fiber and Vitamin C in strawberries helps to fight acne and pimples.
Avocado Face Pack 
What is that one thing which can please everyone? – Avocado.
There is nothing on earth that beats Avocados taste especially the Guaca 😉 However, today we are here to talk about the skin benefits of Avocado.
Vitamin E, F and fatty acids in Avocado prevent wrinkle formation. Antioxidants like lecithin, B Carotene, and lipoic acid helps in skin moisturization thus keeping it well hydrated for a longer time.
Skin benefits of Avocado;
Moisturizes the dry skin.
Smoothens the skin leaving it soft and clean.
Protects skin from damage like UV rays, pollution etc.
Helps to tighten the skin.
Protects the skin from free radicals damage
How to make Avocado face pack?
You need a ripe Avocado, olive oil, and yogurt for this fruit pack. IF you are throwing overripe avocado you can use it for this mixture or also as a hair mask.
Mash Avocado and mix it with 1 tbsp of olive oil and 1 tbsp of yogurt. Blend everything with a spoon to get a smooth paste. Cleanly wash the face and pat dry before applying this paste. Apply for 20 mins or until it dries out completely. Wash thoroughly and apply the moisturizer.
While Avocado nourishes and softens your skin, Yogurt exfoliates and cleans the skin surface, and Olive oil along with Avocado serves as an anti-aging skin agent.
Mango Face Pack
Mango is known as the King of fruits. Not only the taste, but Mango also has a number of skin benefits that you are not aware of. This seasonal fruit can become your favorite if you use it in a proper way.
Most of the fruits have anti-oxidants and anti-inflammatory effects protecting skin from UV and other harmful rays. Mango also has skin protection qualities that can act as a sunscreen.
Skin benefits of Mango;
Mango makes skin soft and well moisturized.
Helps to unclog pores.
Makes skin glow
Antioxidants help to prevent inflammation.
Helps to recover the infected/rashed skin type.
How to make Mango face pack?
Take mango pulp, Besan flour (Chickpeas flour) and honey to make this fruit pack. Mix all together to make a thick paste. If the mixture becomes too thin you can add more besan flour.
Apply this on a thoroughly cleansed face and leave it for 15 mins. It might get tightened because of the Besan flour as it starts drying. After 15 mins wash with warm water and pat dry with a towel. Apply moisturizer.
In Mango fruit face pack, mango softens and cleanses your skin. Besan floor has a lot of skin benefits like skin exfoliation and brightening. Since Besan floor makes skin dry, honey is added to maintain the moisturization.
Banana Face Pack
Do you know every part of the Banana tree is useful? Banana stem, leaves, raw banana, ripe banana everything is full of benefits. Being part of our everyday life Banana has proved its healthy properties.
You can rub the skin of banana on hands and legs which acts as a moisturizer. Banana is rich in potassium, Vitamin C, antioxidants and fibers which have a number of beauty benefits.
Skin benefits of Banana;
Moisturization
Treats acne, scars and dark spots
Leaves skin glowing, soft and smooth
Reduces wrinkles
Minimizes the dark circles under the eye.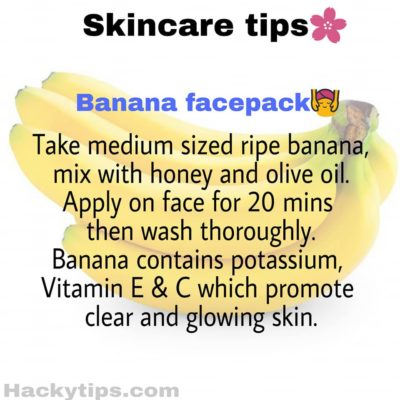 How to make Banana face pack?
We are mixing banana with honey and olive oil. Make sure the banana is ripe in order to get a smooth mixture. Mix everything and leave it on the face for 20 mins.
Wash thoroughly and pat dry with a towel. You can repeat this process for twice a week to get good results.
Banana fruit face pack smoothens the skin, hydrates and helps to lighten the skin.