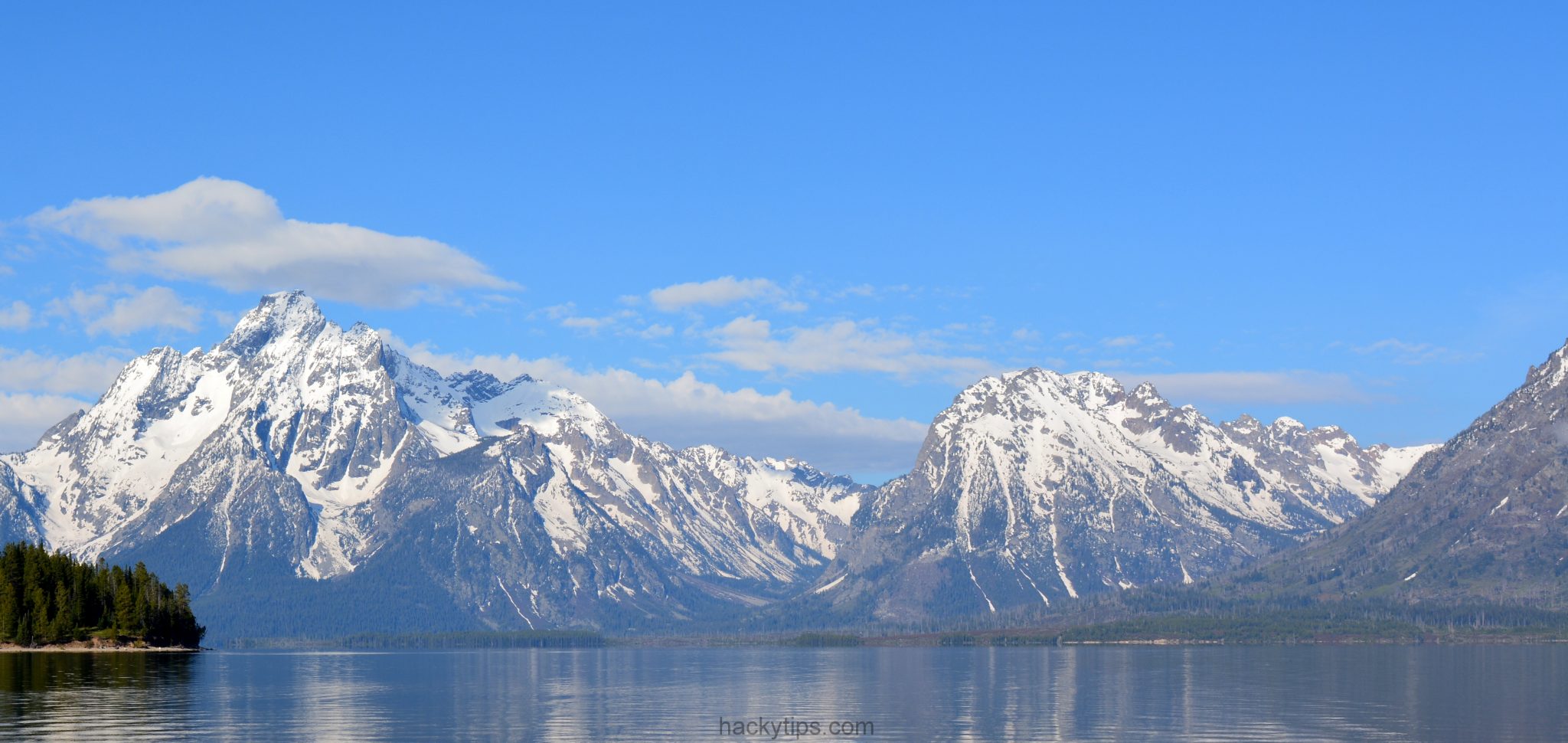 If one asked to choose the top 5 National Parks in the United States then the job is very difficult. However, we can rank them based on the number of yearly visitors and hence create a list of most visited Nationa Parks.
State Parks & National Parks have widely spread across the US, making it a favourite place for nature lovers. There is a total of 61 National Parks exists in the US. Each and every park is worth a million in terms of greenery, hills, wildlife, waterfalls and many other things. It is difficult (but not impossible!) to visit all these parks because Parks like Yellowstone, Yosemite etc needs months to explore every inch of the park.
For wanderlusts, it is no big deal! Before going to see such places you better need a travel checklist. Because most of the state parks don't have facilities to shop whenever you need or fancy restaurants. Make sure you are well prepared to explore the beauty of nature.
Today we will see some of the best and most visited National parks.
1)  Yellowstone National Park
Yellowstone is the very first National Park created in the United States in 1972. This also holds the record of first National Park in the entire world. This huge park is located in 3 states, Wyoming, Montana, and Idaho.
Spread across 8,983 kilometres, Yellowstone is huge consisting of lakes, trails, hills, mountains, waterfalls, canyons, wildlife, forest and much more. There is so much to explore in this Park that every trip will be incomplete and people come back with the thirst of wanting to go back again.
The park has a number of visitor centres, restrooms, entrances, restaurants and stores to help tourists. Canyon area, Grand Canyon, Fishing Bridge, Lake, Fairy and Firehole Falls, Mammoth Hot springs, Norris Geyser Basin, Tower Rosevelt and Northeast, West thumb, Grant, South are some of the major locations one should explore in Yellowstone. All these locations have their own waterfalls, lakes, springs and many other things.
Natural geysers are one of the main attraction of Yellowstone. There is a number of natural hot water geysers where water emerges from the ground like a fountain. These are natural hence can be seen anytime and they are spread across the park.
Bison & Grizzly bears are the common animals wandering around, stopping the vehicles thus giving the natural feel to this National Park. Thousands of trails lead their way to the park where you can explore the great beauty of nature on your own.
Since the park is huge, you need to plan your visit based on the vacation time. It takes almost half an hour to 45 minutes to travel from one place to another.
2) Grand Canyon National Park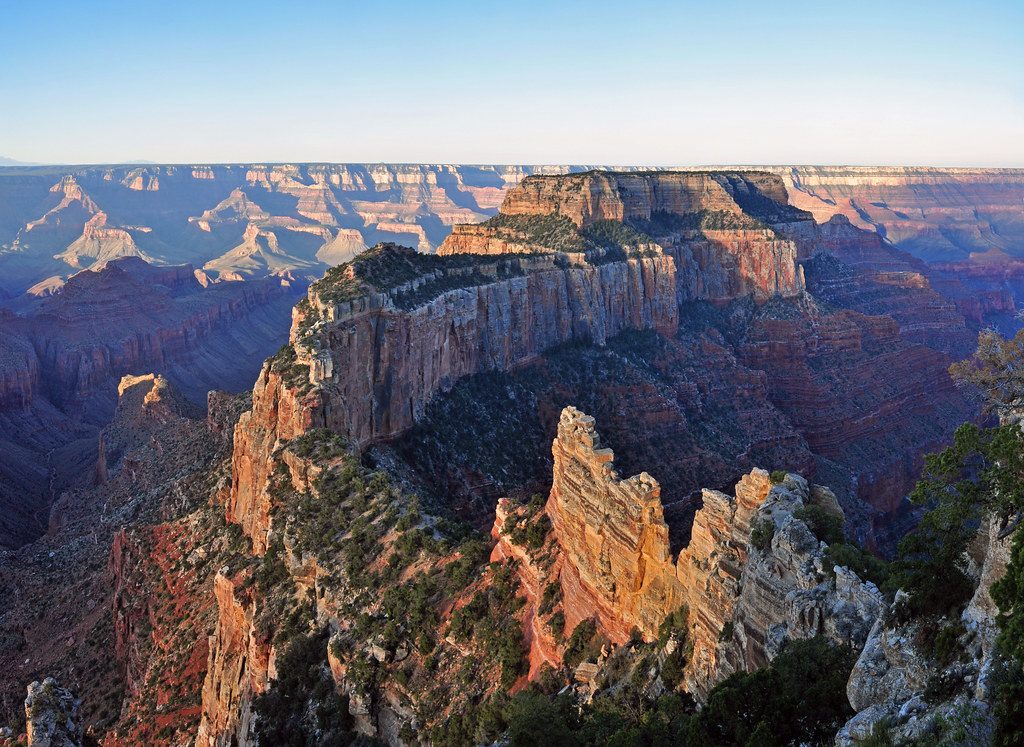 The canyons are distributed through 1,217,262 acres creating one of the greatest National Park called 'Grand Canyon National Park'.
Canyons are almost 1 mile deep and 15 miles wide. The Colorado river flowing between the Canyon takes twists and turns to create a spectacular view of land and water.
The park is divided into South Rim and North Rim. South Rim is the most visited part because it is easy to travel and more accessible compared to the North Rim. Cruising in Colorado river, Hiking, Mule trips and river flat trips are some of the ways to explore Grand Canyon.
Sunset at Cape Royal Point, North Rim is one of the must-see things at Grand Canyon.


3)  Great Smoky Mountains National Park
Great Smoky Mountains National Park is one of the most visited National Park in the US. In 2016 alone there were 11.3 million visitors to this park!
Cades Cove loop (Scenic mountain valley drive), Clingmans Dome (Highest point in Tennesse), Little River Road (Waterfalls and trails), Newfound Gap Road( 13 miles of mountain landscapes) etc are some of the things to do in Great Smoky Mountains National Park.
Usually, people visit this park during the fall to see the color change. During winter, various snow activities are held and this is the best place for skiing.
4)  Yosemite National Park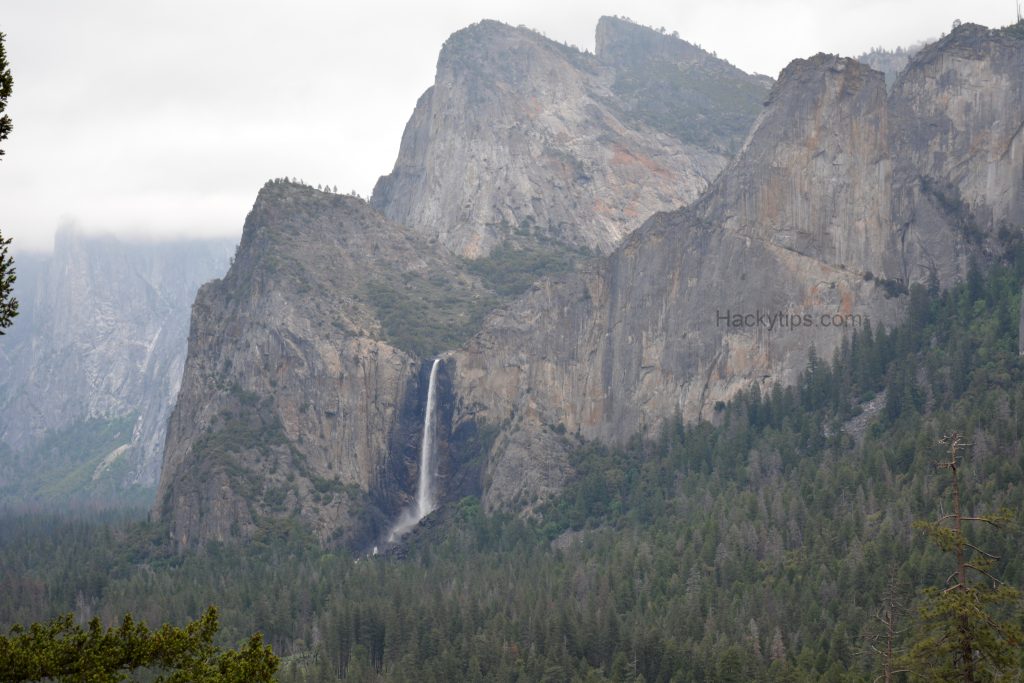 Covered with huge mountains and waterfalls Yosemite National Park also offers granite cliffs, giant sequoias, wildflowers, and wild animals. The park geographically divided into 4 areas High Sierra, Granite Cliffs, Sequoia Groves, and Valley.
High Sierra is full of Granite Domes, Craggy peaks, and spacious meadows. Lambert Dome, Cathedral Peak, Pikas (Animals), marmots etc are the main attractions of High Sierra.
The massive cliffs joined together and are called Granite Cliffs. Half Dome, El Capitan are some of the highest cliffs in this area. These cliffs challenge climbers with their enormous structure yet there are few people who have reached the top of the cliffs. The shape of the cliffs keeps changing because of the weather, ice, and rockfall.
Tallest trees are another great attraction of Yosemite National Park. Giant Sequoia groves trunk can reach over 25 feet thick! One most interesting fact is that they need fire for reproduction. Hence no need to worry when these trees catch fire.
Most of the year, Merced river flow through Yosemite valley. Black beer, mule deers, Black Oak Acorns can be seen more on the valley side.
5) Sequoia National Park
Sequoia National Park is located in California, within 4 hrs of distance from Yosemite. Hence people who come to see Yosemite usually cover Sequoia as part of their trip.
Compared to all the National Parks mentioned above, Sequoia is very small, just spread across 1,635 km. One day would be enough to explore the entire park.
The park is full of tall trees and their pine cones. General Sherman Tree exists in this park is the largest tree on Earth! Along with Sequoia trees, the park consists of Redwood, Palms and many other varieties.
Kings Canyon National Park & Sequoia National Park are just 40 minutes away from each other. Both of these parks run in parallel making it convenient for travellers to visit 2 parks in one single trip.
A number of tunnels formed by the fallen sequoia trees connect roads inside the park. Shuttles are available to travel from one place to the other within the park.