Recently Influenster sent me Aveda Soap mass through their Voxbox campaign and it was absolutely a surprise. I didn't expect that I was going to get hair products in fact I didn't expect a Voxbox!
Hence I was flattered and excited to try these new products.
I got to know about Aveda through influenster. I wasn't aware of this brand before hence I was neutral about this shampoo and conditioner.
The Voxbox came in a cute shaped box. Aveda was highlighted with big fonts, the feel of nature on the box was quite refreshing.
As soon as I opened the box, a unique aroma hugged me. It was a divine natural smell. Aveda Sap Moss Shampoo and Conditioner tubes were laying inside, waiting for me to pick them up!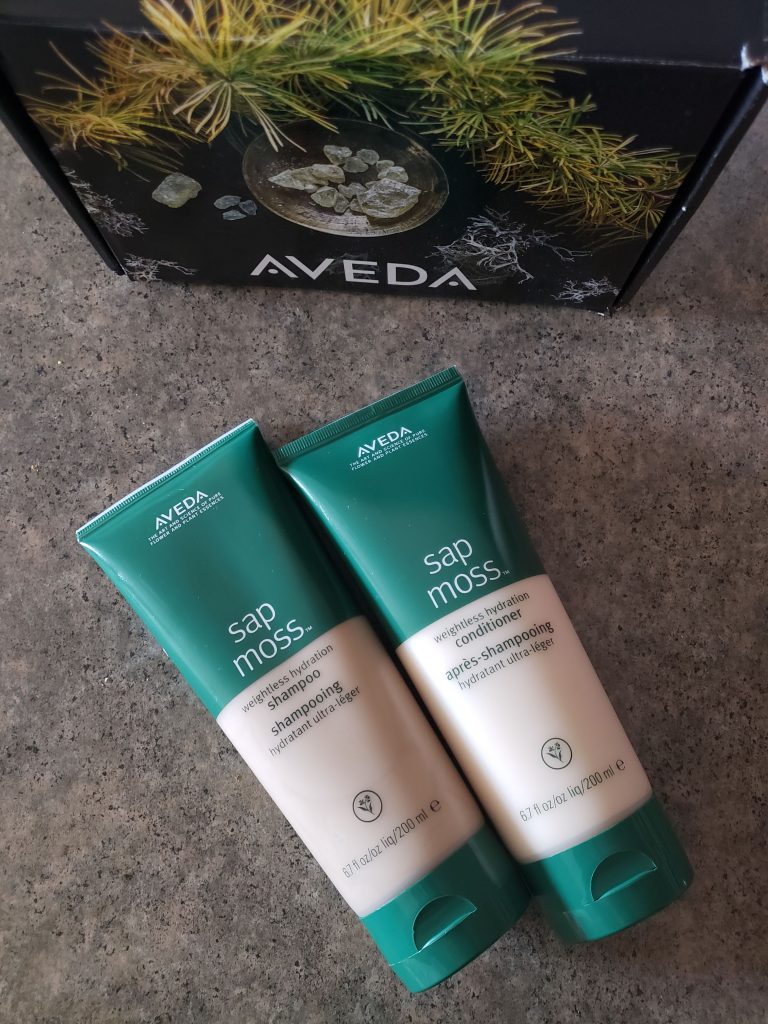 Before trying any product I like to read about the particular brand, how it came to existence, how it is doing in the market, customer reviews etc.
One thing that impressed me about Aveda is, it was inspired and made by the ingredients of Ayurveda. Being Indian I know the importance of Ayurveda and its magical power.
Ayurveda is the traditional way of making medicines, cosmetics using resources from nature. There are no chemicals hence the product is purely natural with no side effects.
Thus Aveda has roots in nature. Today there are many cosmetics produced by Aveda preserving its original nature formula.
The shampoo and conditioner I received are Aveda Sap Moss Shampoo and Conditioner, blended with sap-moss and integrated with silicone-free formula.
What is Silicone-free?
Have you heard of silicone? If you go and check your shampoo bottle right now, you must see ingredients ending with 'cone' (Unless you already know about silicone and using silicone-free shampoo!).
Silicone is used in a wide range of shampoos because it can make hair soft and silky. Then what's wrong with it? Isn't it a good thing to get smooth and silky hair?
Well, don't go by the instant results. Because Silicone damages your hair in the long run!
In order to make hair soft and silky, silicone locks hair strands. This avoids any moisturization that hair should get to be healthy. Regular use of such shampoos can make your hair dry, frizzy and lifeless.
Now you must be telling yourself 'oh no, I should check my shampoo's ingredients and thrash it if it has silicone'! Right?
Using silicone-free shampoo helps hair to be healthy. In fact, avoiding shampoos with silicone is one of the hair care tips to maintain healthy hair.
Ingredients of Aveda Sap Moss Shampoo and Conditioner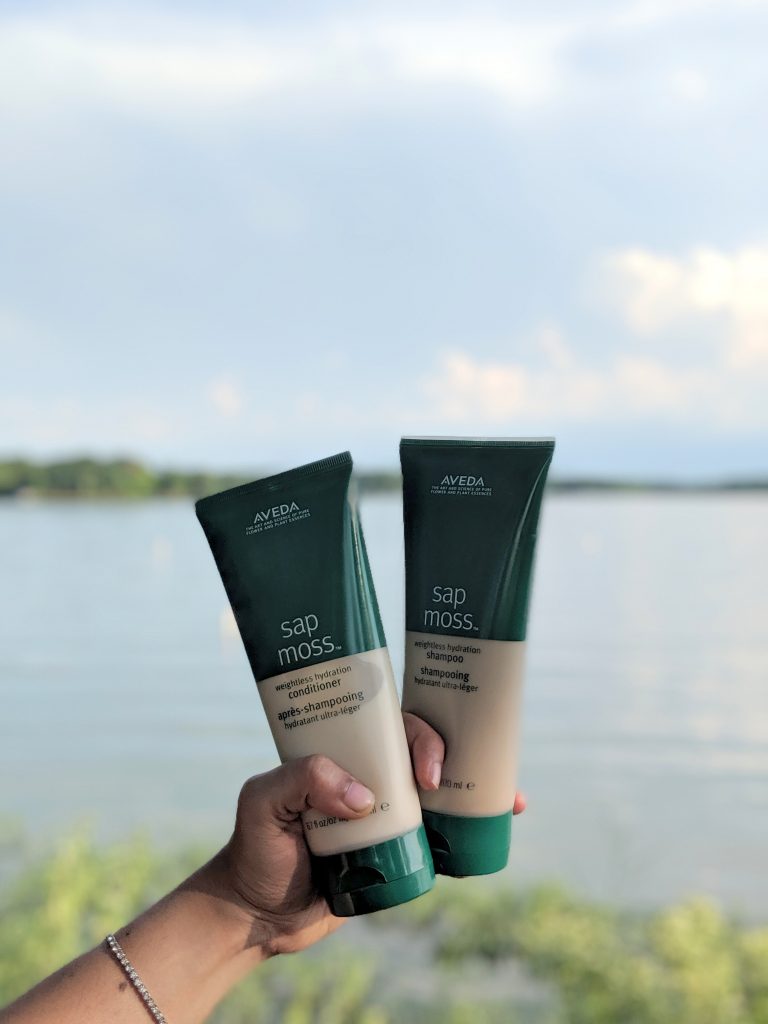 The main ingredients of sap moss shampoo are Iceland Moss & Larch tree sap. Iceland moss is a lichen that looks like moss has hair care benefits. Along with Iceland moss, larch tree sap extract is blended well to provide the required nutrients to the hair.
Iceland moss can absorb twice its weight in water to survive winter droughts. Hence you can trust this shampoo completely when it comes to hydration. Larch sap seals in moisture to survive long, northern winters.
Aveda Sap moss smells like clay because it is derived from natural jasmine and olibanum. Few people may not like this because it smells a little earthy and raw.
Aveda Sap Moss Shampoo Review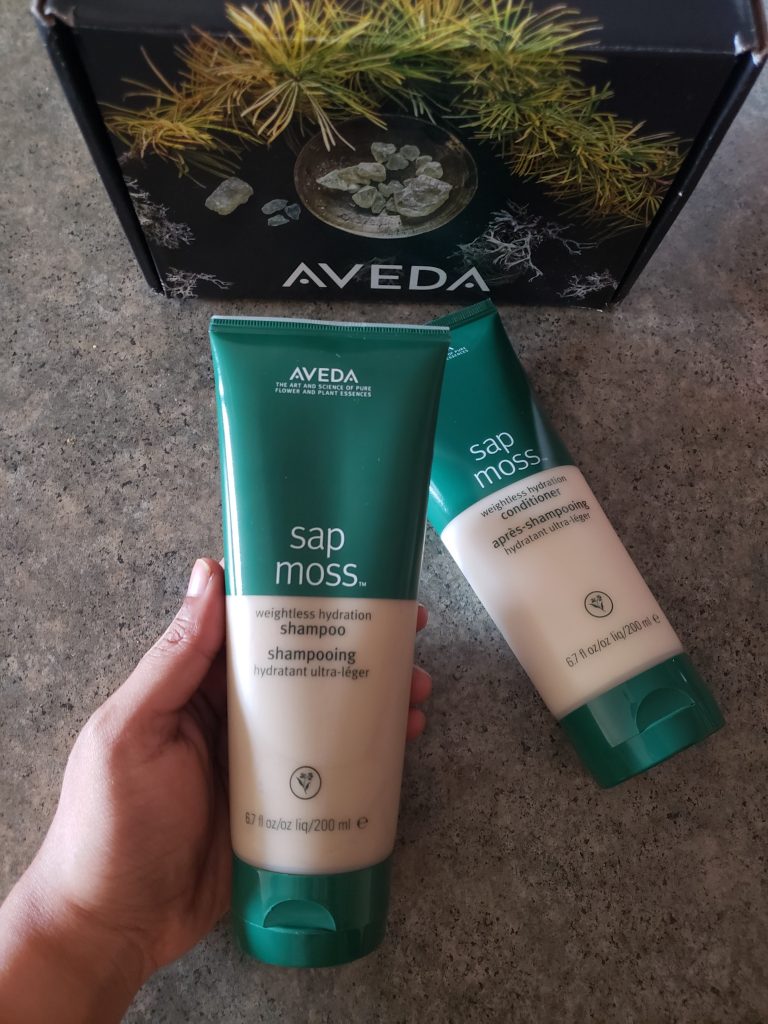 Aveda Sap moss shampoo gently cleanses the hair as well as scalp without damaging the hair cuticles. The product says 81% hydration and I have noticed the way my hair texture has been changed after using this shampoo. Before my hair used to get frizzy after shampoo, even the conditioner was not able to maintain the texture. But I can see the difference and my hair is really soft now.
I usually massage my scalp and apply oil to my hair the night before hair wash. Since the sap moss shampoo is sulfate-free it takes a little more effort and quantity to remove the oil from the scalp.
When I first washed my hair with this shampoo, I kinda felt that it didn't work. It didn't produce enough lather which gives that clean and refreshing feeling. But when my hair dried, it was really smooth and shiny.
I generally don't change or try any new hair products. Hair products should be perfect to impress me. Aveda is one such shampoo which I will prefer if I ever have to change my regular shampoo.
Pros:
Hydration is the main feature of this shampoo. Good in maintaining moisturization.
Not only just hair but even the scalp will not dry after using this shampoo.
Hair looks healthy and full of volume.
It helps to clear the build-up.
Blended with natural oils to provide the best hair care.
Sap Moss shampoo is 94% natural.
Vegan and cruelty-free.
silicone-free, paraben-free, gluten-free, mineral oil-free, synthetic fragrance-free, synthetic color free, propylene glycol-free, petrolatum free, formaldehyde-free
Works great without sulfate.
Cons:
Few people may not like the earthy smell.
It doesn't produce enough lather.
Aveda Sap Moss Conditioner Review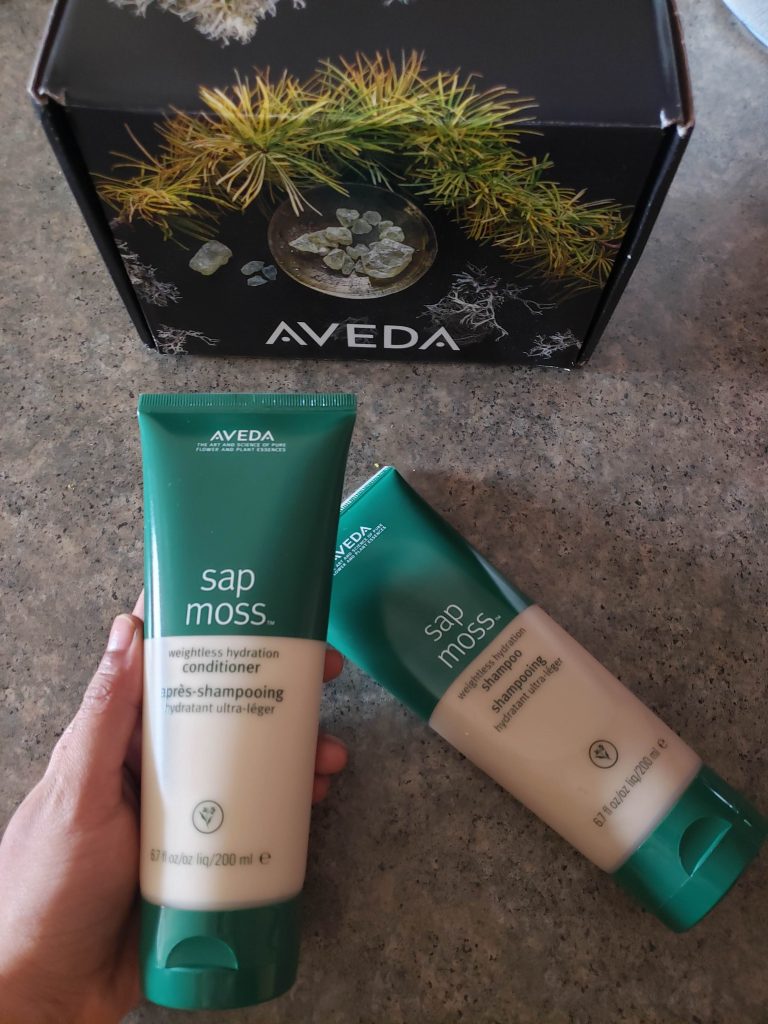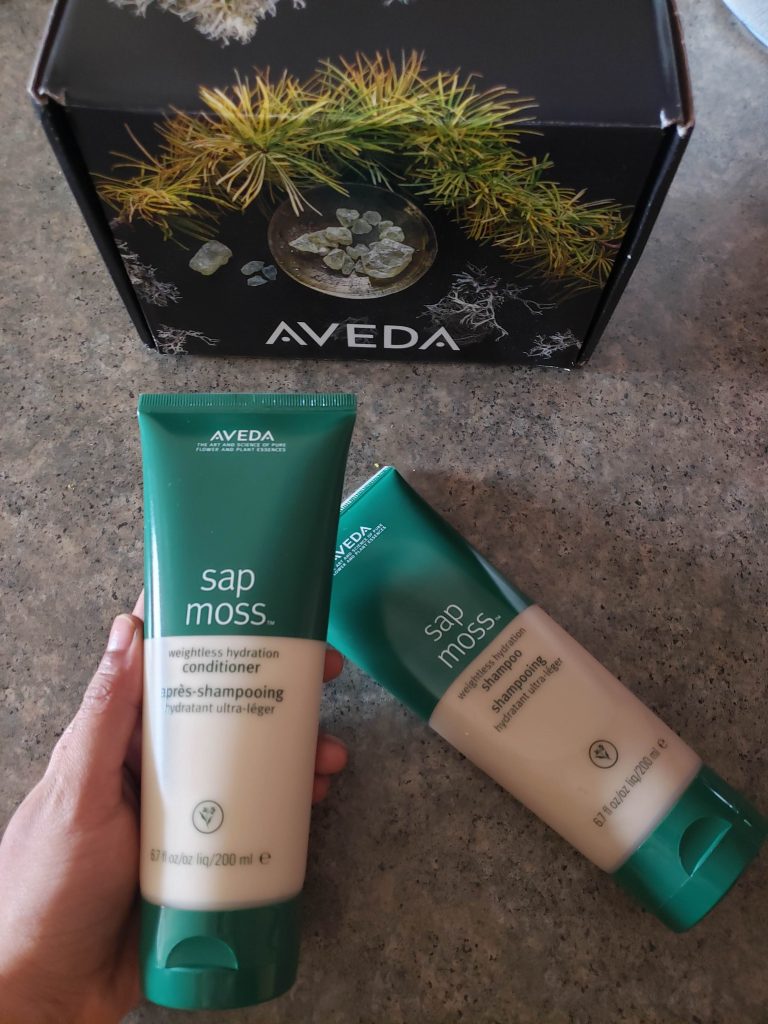 Well, no shampoo is perfect without conditioner. Aveda Sap moss conditioner has a weightless formula making it perfect for all hair types. We have seen the effect of Iceland moss & larch tree sap extract while talking about shampoo.
Along with these, shampoo and conditioner duo contains coconut and kukui nut oil which helps to nourish hair. Thus silicones are not required to provide soft and silky hair! Aveda has found the natural way to lock the moisturization.
Since shampoo is derived mainly from hydration formula you may skip the conditioner. However, using the conditioner helps to improve the hair texture and avoids frizzy hair.
Pros:
It gives a very light feel.
Detangles and hydrates long hair.
Hair becomes soft, sleek and manageable.
Adds volume thus hair becomes bouncy.
It hydrates hair without weighing it down.
Small quantity is enough to nourish the hair.
Silicone-free conditioner.
94% natural.
Vegan and cruelty-free.
Cons:
The smell is earthy
The texture of this conditioner is like pudding.
Conclusion;
This is how my hair looked after using AVEDA Sap Moss Shampoo and Conditioner.  Overall I liked the AVEDA Sap Moss Shampoo and Conditioner. My hair is soft, sleek, full of volume, and even after 3-4 days, I could see the shine which I never saw with any other shampoo & conditioner. I would recommend this to a friend and to you guys! You may not like the smell and less lather feature but I'm sure you are going to love the after results.