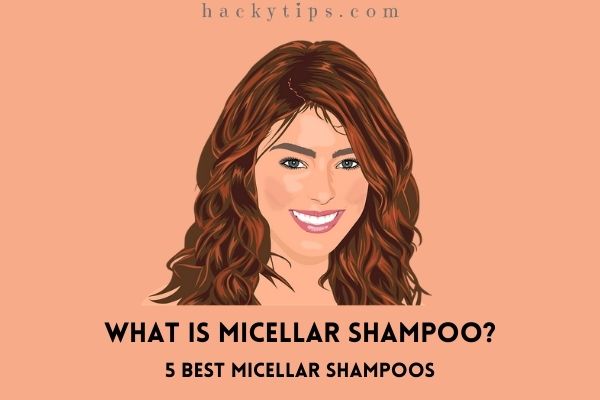 We include products we think are useful for our readers. If you buy through links on this page, we may earn a small commission. Here's our process.
A new term that we are often hearing from haircare experts is 'Micellar Shampoo'. Now you might be wondering what exactly is this Micellar shampoo and the benefits of Micellar shampoo over regular shampoo. Don't worry! We are here to provide you with detailed information about the Micellar shampoo along with its meaning, benefits, and reviews of some of the best Micellar Shampoos.
Then what are we waiting for? Let's jump into the details!
This article contains;
1) What is Micellar Shampoo?
You might have heard about Micellar Water. This water is used as a makeup remover that gently cleanses the skin from any dirt, makeup residues, and pollution with the help of micelles. Similarly, Micellar shampoo is created to gently clean the scalp buildup, dirt, oil, and dandruff so that your hair feels light and super clean. The micellar shampoo is made of mild surfactants (chemical compounds), and the molecules of these surfactants join to form micelles, this chemical structure pulls out the dirt and oil from the skin by magnetically attaching to it.
Micellar shampoos are a recent trend because of their easy and gentle cleansing properties. They are sulfate and silicone-free and can be used on hair without the fear of hair damage.
2) Benefits of Micellar Shampoo
People who color their hair or use lots of serums or styling treatments face difficulties in maintaining healthy hair. Regular shampoos contain sulfates hence they lead to dryness, split ends, hair thinning, and bald scalp. These hair problems can be eliminated with the help of Micellar Shampoo. They are mild, gentle, and effective hence highly recommended!
Hair will be cleaned gently without washing away the natural oils from the scalp.
Scalp dryness, buildup, dandruff, and excess oil can be removed easily with the Micellar shampoo.
Scrubbing is not required hence hair is less prone to damage.
Sulfate-free shampoos are good for long-term hair care.
It makes hair moisturized and hydrated for longer days.
3) The 5 Best Micellar Shampoo reviews
1) Pantene Pro-V Micellar Shampoo
Created with cleansing water and purifying milk, Pantene's Pro-V Micellar Shampoo is gentle, effective, and deeply purifies hair without ripping off the natural nutrients. This shampoo contains a plant-based Pro-V Nutrient that magically transforms fragile hair into super strengthy after regular use. This shampoo helps to clean the scalp thoroughly hence it is highly recommended for people suffering from dandruff. It leaves the hair soft, silky, and clean and you will start loving the amazing scent that it leaves on hair after every wash.
Pros:
Gentle and Lightweight
Suitable for people with dry hair
Paraben and Silicone-free
PH-balanced
Cons:
This shampoo contains sulfate
Not suitable for Oily hair
2) Herbal Essences Blue Ginger & Micellar Water Shampoo
Herbal Essences has infused real botanicals and micellar in a single bottle to make it the perfect shampoo for healthy hair care. It is 90% natural where ingredient materials have gone through limited processing & contain purified water. Ginger and Floral bouquets make the hair fresh and volumized whereas micellar water provides gentle cleansing. This Blue Ginger & Micellar Water Shampoo removes the excess oil from hair and maintains the texture without weighing it down.
Pros:
Color safe
PH-balanced
Silicone free
Very effective for curly hair
Cons:
None
3) Schwarzkopf BC BONACURE Color Freeze Shampoo
Crafted especially for color-treated hair, this shampoo by Schwarzkopf not only freezes the color but also gently cleanses with its Micellar properties. Bc Bonacure Color Freeze Shampoo contains blue-violet pigments in its composition that are deposited on hair while cleaning. This method gives hair a glossy finish by neutralizing unwanted brassiness. The texture is like gel and the shampoo has pH 4.5 Balancer Technology that successfully resolves colored hair issues such as unwanted yellow tones, fading color, dullness, and loss of shine. Schwarzkopf Bc Bonacure Color Freeze Shampoo is one of the best shampoos for color-treated, highlighted, and blonde hair.

Pros:
Seals of the surface of the hair to provide additional care and protection
PH balanced
Reduces color fade
Adds shimmer to white hair and very light bases
Cons:
Only for color-treated hair
Not sulfate-free
4) Cake Beauty The Gentle Giant Micellar Shampoo
Micelles that act like magnets to residue, buildup, and impurities, provide a deep yet gentle clean. This protein-packed shampoo by Cake gives your hair a volumized and stylish look. Hair feels soft, feather-weight, and refreshing after every wash. Natural ingredients such as Aloe Juice, Lemon peel extract, and Shea butter provide nourishment and vitamin to the hair making it healthy and super strong after regular use.
Pros:
Sulfate-free, Paraben-free, and Cruelty-free
100% Vegan
Suitable for color-treated hair
Cons:
5) Kristin Ess Scalp Purifying Micellar Shampoo
Perfectly crafted for scalp cleansing, Kristin Ess Scalp Purifying Micellar Shampoo gently cleanses the scalp and hair without disturbing the natural oils produced by scalp and hair moisturizer. It is very easy to use and you can use it as often as you want. This shampoo reduces hair dryness hence one of the best ways to control hair frizz. May it be curly or straight, thick or thin, you can use this shampoo to get the desired results.
Pros:
Sulfate-free, Paraben-free, silicone-free
Cruelty-free and Vegan product
Suitable for all hair types
Color + Keratin safe
The unique application tip makes the hair wash easy.
Cons:
None