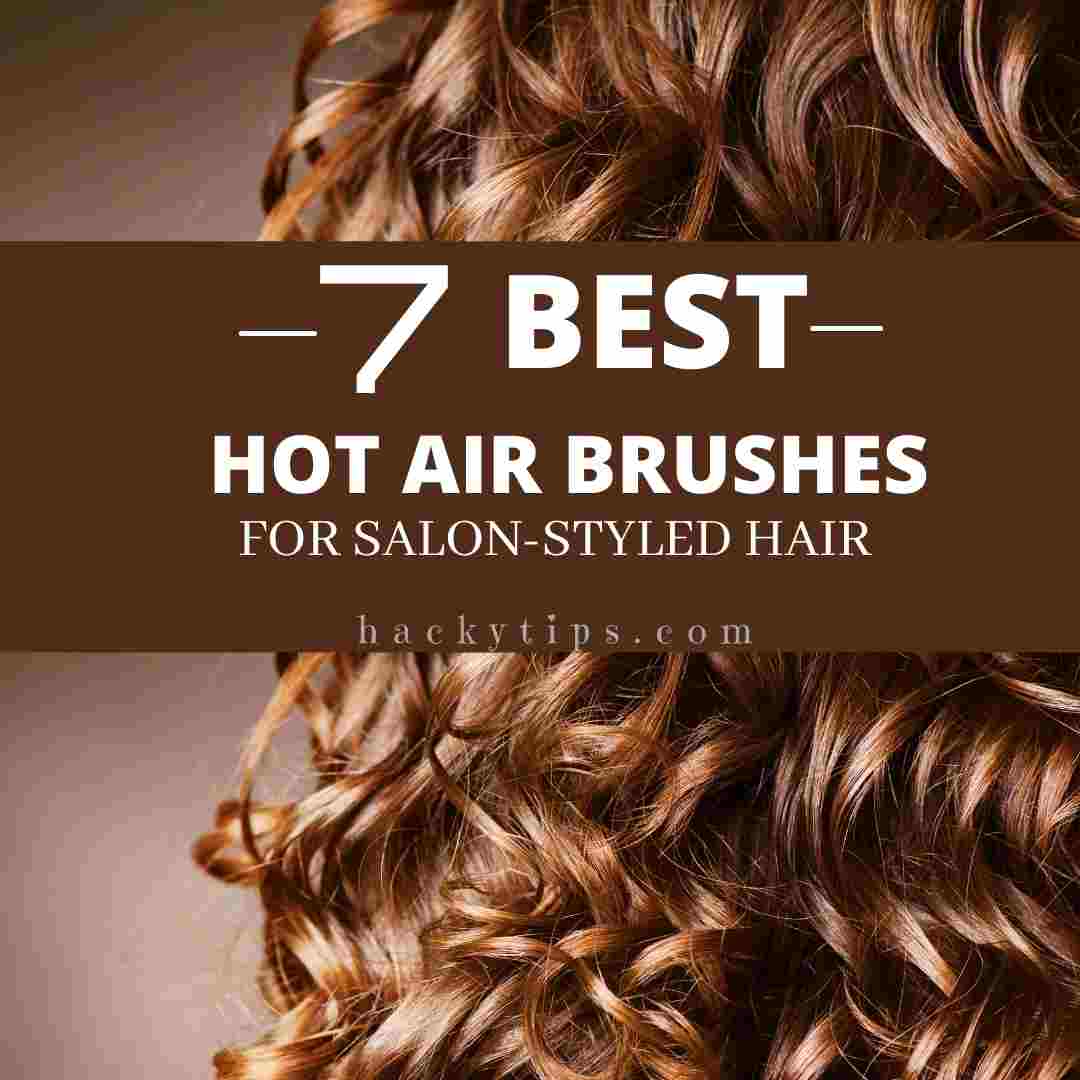 Hot Air Brushes are the ultimate replacement for flat irons. There is a huge difference between these two heating appliances. Flat irons press hair using the two metal plates which transfers the heat. Even after using ceramic technology, flat irons tend to cause more damage or burns to the hair. Whereas, Hot Air Brush uses the heated plate and bristles to transfer the heat. Here the hair won't be exposed to high temperature. As the hot air brush glides through the hair and style the hair by spreading heat evenly.
Hot Air Brushes are highly recommended to people who have thin hair or on the verge of hair damage. Bristles are made of nylon, ceramic, and silicone materials hence it creates styled, volumized, and stylish hair.
There are a variety of hair dryer brushes for different hair types and personal requirements. It is difficult to choose the best hot air brush when you are switching from flat iron to hair dry brush.
That's why in this post we have reviewed some of the best hot airbrushes. Scroll down to read them and pick the best one to get a saloon-styled look at home.
How to Choose the Best Hot Air Brush?
ION Technology: Our hair has both positive and negative ions. Using a towel to dry the wet hair takes away all the negative ions. As a result, only positive ions will be left in the hair creating repulsion between the hair strands which in turn creates frizz and flyaways. A hairdryer brush made of ion technology uses heat to release negative ions into the hair. Because of the balance between positive and negative ions, flyaways are tamed perfectly to keep the hair intact.
Heat Settings: Having multiple heat settings lets you choose the perfect desired heat. For thick hair, it can be adjusted to high-temperature and moderate setting to the thin hair. This way everyone gets a choice and perfection depending on their hair type.
Weight: When the hairdryer brush is heavy and uncomfortable to hold then you won't enjoy the styling. It becomes a daily hassle and pain to finish the job. Always look for a lightweight yet effective hot airbrush.
Bristles: Type of bristles depends on thick/long/short hair. If your hair is thick or long then choosing a hot air brush that has widely spaced bristles is always recommended. Before purchasing, make sure the bristles won't heat or burn.
Barrel Size: Wider barrel produces fewer curls and the thinnest barrel helps to create beautiful curls. Hence depending on what exactly is your requirement you can choose the barrel size.
7 Best Hot Air Brushes
1. Revlon One-Step Hair Dryer and Volumizer
Revlon One-Step Hair Dryer is currently one of the famous hot airbrushes in the market. The unique airflow vents are designed for faster drying and less heat damage. An oval-shaped barrel smooths out hair while the round edge creates volume. 
Tufted bristles with nylon pins help to detangle the wet hair along with providing saloon-style finishing. With the help of temperature control, the optimum temperature can be set in order to get the perfect style for thick or thin hair. This hair dryer has been designed by taking care of all safety instructions hence you can hold it closer to the scalp without affecting by the heat.
Pros:
Built with ION Technology which promises to get rid of frizz easily
Comes with three heat and one cool setting
Six ft. cord allowed it to stretch at any angle
Nylon Pin Bristles helps to detangle the hair
With the help of oval design, helps with extra lift at the roots
Cons:
Since the brush size is huge which makes it difficult to hold short hair. If you have short hair we recommend you try this hairdryer in any beauty store before purchasing it.
This hair dryer is quite noisy! If you have long/thick hair (time required to style is more!) it might start irritating with its loud noise.
2.

CONAIR Titanium Ceramic Hot Air Brush
CONAIR Titanium Ceramic Hot Air Brush has an attractive design with promising features. The barrel is made of titanium ceramic making it shiny and beautiful. The 1.5-inch barrel gives enough volume to dull hair and ion technology easily helps to get rid of the frizz. 
Nylon ball-tipped bristles are another great feature of this hot airbrush. They are designed to detangle the damp hair, helping it to dry faster and also bring fullness.
CONAIR Hot Air Brush comes with 2 heat and one cool setting. It's lightweight, long enough to hold it comfortably and the sleek barrel makes it easy to hold any type of hair.
Pros:
Ion technology provides 2 times shine and three times frizz control
Makes it easy to style the layered hair cut
Nylon and ball tipped bristles work together to boost volume
Hair becomes less frizzy and shinier
The handle is comfortable to hold
Cons:
The swivel cord is very short hence it is difficult to handle
Few users complained that it died after using it a few times
3.

Bed Head Blow Out Freak
Bed Head has introduced its hot airbrush in the name of Blow Out Freak. Designed with ego boost mixed bristles makes it one of the perfect heating tools to twist the hair in any way you want. Bristles are similar to boar bristles hence it helps to defrizz the hair by taming the flyaways.
Bed Head Blow Out Freak is designed with in-built Tourmaline Cermaic Technology. This helps to create a volumized, frizz-free style by drying the hair faster.
Pros:
Oval Design helps to get a maximum volume boost
Three heat and one cool setting with 1100 W power
Heats up quickly
The lengthier swivel cord makes it comfortable to hold
Cons:
Using a higher heat setting causes hair damage by making them frizzy
Lower heat setting hardly produces any heat
Not made of Ion technology
4. Revlon

Pink Paddle Dryer
There were many complaints about the weight of the Revlon One-Step Hair Dryer mentioned at the top of this list. Hence Revlon has introduced another one-step hairdryer with lightweight yet similar features. Paddle designed brush head makes it more comfortable to style. Pad is flexible so the detangling is easy which also provides volume and glossy finishing. 
this hair dryer brush is also designed with Ion technology. If you want to replace the Revlon volumizer hairbrush because of its heavyweight then this product can be your solution.
Pros:
Lightweight Ion technology hair dryer brush
Paddle design is easy to dry faster at the hair roots.
Perfect for straightening
Two-in-one Dryer plus comb model
Cons:
Not good for detangling
It won't give perfect curls
5.

Bvser 3-in-1 Hot Air Brush
This hair dryer brush is a combination of a blow dryer, hair curler, straightener, and hair volumizer. You can get four benefits hence perfect style can be obtained with minimal time. Oval shaped hot airbrushes are perfect for straightening and as well as curling.
Designed with Ion technology, Bvser 3-in-1 Hot Air Brush is giving tough competition to branded hairdryers with its ultimate quality. It provides faster drying with less hair damage.
Pros:
Ion technology makes it best when it comes to controlling frizz
Single product with multiple benefits
Ceramic coating provides even heat distribution
Lesser noise and more comfort
360 deg swivel cord with three-level heat settings
Cons:
The motor is less efficient
It takes a longer time to dry thick hair
6.

Hot Tools Gold Hot Air Brush
Another perfect hot airbrush with Ion technology. Bristles are designed with Boartech technology that helps to easily detangle the hair. It gives a relaxing massaging feeling with the smooth tips. The ergonomic handle is designed for maximum comfort and ease of use during styling.
Three in one combination with its blow dryer brush, hair curler, and hair straightner features. Three adjustable heat settings for different hair types, high heat for thick hair, middle heat for fine or damaged hair.
Pros:
Three adjustable heat settings
Ion technology with Boartech bristles
Round edges provide smooth volume and curled ends.
Cons:
Smoke and slight odor during the initial use
Overheats quickly
7.

Bongtai Hair Dryer Brush
Bongtai Hair Dryer Brush is also designed with 360 deg negative ion technology. Entangling-free massage bristles with a massage ball can massage the scalp and slide through the hair easily.
A comfortable grip makes it easy to hold which helps to style any length of hair. Bongtai hot airbrush is detachable and portable hence it is perfect for travel.
Pros:
Detachable, portable, convenient for travel purposes
Can be used as a dryer, straightener and curler
6FT swivel power cord provides great flexibility while styling
Innovative vents design on the bottom reduces noise effectively during use
Fireproof material to protect from heat
Cons:
The size is quite large
It takes time to practice styling with this hair dryer brush