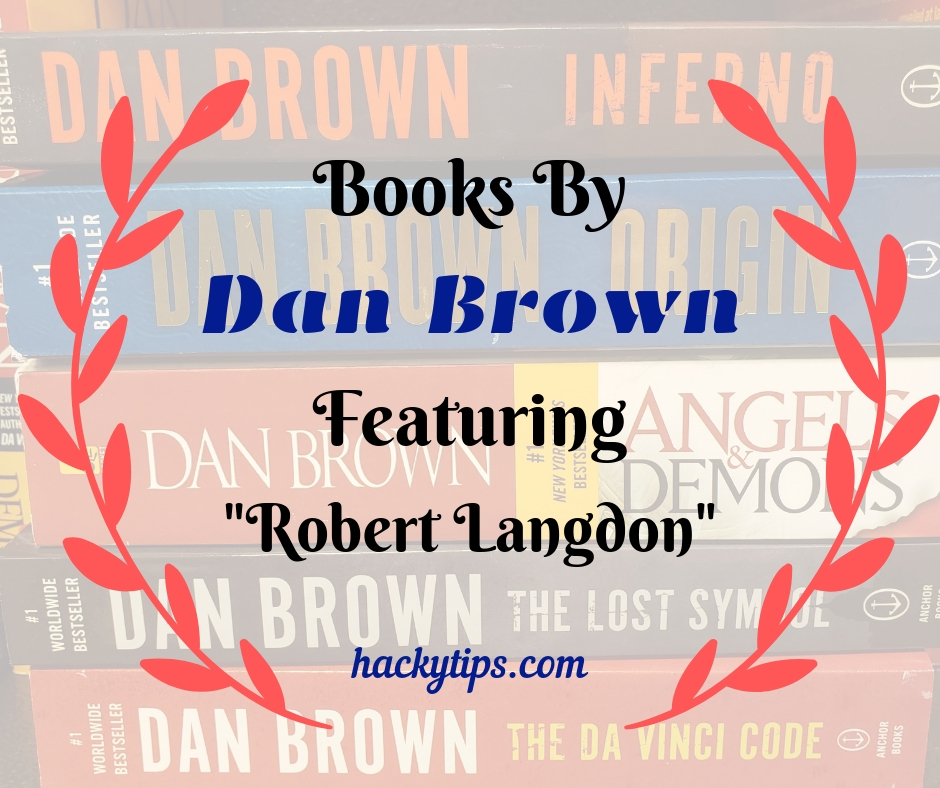 When a friend of mine insisted me to read "Angels and Demons" I was less excited. Reasons were; I never read any of the Dan Brown books, and I imagined my own story based on the title.
I wanted to try Dan Brown since my friend praised the book a lot.
After researching about Dan Brown in Goodreads, I came to know that he has written a number of books.  Based on a friend recommendation I started with the "Angels & Demons". This 700+ paged book is such a great page turner. I couldn' keep the book aside until I finished it. Within a week I finished the book and was heavily impressed with Dan Brown's work.
My friend was right! Perks of having like-minded friends will benefit in sharing the knowledge.
After "Angels and Demons" I read Dan Brown's books one after the other. From Angels & Demons to Origin (HIs latest Book), I have read all of his books except Digital Fortress, The bald book & Deception point.
So I can say that I have read a series of Books featuring Robert Langdon and waiting for Brown's upcoming books.
Today in this post, I'm going to share my views, opinions, and thoughts on Dan Brown's books.
Before going into each and every book in detail, let's see a brief intro about Dan Brown. A quick look at how his books became the best-selling worldwide. Recently he took over J.K.Rowling on the highest number of copies sold.
His first book was not famous!
Yes! Dan Brown's book 'Digital Fortress' didn't succeed in attracting a large number of readers. Like every author, Dan Brown was waiting for his book to reach the vast majority of book-geeks but somehow that didn't happen.
Then he came up with his next book The bald book, which was again sat in bookstores for a long time waiting for the readers to come and pick it up.
Then Brown came up with his book "Angels and Demons' featuring Robert Langdon. In the initial years of its release, Angels & Demons also failed to attract readers.
He came to limelight once after his 4th book 'The Da Vinci Code' which made him a star in an overnight. 80+ million copies were sold worldwide making Dan Brown Top 12 celebrity in Forbes 'Celebrity 100' list.
Then he didn't look back.
People started loving his books and year after year he gave books that his readers would die to read. Because of this success, his first 3 books were also read and Angels & Demons gained attention after years of its publication.
What people love is…
The amount of research in Dan Brown's each and every book. He mainly picks up the subject that conflicts between religion and science. Fight between good and bad.
Keeping his religion and science views aside, I like the way he narrates the history, ancient myths, stories behind paintings… It gives me a feeling to visit each and every place that he had described. After reading Dan Brown's book I started looking at museums in a different manner, with more interest & curiosity.
When it comes to writing nothing is easy. However books like Becoming by Michelle Obama are comparatively easy because you know the story, you have been there and seen that. In fiction stories, the author should have skills in holding his readers and making it a page-turner. Dan Brown is no doubt legend in this regard.
Places he chooses for the story will be studied thoroughly. Rome in "Angels & Demons", Paris in "The Da Vinci Code", Washington in "The Lost Symbol" is well researched highlighting their history and architecture.
Coming to the architectural part, his beautiful narration about each and every place is magical. Whether it is a Church or a museum Dan Brown never fail to use the opportunity to picturise the visuals as it is to readers.
Let's see the books one by one.
1) Angels & Demons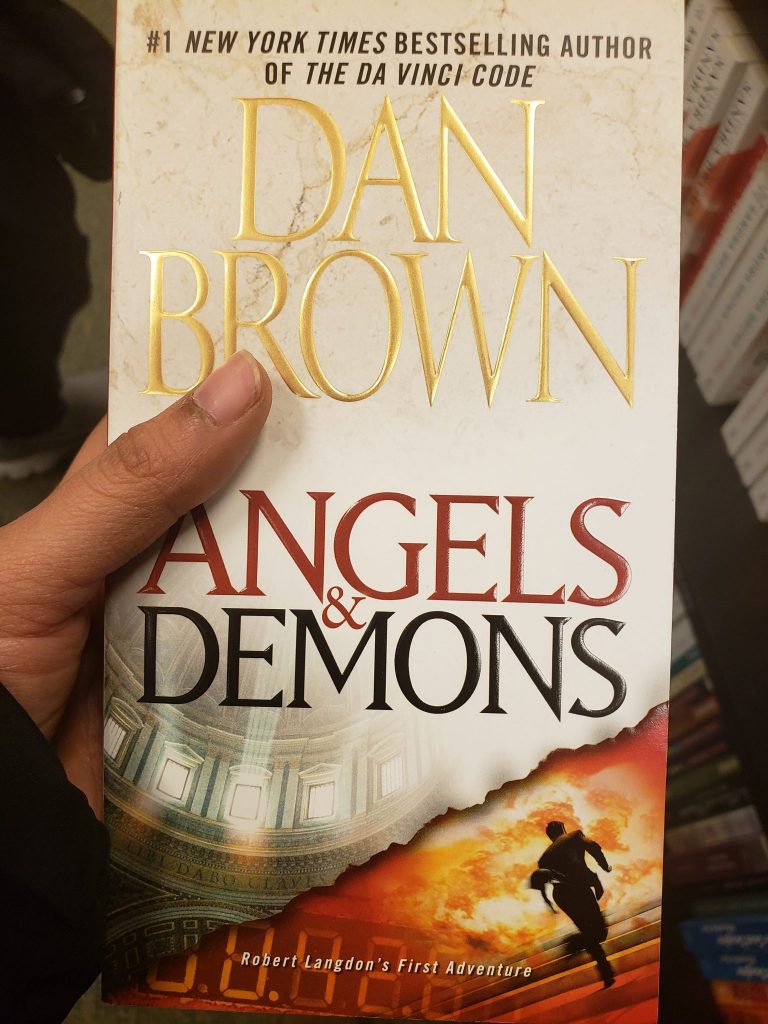 You can guess from the title that the story is about Good vs Bad, God Vs Evil, Worthy vs Non-worthy. Yes! Angels and Demons is a nail-biting thriller story which revolves around Illuminati and Vatican city.
Robert Langdon, Handsome Harward professor was first introduced in this book. His vast knowledge of symbols, history, and art, has made him one of the most intelligent professors that Harward has ever seen.
He is also famous for his best selling books. The story starts with Langdon summoned to a famous research facility in Switzerland. He was called to find out the mysteries behind a symbol that was drawn over a dead body.
In the series of events, he joins Vittoria, whose father was the victim of the Illuminati. They find out about the capture of 4 cardinals who were supposed to be part of the big event  'Conclave'.
As Robert solves the mystery one by one, more and more risks will come on his way. All he has to do is stop the time Bomb and save the world from a disaster.
2) The Da Vinci Code
Dan Brown's second book featuring Robert Langdon.
As the story dives deep into mysteries, I enjoyed every bit of this book.
After saving Vatican city and falling in love with Vittoria, Robert returns to his normal Harward life. One day he gets a call and was told that the curator of the Louvre has been murdered inside the museum.
The story takes a little slower pace in the initial pages. All you have to do is read further with patience. Once the story picks up its speed you will be amazed by the mathematical insights, facts, symbols, puzzles, Da Vinci Painting in detail, adventure and many other things.
This controversial book may not give the same feeling to everyone. Some of the Christian facts that Brown has mentioned in the book may taste bitter.
It looks easy to find out the suspect but be prepared to face the unexpected twists which you may never imagine. I was googling each and every painting that he has mentioned in the book and amazed (Over & over again!) about the amount of research put on this book.
3) The Lost Symbol
It is time to know about America's heart 'The Washington DC'. Overnight a series of events will be happening in the capital of America and Langdon is the center of all these events.
After solving mysteries of Illuminati, Da Vinci Robert is revealing Mason's secret in this book "The Lost Symbol".
Robert has to listen to the orders of a madman in order to protect his friend, a high degree Masonry Peter Solomon who was captured. CIA, Mason brothers & Katherine, Peter's sister who is also a scientist join Robert to solve the mysteries of a secret pyramid.
Back in India, I have heard about the Pyramid Yoga and the relation of Cosmic energy with the pyramid. The way Langdon builds a relation between Science & religion is astonishing.
Unlike Angels & Demons and The Da Vinci code, this book has very fewer symbols/puzzles to solve. However, there is no shortage of twists in the plot and story is fully adequate.
Again there are mixed reviews for this book but it was widely appreciated and accepted by Dan Brown fans.
4) Inferno
Inferno means the large fire that is dangerously out of control. In this story, Robert wakes up in a hospital with a gunshot on his head and loss of memory. Since he is not able to recall the happening of the last 2 days, he trusts everyone who comes to rescue him.
Doctor Sienna saves him from an assassin(who was trying to kill him). Robert trusts Sienna and starts fleeing from a black squad which is following him everywhere. He faces many bitter truths on his way while resolving the mystery of the deadly plague virus.
Dan Brown became famous overnight and millions of copies were sold on the first day of its release.
Only thing I felt was there should have been fewer riddles in the book. Also, Dante's Inferno really scared me and most of the facts felt true in near future.
Like Angels & Demons, The Da Vinci Code, this book is also made into a movie. Compared to the book, the movie has very less plot and a different climax.
5) Origin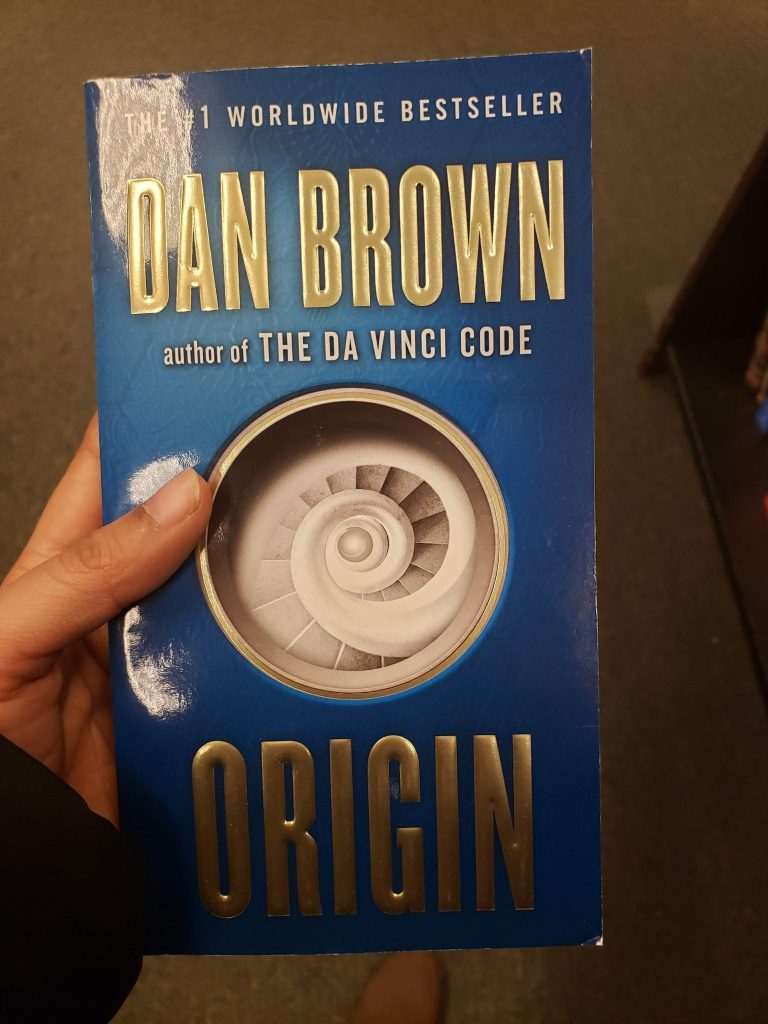 The latest book of Dan Brown featuring Robert Langdon. The story again revolves around religion, science and the fundamental questions of human existence.
Famous scientist and billionaire Edmond Kirsch, who was a student of Harward & Robert Langdon is going to make a major announcement in front of a bunch of scientists & intellectuals like Robert Langdon. And guess what! Kirsch has found answers to questions 'Where do we come from? and Where are we going?'
Nothing goes according to the plan. Because you are reading Dan Brown's book 😀 chaos make Robert escape and face some horrible incidents which usually happens with him.
I liked the way Brown used fake news, dark sides of the internet, Artificial Intelligence in this story.
This intense, fast pacing, spine chiller is surely an entertainment if you are looking for something to forget the world and get lost in your own world. Dan Brown successfully created another mind-blowing story which makes you keep turning the pages.
Dan Brown had said that he has a total of 12 plots with Robert Langdon. Considering that we(avid Dan Brown readers) have many books in the future which make us feel excited. 
Have you read any Dan Brown book? Use the comment section to share your opinion.
Let's connect through Goodreads. you can follow me here.