It's December! A month full of lights, festivals, and celebrations. It's that time of the year where we just relax, enjoy the holidays with family and loved ones. To make this festive season the happiest and fun-filled, we have handpicked some of the best Christmas movies. We even have Christmas gift ideas for family and friends to make your job easy. Now it's time to bring some of the best Christmas nail art inspirations to make your festive season more colorful.
Every season comes with its own nail art trend. Whether it's fall nail art designs or winter nails nail art enthusiasts always look forward to the new season to try new designs. Also, It's not always about the season! When you have a creative mind why wait for the season right?
While the traditional Red, Black, Green are still ruling the nail art world, classic colors such as milky shade, peach, nudes are giving a hard fight to look best on the nails. When it comes to nail art we always look for new, trendy designs. These designs mentioned below by various artists, nail art experts are the most stylish and modern nail art you could ever find!
1) Christmas & Grinch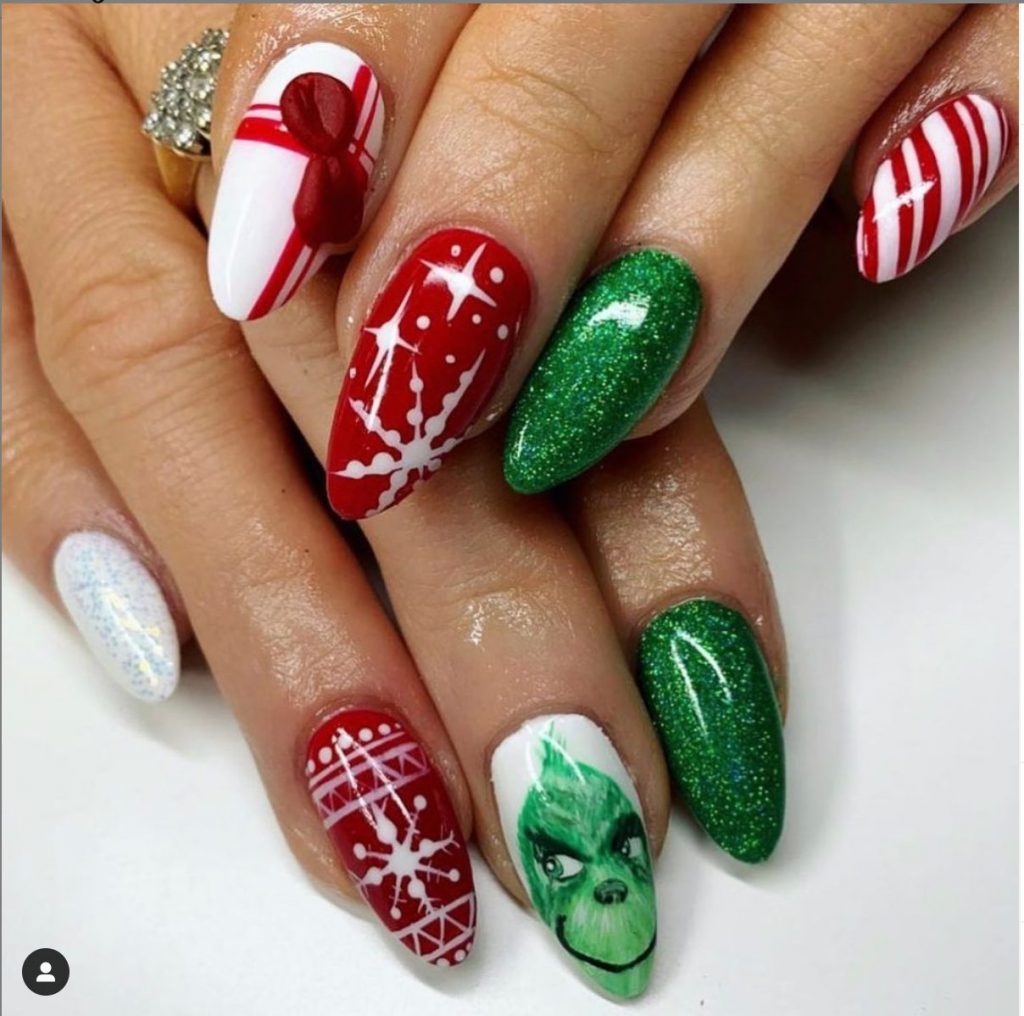 Photo By: Notorious Nails
Christmas comes in Red, Green, and White! While red and green have a traditional concept, white represents the snow. Hence it's always perfect to combine all three colors to get a great blend of Christmas on nails.
2) Snow Flakes Dipped in Red Gel
Photo By: Alina
Simple, elegant, and beautiful! When you have snowflakes in mind what else can blend smoothly other than the bright red? Here is an example of red gel nail polish with a pinch of Christmas look.
3) Beautiful Black Matte Nails
Photo By: Fabysnails
Have you ever thought of blending matte black with cute snowflakes? If you are thinking then go ahead! Because you will fall in love with the outcome as you can see in the photo.
4) Christmas With Chrome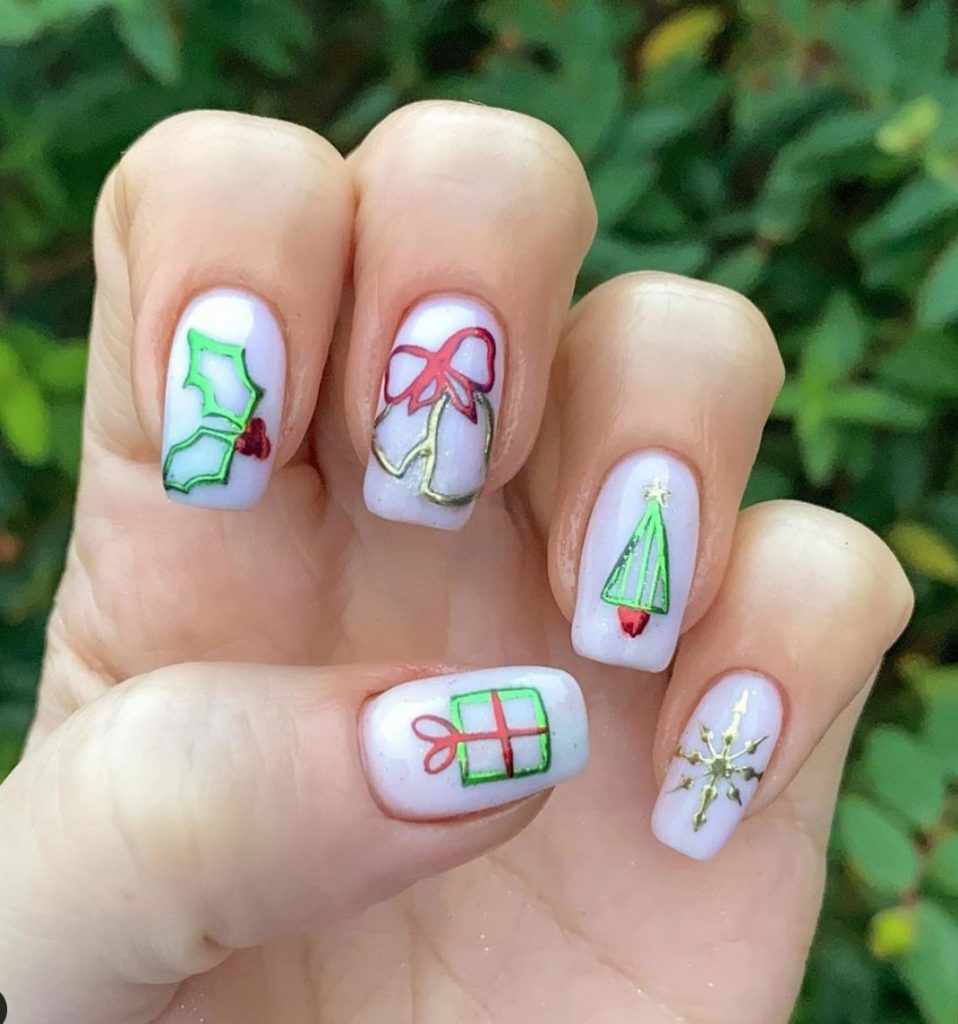 Photo by: Cheshire
Chrome nail art is back in the trend now! Who doesn't love those flashy metallic reflective nails? Add those cute mini chromes into your nail art to get a beautiful Christmas nail art.
5) Flashy Red For The Festive
Photo By: Inge
Okay, we are obsessed with the RED! When you use a bright red color all you have to do is, give a touch of art to make it stunning and stand out in the crowd. Such nail art designs are best for those people who are running out of time and want to bring something better at the last minute.
6) Perfect Christmas Nail Art
Photo by: Emma
Now it's time to talk about glitter. Perfect choice for the festive season because with a pinch of glitter on your nails, you can create wonders. Keep the base simple to reveal the most of the shine from the glitter on the top.
7) Nail Art with Elegant Stickers
Photo By: Maria
Sometimes you just need to find the best stickers to make your nail art adorable. Remember, any kind of art or fashion looks royal when it is simple!
8) Christmas Art on Milky Base
Photo By: Diana
What is Christmas without a Christmas tree, right? When we are talking about Christmas Nail Art how can we ignore cute Christmas trees on nails? Best nail art design for your Christmas 2020.
9) Red Christmas Designs
Photo by: Danny
Looking for something more interesting? Try this nail art that is combined with glitters, stickers, and everything that challenges a nail stylist. Christmas or any other special occasion you can always trust such elegant designs to make any day perfect!
10) Foil Nail Art for Christmas
Photo by: Jen
It's all about trying different accessories to get the best design! Why not use foil for the Christmas nail art? Find a suitable foil and create your own designs.
11) Christmas Spirit on Nails
Photo by: Lucia
Now it's time to bring Santa! A perfect art with Santa, reindeer to make the look more Christmassy. You can mix green to make it traditional.
12) Candy Cone Swirls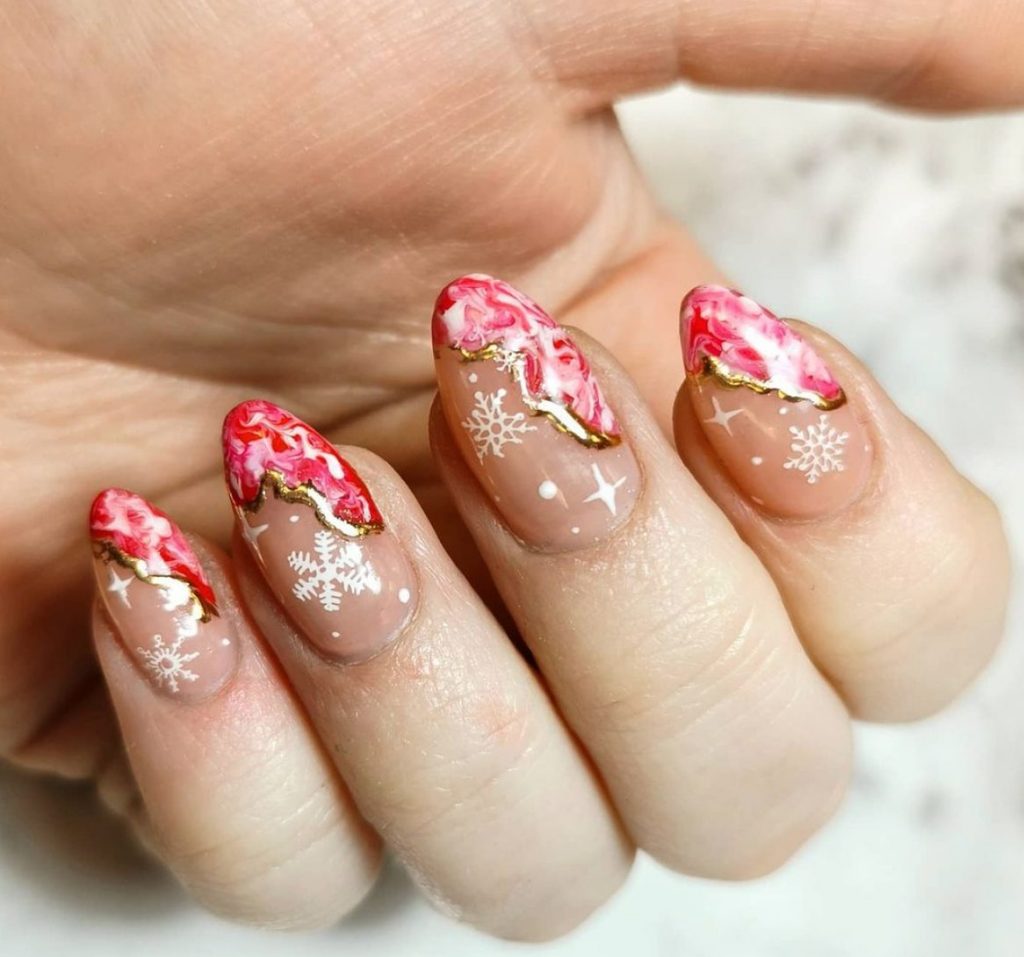 Photo by: Danni Page
Nail Artists are always in search of inspiration. From Planet Galaxy to cute candies, they want to bring everything on nails. Here is an example of how you can combine Christmas with candy swirls. Cute, isn't it?
13) Christmas In a Row
Photo by: Emma
Looking for something easy and stylish? Try to combine your glitter with simple colors to make them look simple yet festive, easy yet elegant.
14) Stunning Red with Snowflakes
Photo By: Sylwia Rutkowska
One more red (& last, I promise!). To those people who are looking for not-so-obvious Christmas nail designs. Bright red with a snowflake on two or three fingers.
15) Candy Christmas
Photo by: Aymee
Time to pop your nails with candy, snowflakes, snowman, glitter, and everything that you feel like festive. Everything looks good when it comes out as expected!