It's been one month to our trip and we already started getting bored with the monotonous lifestyle. Moreover, who doesn't want to go on a trip in the fall season?
This fall we wanted to visit West Virginia which is known as the heaven of fall colors. However, that plan didn't work out and we decided to visit Door County.
Let me tell you why Door County is one of the top tourist locations in the entire united states.
Top 8 things to know about Door County;
Door County has 300 miles of shoreline and is surrounded by water on 3 sides. Lake Michigan on the north & east side, Green Bay on the west side.
Door County has 34 named outlying islands, the largest of which is Washington Island, which lies off the northern tip of the peninsula.
Door County has 11 historic lighthouses that dot the peninsula's shores, one of the largest concentrations of
lighthouses for any county in the United States.
Door County has 5 state parks, 19 county parks and a large number of local parks, nature preserves, and state
natural areas.
Door County has 53 Lake Michigan and Green Bay public swimming beaches.
Door County, one of the Midwest's premier tourism destinations, attracts around 2 million visitors per year.
Trail kiosks are located along shorelines throughout Door County.
11 different golf courses give golfers the chance to tee off at 180 different holes in Door County.
Source: Official website
If you Google for top locations for fall colors, Door County will be definitely in the list. This midwest location of US is on a peninsula (meaning, a piece of land almost surrounded by water) between Green Bay and Lake Michigan, in the state of Wisconsin.
Being known for its long shoreline & state parks like Peninsula State Park, Potawatomi State Park, Newport State Park, Door county shows the vibrant fall colors if you go in the right time.
Generally, peak fall time falls between the 2nd & 3rd week of October. Though we were 2-3 days past to peak time, Door County was shining brightly colorful.
Early morning we started from Madison, the capital city of Wisconsin to Potawatomi State Park. It is a total of 3 hours drive from Madison. Our bad, rain showered across the route and there was a snow-rain when we arrived at Potawatomi.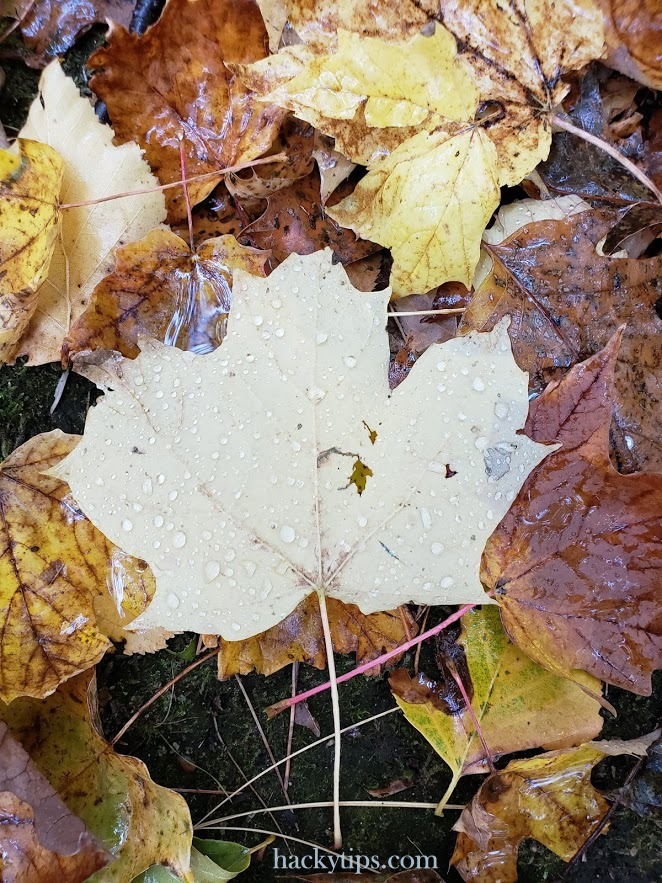 As the Door County neared by we could see the bright colors across the journey. What a beauty! Colors were so bright and vibrant that we couldn't sustain stopping our vehicle to take the pictures.
There was no crowd at all (maybe because of the weather) which gave us ample space to click pictures wherever we wanted. Along with our route, we noticed many beautiful scenic spots surrounded by trees with bright colors.
Here are the few beautiful pictures from Potawatomi state park. As I said already, it was completely colorful and the view was breathtaking. Drizzling rain made the place more romantic.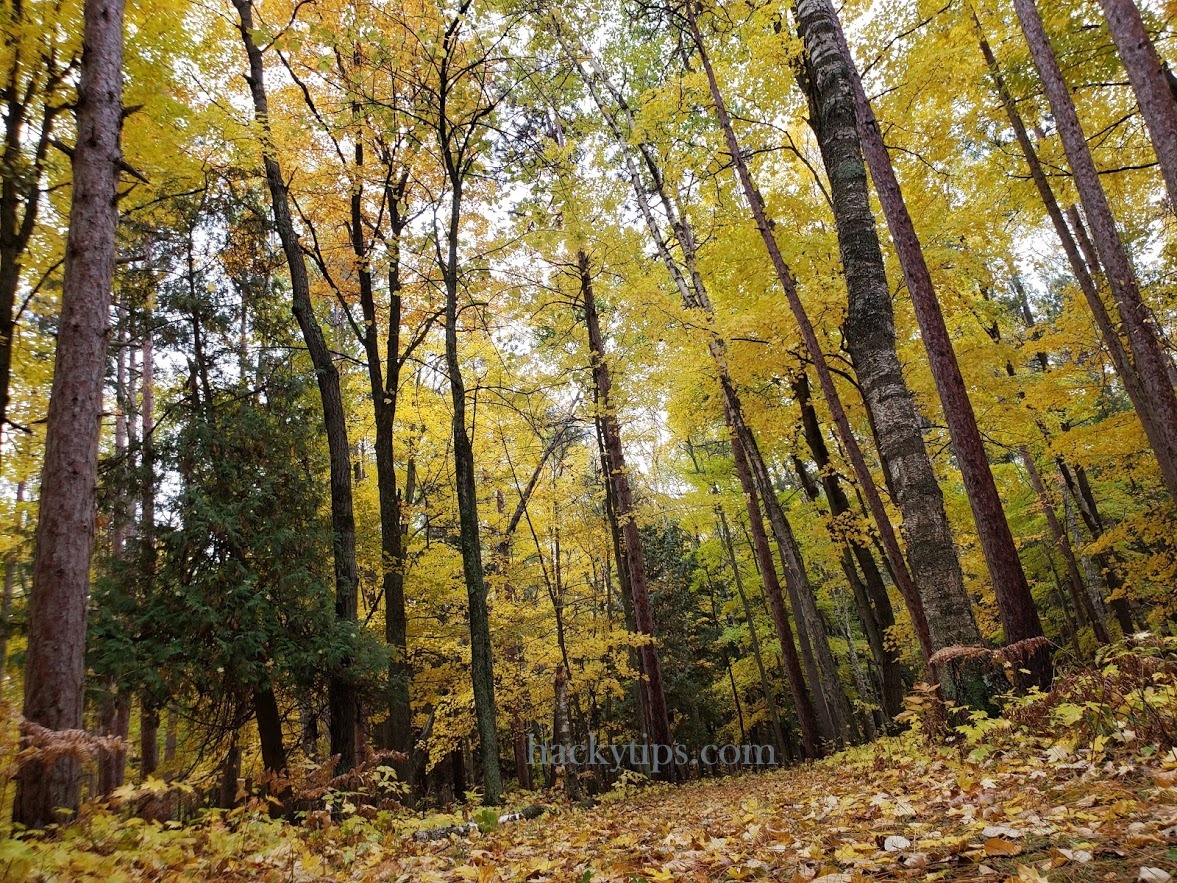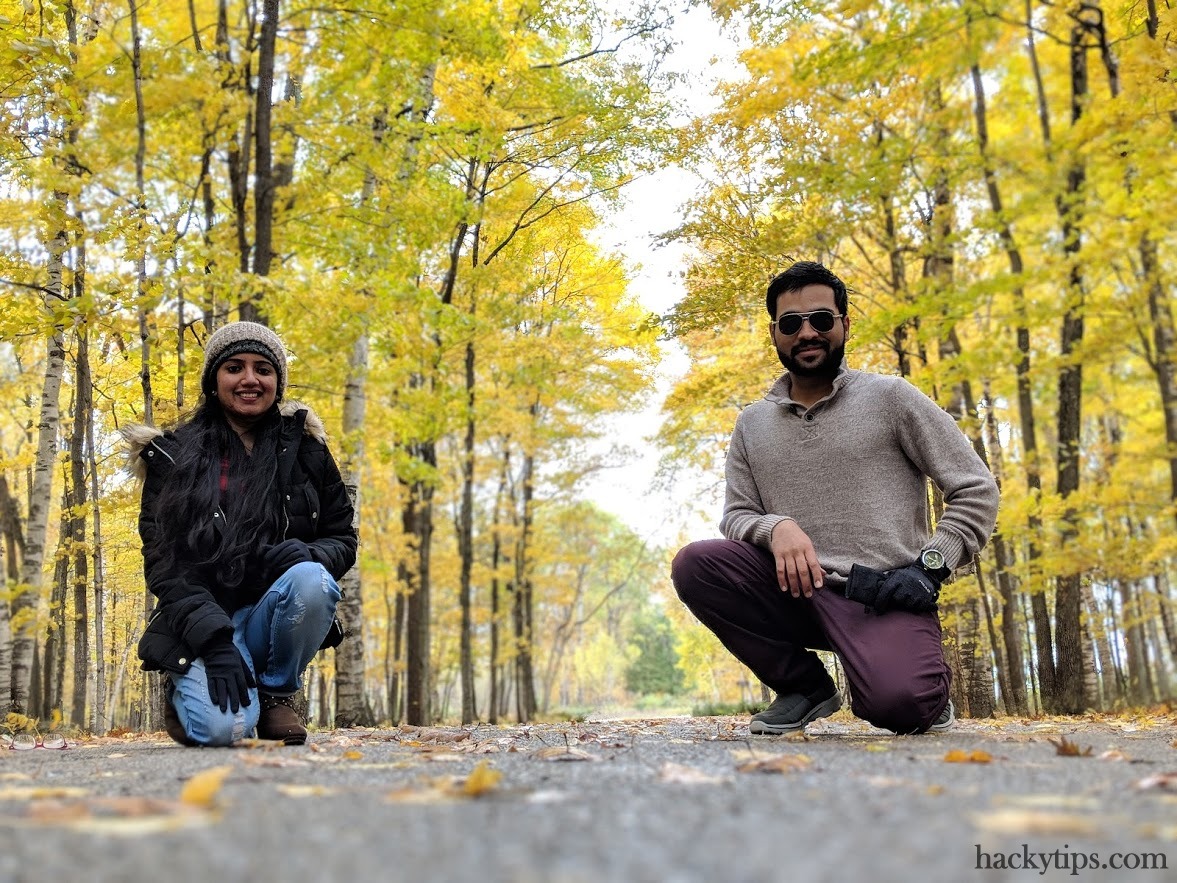 At 1.00pm we had our Door County bus trolley booked in a day advance. As soon as we entered the location it started ice raining and lasted for 4-5 minutes.
Though the rain stopped when the tour started, trees were drenched in rain making the entire scene looking quite dull.
Door county trolley tour is 90 minutes tour which covers most of the Peninsula state park. Our driver Royd narrated us everything from history to wine, best places to get pizza, ice cream and explained all about Lake Michigan islands.

We saw Chambers island, Cano island, Plum island from the viewpoint. As you can see in the above image these three islands can be seen from the top and it's a delightful view to watch.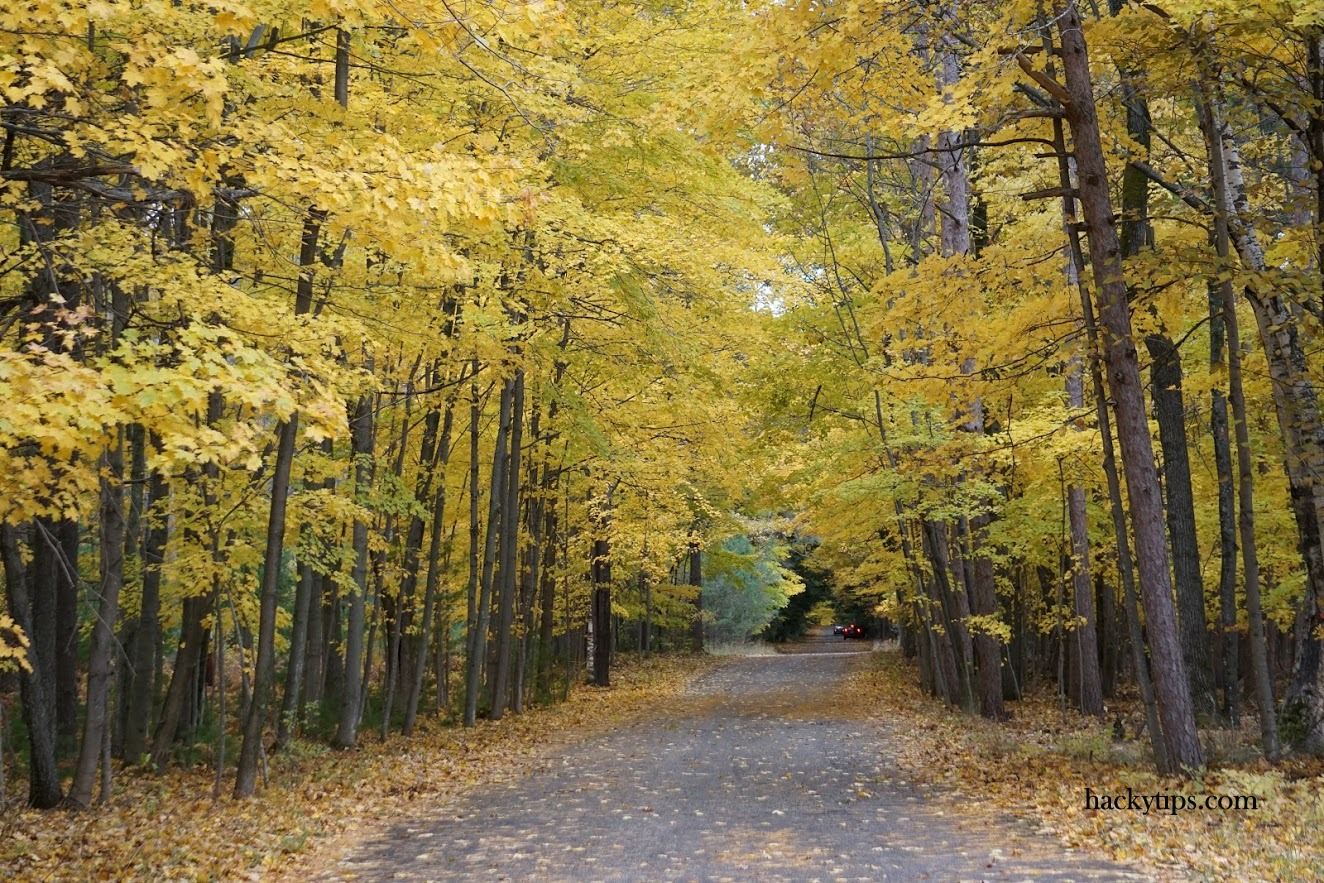 Then Royd showed us Eagle panorama, fish creek compound, Golf ground, and many other scenic spots.
If you have kids or old age people or interested in history then this trolley tour is perfect to get to know things about Door County. Otherwise, you can travel to all these locations by yourself so that you can stop anywhere you wish. Because trolley stops only in 1 or 2 locations. Advance tickets can be booked through their website Door County Trolley Tours.
Food & beverage is allowed in the trolly so you can buy anything from the shop from where trolley starts its tour. Keep your camera handy so that you can take pictures whenever the driver slows down the bus at nice scenic places.
For families with younger children, family tours are the best where you can book entire trolley. They also offer service for weddings, bachelorette parties, and any other special occasions. Thinking about traveling with a pet? then don't worry pets are allowed in the trolley.
Our 90 minutes tour had ended and we wanted to visit one place that Royd showed us during the tour. He didn't stop at this location but said that this is the spot where magazines take pictures for their cover pages.
Along the route, we saw many good spots of Penninsula state park.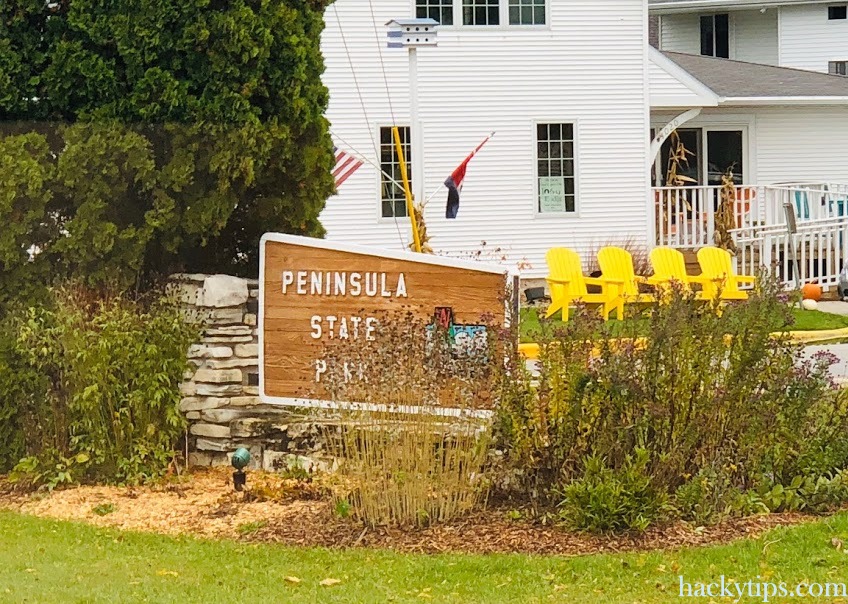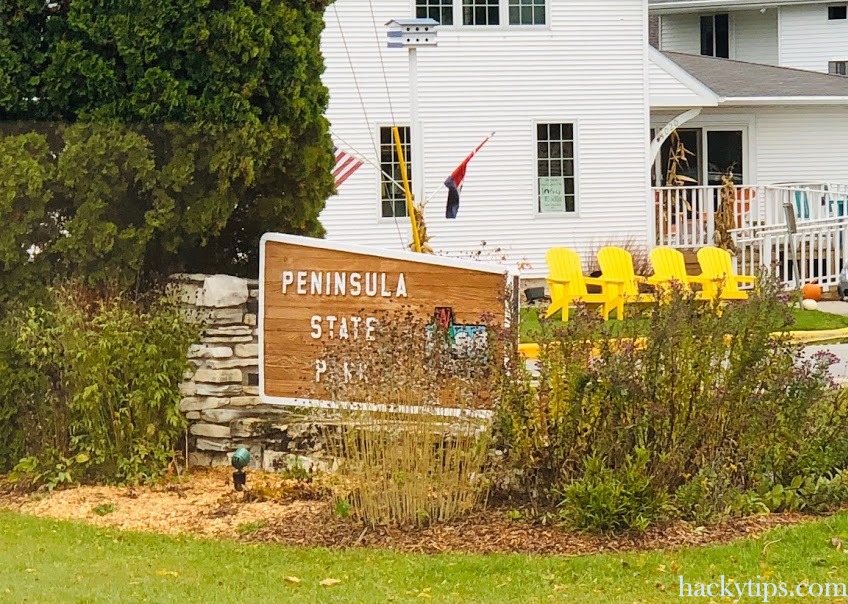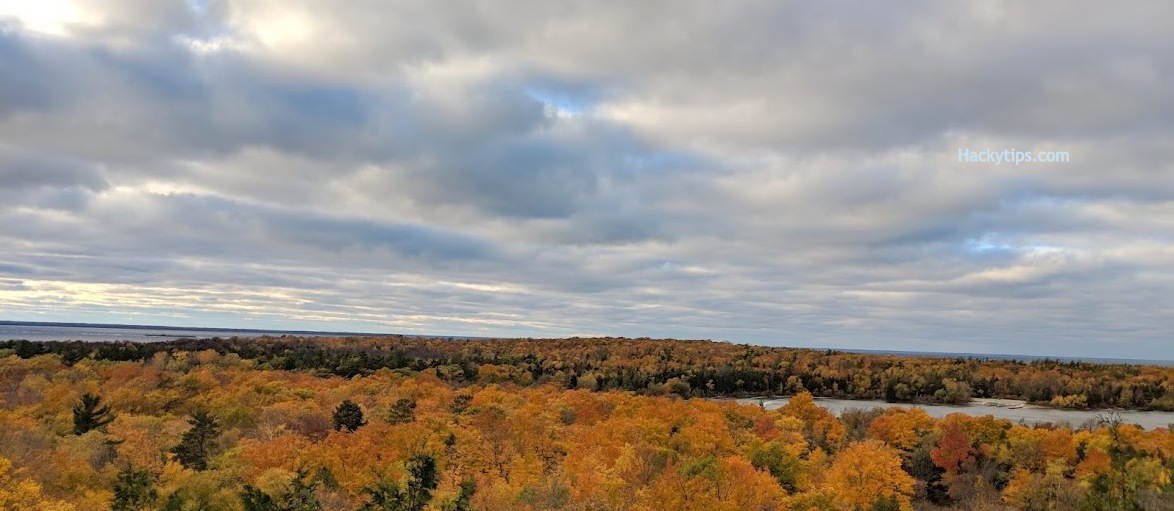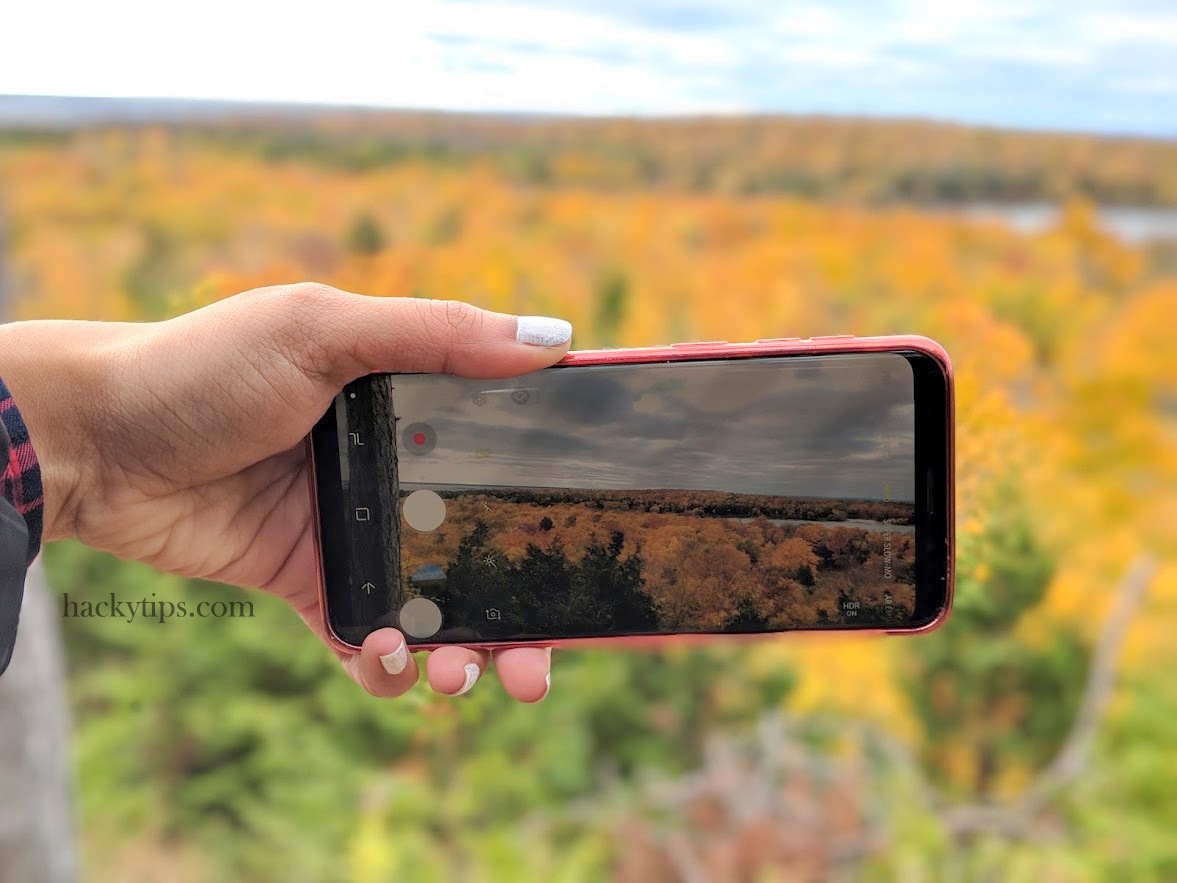 As you can see in the picture location is really amazing. It definitely makes the perfect cover photo for magazines.
Our first-day trip ended and everyone was happy.  We returned back to the hotel that we booked in Green Bay.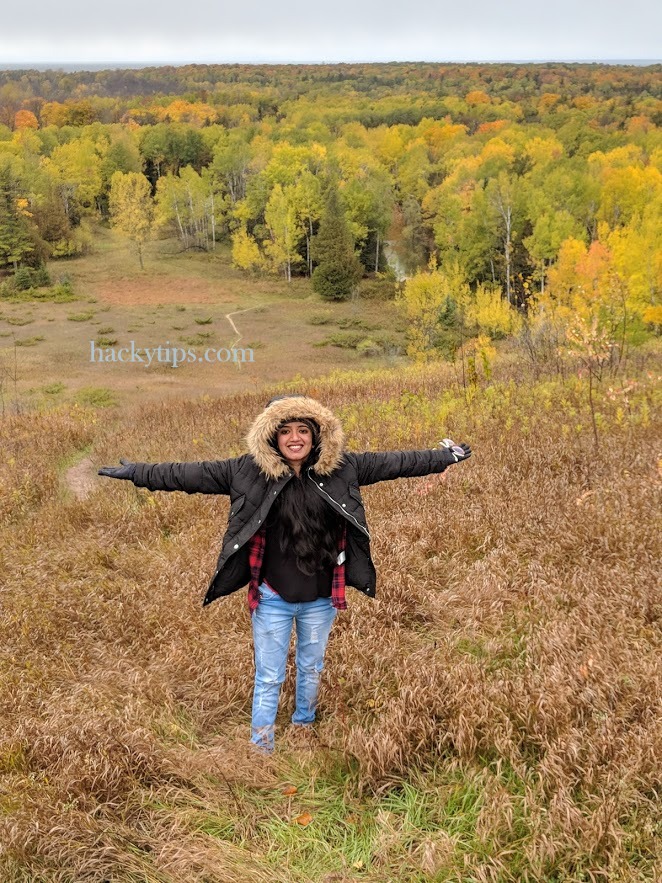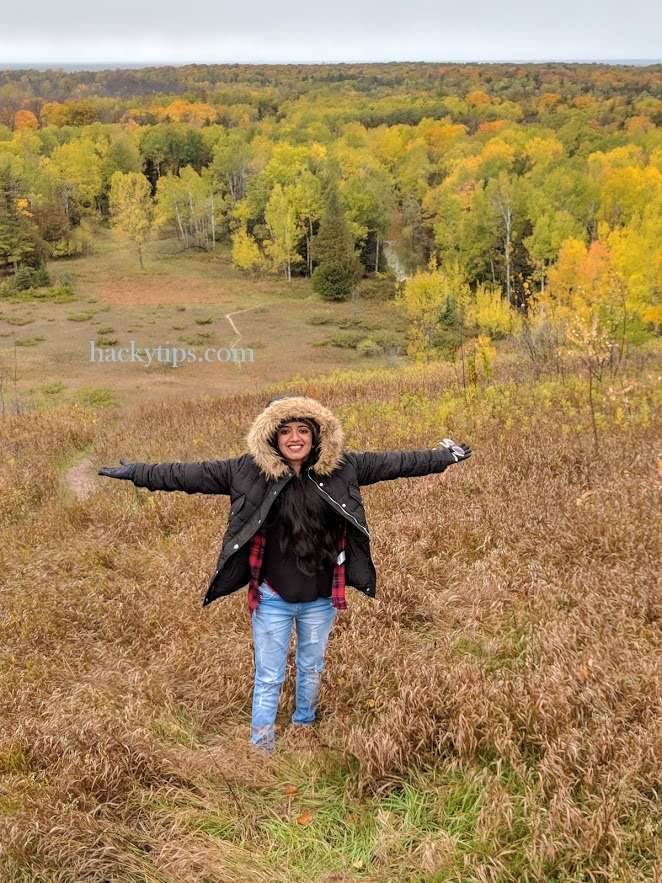 Next day we visited Cave Point country park. This is mainly known for its caves, hiking trails, & limestone cliffs along the scenic Lake Michigan.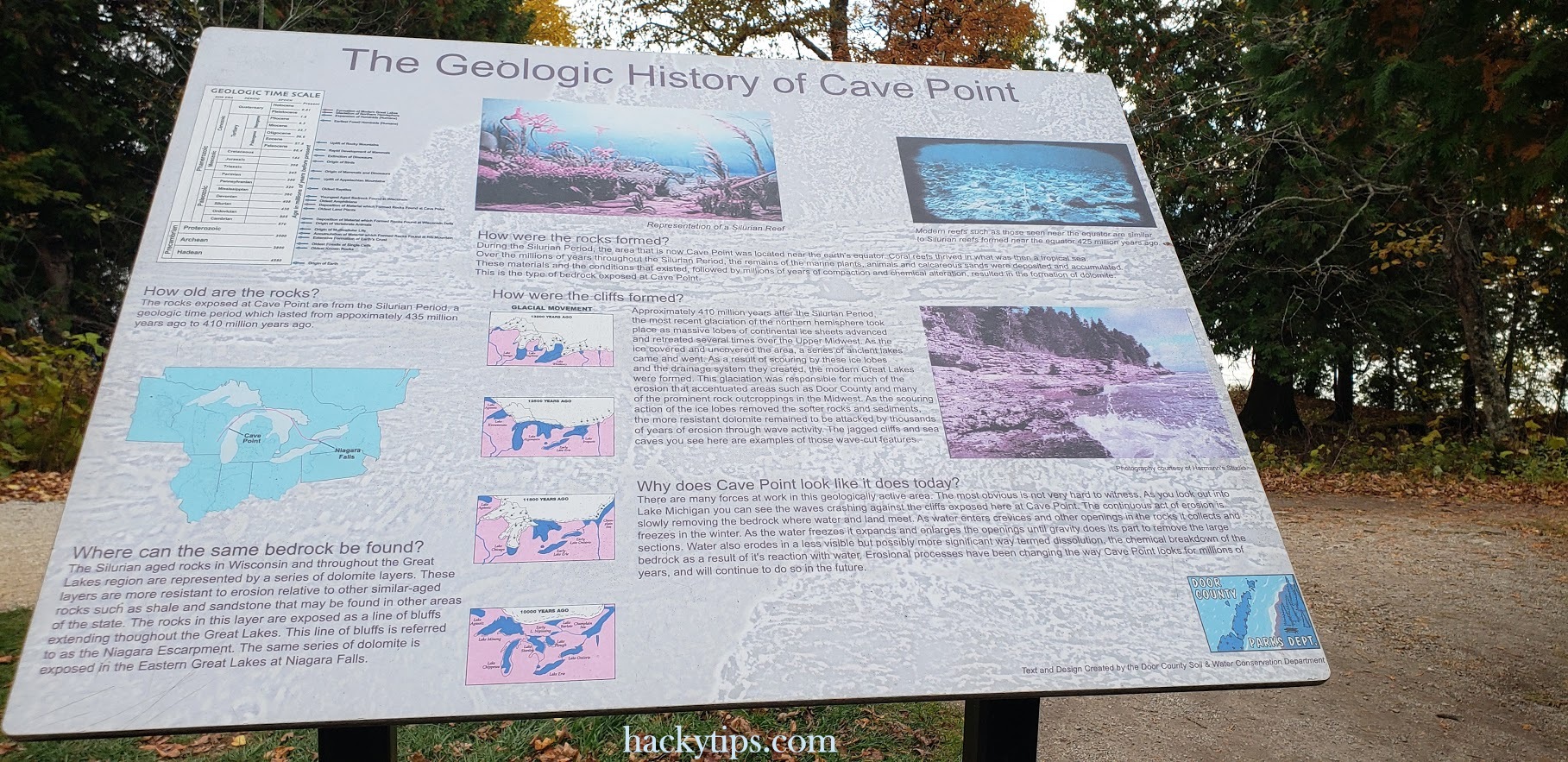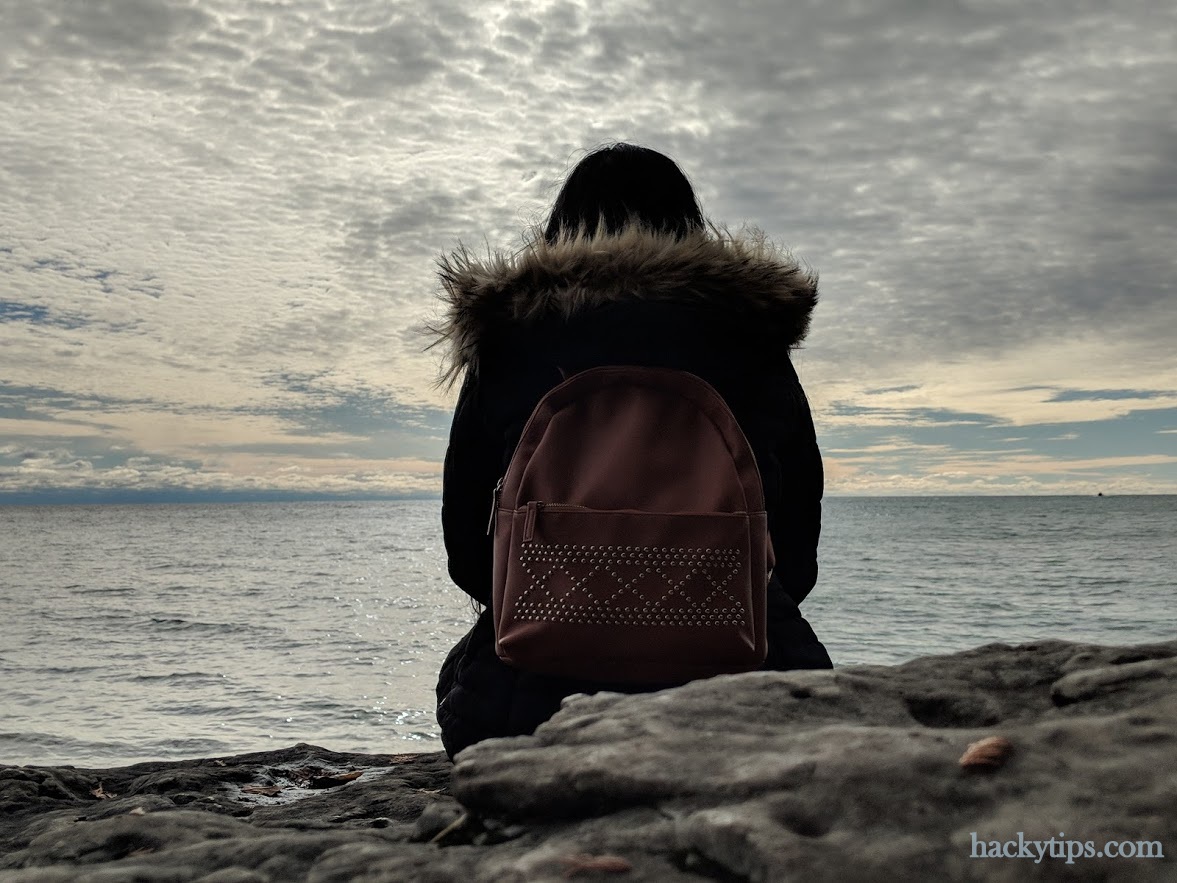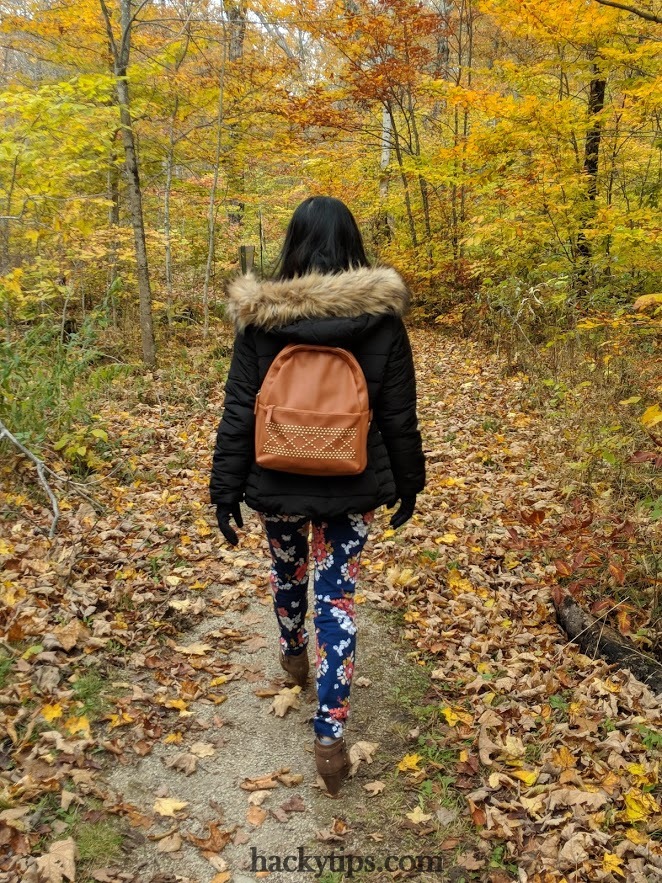 It was too cold to walk through the entire trails hence we just saw the nearby caves and trails and started to the lighthouse.
There is a walking path from the parking area to lighthouse land area across Lake Michigan. Also, there is free transport provided by the lighthouse. It is $12 for adults & $10 for kids to visit the museum and lighthouse.
They have kept antique things which were used by ancient people to run daily life. Climbing the lighthouse is one tedious task because there are a total of 97 steps in an edgy manner.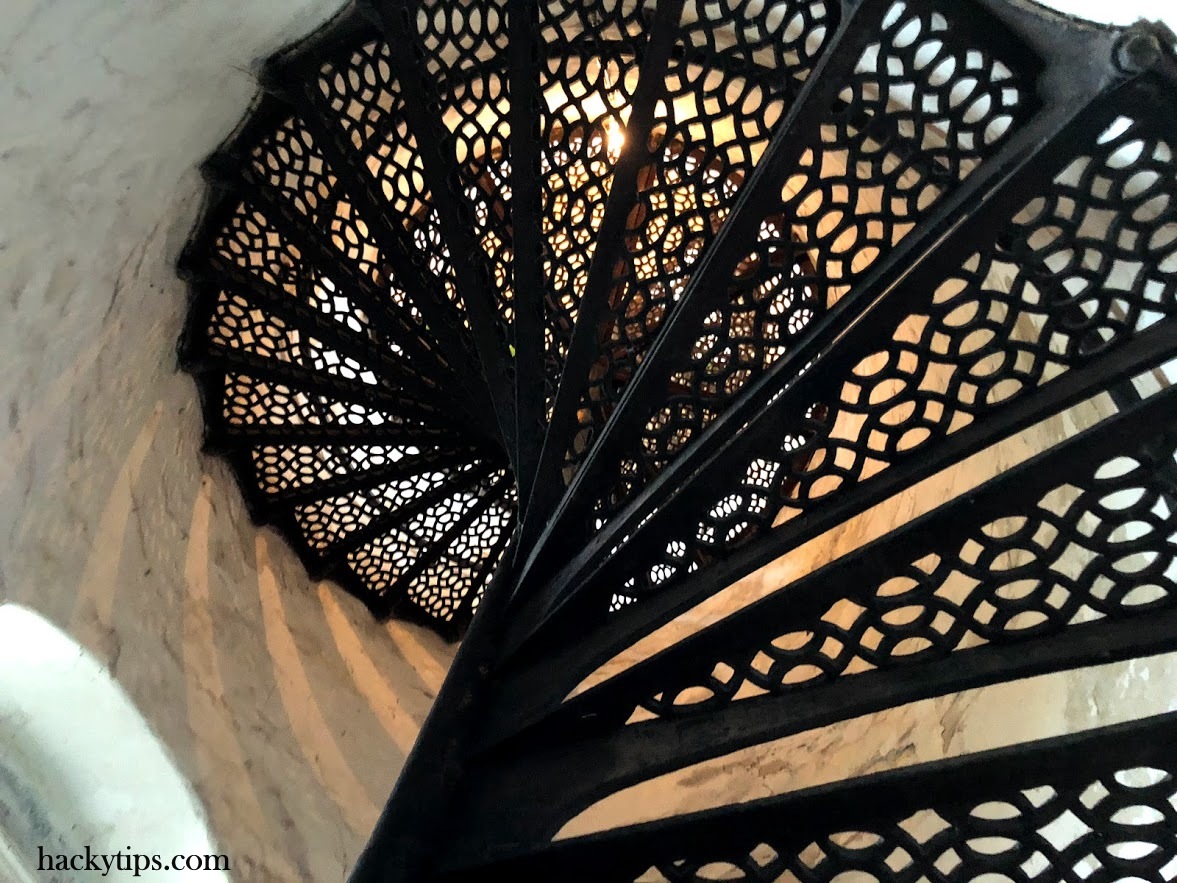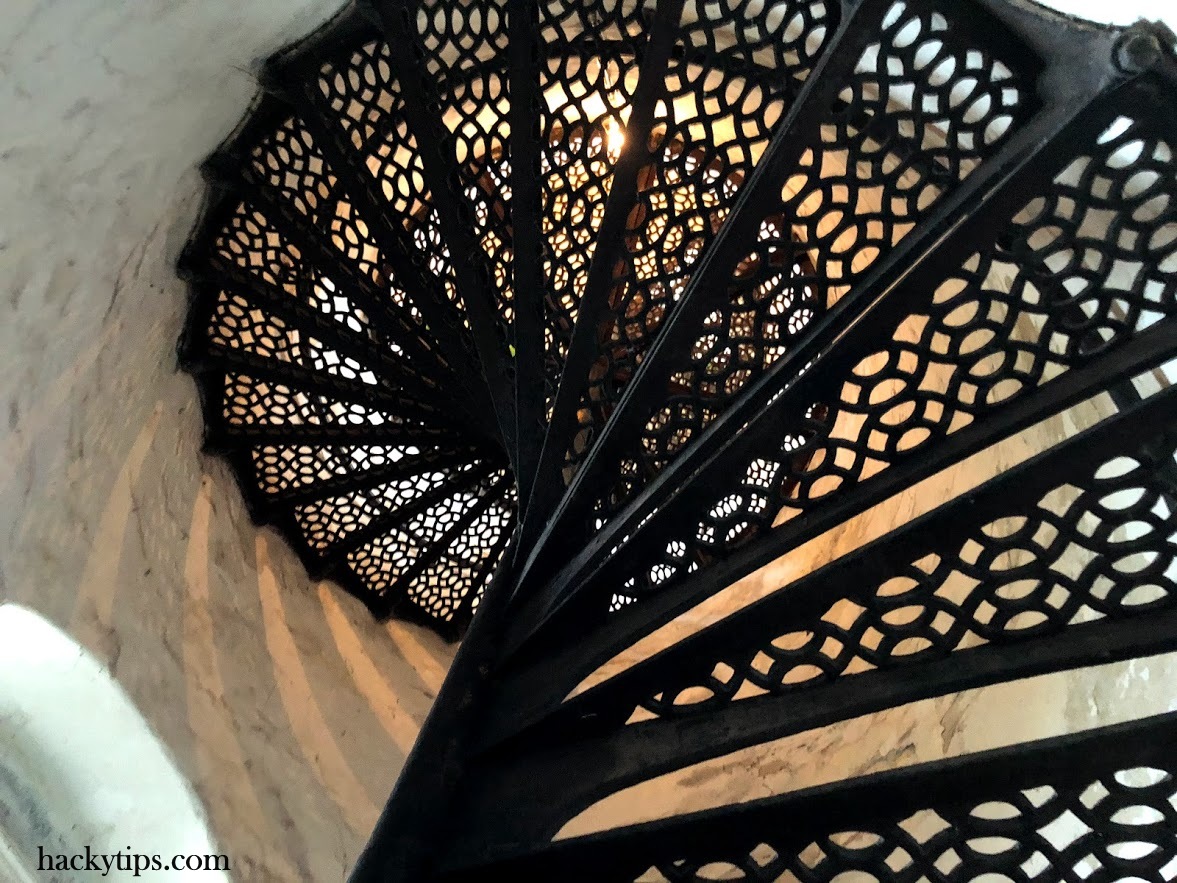 It was too windy on top of the lighthouse but we could see the splendid view of Lake Michigan. They send people in batches so you have to wait if there are many groups.
Lighthouse was the last spot of our trip. Apart from the rain, everything went well as planned. This season fall trip was finished with many beautiful captures, happy moments and moreover, we enjoyed throughout the trip.
If you are in Midwest and looking for a perfect fall location then add Door county to your itinerary. It is a truly peaceful and scenic beauty.