Karnataka's tourism is very vast including Mysuru, Hampi, Badami, Pattadakallu, Dandeli, Chikkmagaluru and many other places. Here I have picked only 5 places because one blog post wouldn't be enough to write about whole Karnataka 🙂
1. Gokarna
Gokarna means Cow's ear. According to mythology, in this place, Shiva emerges from Cow's ear. Shiva gave Atmalinga to Ravana and said that if it is kept on earth it cannot be taken back. Ganesha changed his form, came in front of Ravana and made him keep this Atmalinga in Gokarna. From that day Atmalinga is settled here and worshipped by devotees.
That is the brief story of this holy place.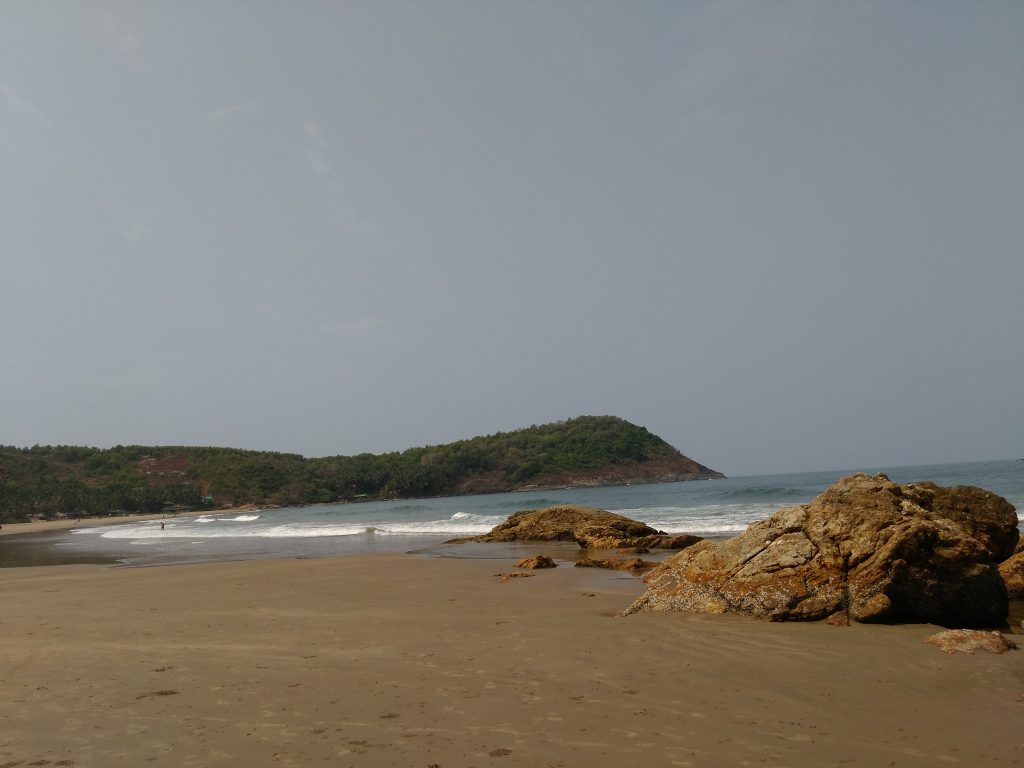 Gokarna is also known for beaches. Can you believe that in this small city there are 5 beaches? Yes! Gokarna Beach, Paradise Beach, Om Beach & Kudle Beach are the names of beaches.
This place is usually calm and less crowded making it a peaceful place for travel lovers.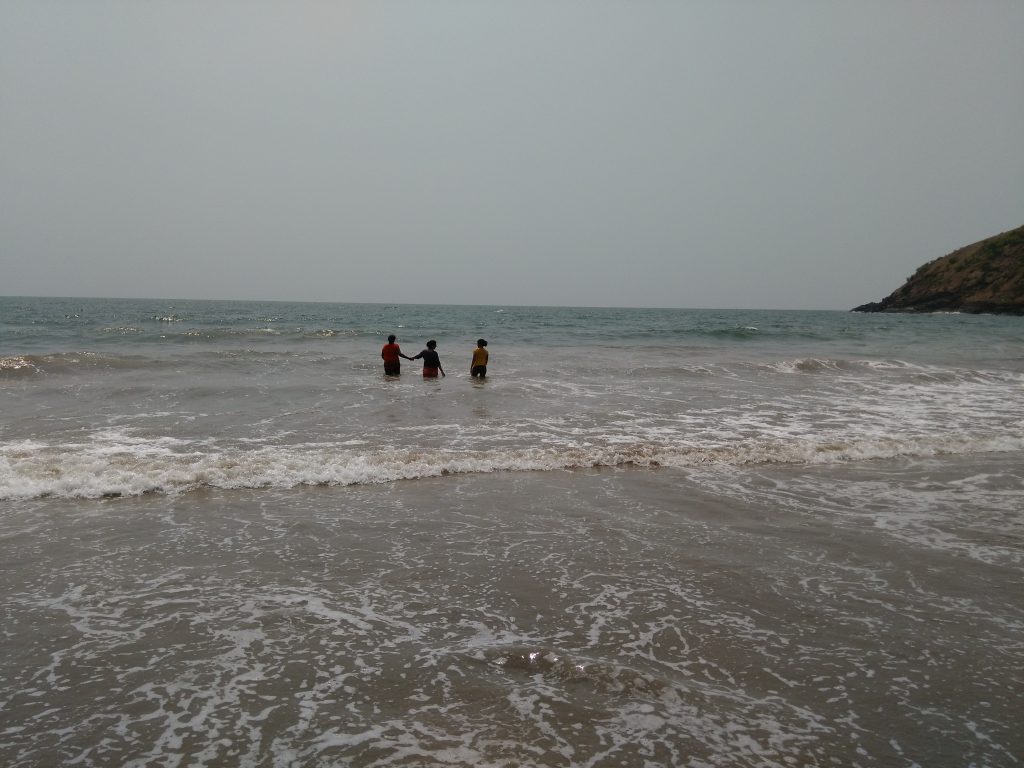 How to reach: There are direct buses from Bengaluru to Gokarna. If you are taking a train then Ankola is the nearest Railway station & Goa is the nearest airport.
2. Murudeshwara
One more temple city of Karnataka. Murudeshwar is another name of the God Shiva.
Murudeshwara Shiva statue is the second tallest statue in the world (Kailashnath Mahadev statue is the first). The Arabian sea forms the coast of Murudeshwara city.
The Gopuram of this temple is 20 stories tall and you can go till the last floor through the lift. Shiva statue and the city looks beautiful from the top floor.
Find the mesmerizing beauty of Lord Shiva in Murudeshwara, Karnataka. Standing 130 ft tall, The world's second tallest statue of Shiva is sure to leave you spellbound!#WorldTourismDay #ThursdayThoughts pic.twitter.com/zLOZECRX0B

— Geetika Swami (@SwamiGeetika) September 27, 2018
How to reach:  There are direct buses to Murudeshwara from major cities like Bengaluru, Mysuru, Mumbai etc. Nearest Railway station & Airport are in Mangalore city.
3. Horanadu
Horandu is a small village in Chikkamagaluru district, Karnataka. Horanadu is famous for its 'Annapurneshwari temple' where god Annapurneshwari is the main deity.
There are many locations around Horandu such as Kalasa, Kyatanamakki Hill Station, Sringeri, Kudremukha(National Park), Belur, Halebidu (Known for caves) and many other attractions.
You can plan for 3-4 days trip to see these places. Places like Dharmasthala, Horanadu, Kalasa are devotional places whereas Belur, Halebidu is a historical place. Hence it will be perfect for family and kids.
Lush greenery, mountains, fields, and rivers make Horanadu immensely beautiful.
How to reach: Many buses connect to Horanadu from Bengaluru & other major cities of Karnataka.
4. Gol Gumbaz
Gol Gumbaz is a tomb built for Mohammed Adil Shah, Sultan of Bijapur. Gol Gumbaz is popularly known as Gola Gummata in Karnataka & Taj Mahal of South India.
Gagan Mahala, Ibrahim Rouza, Uppali Buruz, Bara Kaman, Museum & Taj Bawdi are the places to see around Gol Gumbaz. It takes almost a day to explore all these places.
It is truly an architectural beauty with 7 stories on 4 sides of the tomb. There is a whispering gallery at the top of the floor where you can listen to your echoed voice. You need to climb the stairs to reach the top floor where the entire city can be seen.
You can notice the fine architecture designs on the outside & inside of Gol Gumbaz. One of the finest places in Bijapur and is fun with family and kids.
Follow 5 visitors on Instagram to know more about Karnataka tourism and attractions.
How to reach: KSRTC buses are available making the connection easier. It is approximately 500kms from Bengaluru.
5. Jog Falls
Jog Falls is the beautiful waterfall created from the Sharavati river in Shimoga district. The height of this falls is 830ft and has a breathtaking view from all four sides.
Four small falls Raja, Rani Rocket & Roarer make Jog Falls one of the biggest waterfalls in India.
You can reach the bottom of the falls through steps. Enjoy the beautiful water dropping from heights. Nature will never fail to impress you!
Going down through steps is easy but climbing them back is difficult. There are many other tourist attractions around Jog such as Sagar, Dams, Sirsi etc.
How to reach: Many prefer the road to reach Jog Falls. Buses are available till Shimoga & then to Jog falls. Shimoga is the nearest Railway station & Mangalore is the nearest airport.
– Pin it –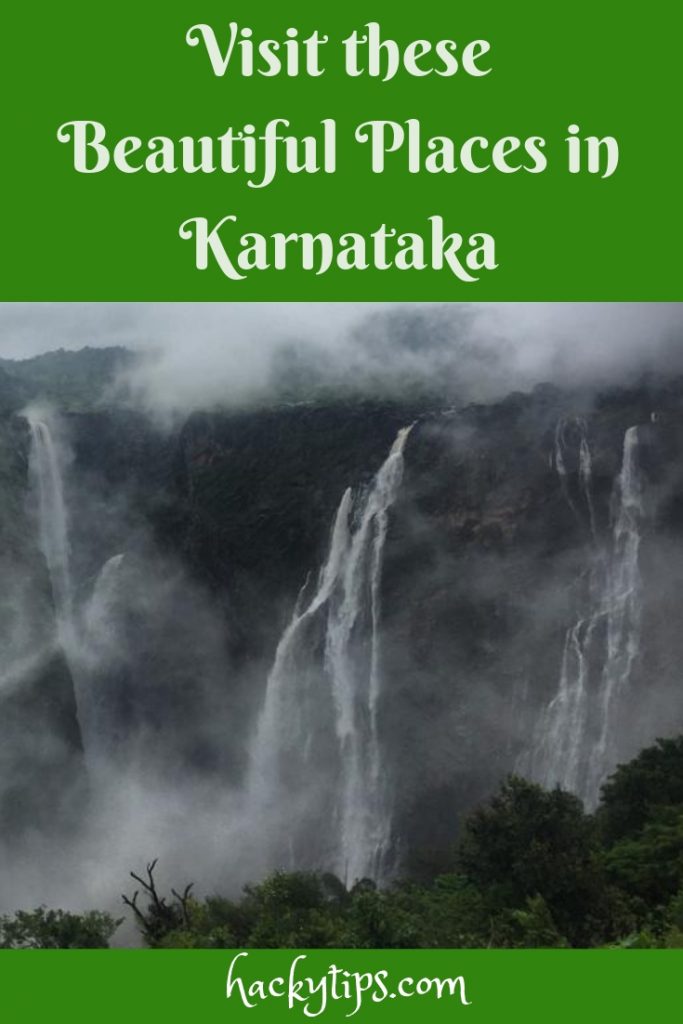 This post is a part of the #XploreBharat Blog Train hosted by
Aditi, Esha, Maheshwaran, PraGun, Preeti, Saba, Sanjota, Sudip, Suhasini, and Supriya and in association with Fabzania and BlogBoosterIndia.