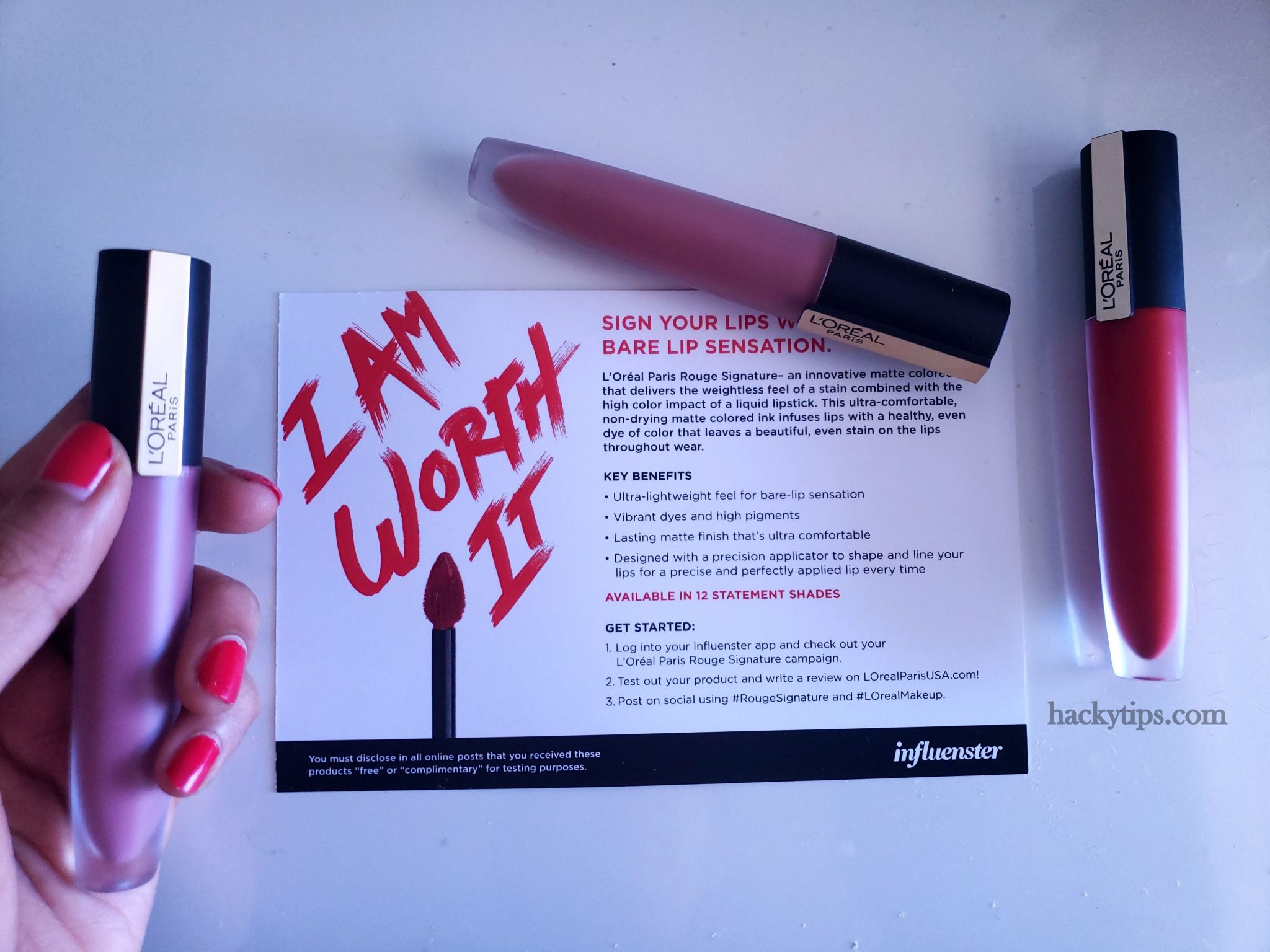 Today I'm going to tell you one secret about me. If you ever want to gift me anything then please choose a lipstick. Nothing else will make me happier than a lipstick.
I guess it is the same with every girl out there. After all who doesn't like lipstick?
When I received my Voxbox from Influenster, I was jumping all over. It was my new year gift and one of the best gift! Though I like lipsticks, I hardly buy them by myself. I will be waiting for the surprise lipstick gifts 😉
This time Influenster sent me a collection of Rouge Signature Matte Liquid Lipsticks. The packaging was cute, the colors were nice, so I was HAPPY!
L'oreal Paris has introduced new Rouge Signature Matte Liquid Lipsticks. They deliver a weightless feel of stain along with the vibrant color impact of a matte look.
I normally don't use Matte lipstick because they look very dry on my lips. Hence either I avoid using them or mix with other lipsticks to get the perfect look.
You can wear these liquid lipsticks on special vacations, the red one on romantic dates, nude colors are good for college and workplaces. One layer of application is sufficient to give a stylish look to your lips.
L'Oreal Paris states that colored ink used for these lipsticks is healthy for lips. This ultra-comfortable non-dying matte colored ink infuses lips with an even tone which makes them look beautiful.
How many shades are available in L'oreal Paris Rouge collection?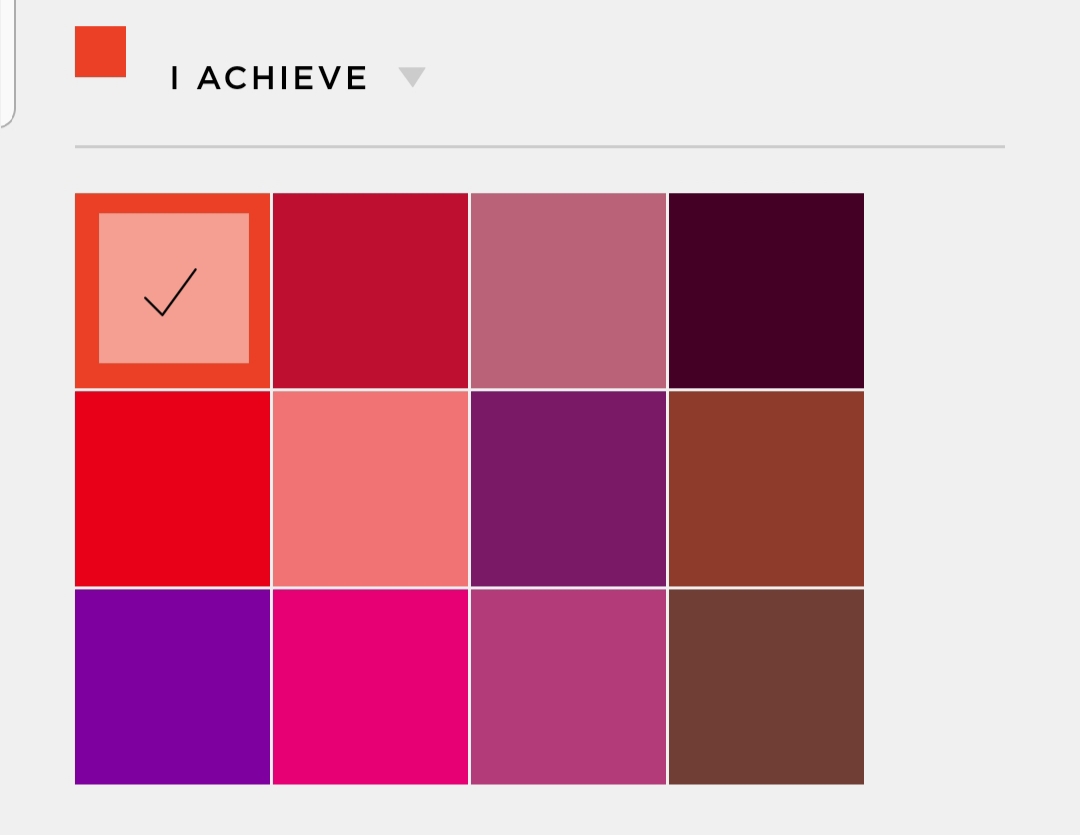 There are a total of 12 shades available in L'Oreal Paris Rouge Signature Matte Liquid Lipstick collection. Each shade has a beautiful and well-deserving name to it.
I Achieve, I'm worth it, I Create, I Dare, I Don't, I Empower, I Enjoy, I Explore, I Rebel, I Represent, I Rule and I Stand are the names given to 12 shades.
Before buying any shade you can try the look by uploading your photo on this website.
Ingredients
L'Oreal Paris official website provides a detailed list of Ingredients for Rouge Signature Matte Liquid Lipstick. If you are allergic to any chemicals or want to know about ingredients, check the provided list before purchasing.
Key features
Less texture, More color
Weightless feel
Non-drying matte colored ink
No flaking/patchy/Dry look
Unique Oil-in-water formula
How to Apply?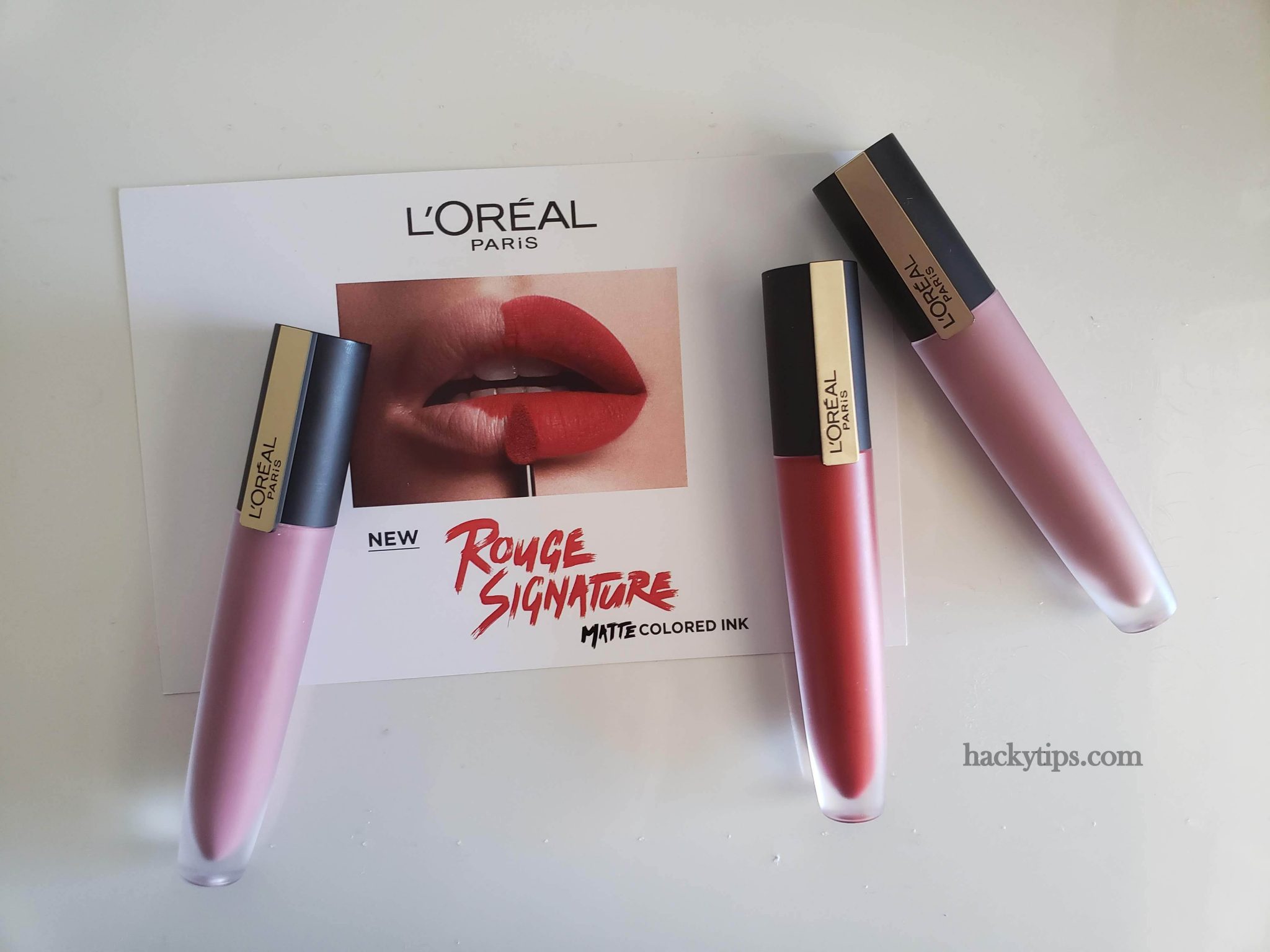 Come on! It's lipstick & who doesn't know how to apply? I know that's what you are thinking. However, for the perfect lips, it's not just taking a lipstick and applying it on lips. You need to follow very simple tips for the classy look.
First thing make sure that your lips are exfoliated and there are no skin residues. Otherwise, the lipstick looks patchy and it won't give a smooth finish. Use a good lip balm to exfoliate your lips and make them ready for the lipstick look.
Rouge Signature Matte Liquid Lipstick comes with a comfortable precision applicator. Using this outline cupid bow (double curve of an upper lip which resembles the bow of a cupid). Fill the space with lipstick color in the outwards direction.
This will give perfect Matte finishing on your lips.
Pros & Cons of Rouge Signature Matte Liquid Lipstick;
Pros:
Lightweight feel for bare-lip sensation
Vibrant Dyes & High Pigments
Comfortable wear & look
Feels very silky and smooth on lips
Best applicator that spreads lipstick evenly on lips
Variety of shades
Light and sweet scent
Provides hydration to lips
Cons:
Not smudge-proof
Lasts only for 2-3 hours
Need to reapply after eating
How about the Price?
They are available in all Beauty stores and on online websites. You can even buy from L'Oreal Paris official website. Lowest price I found is in Target ($9.99) & Amazon ($9.97).
They are really worth the price. The packaging is cute and you can carry everywhere easily.
Conclusion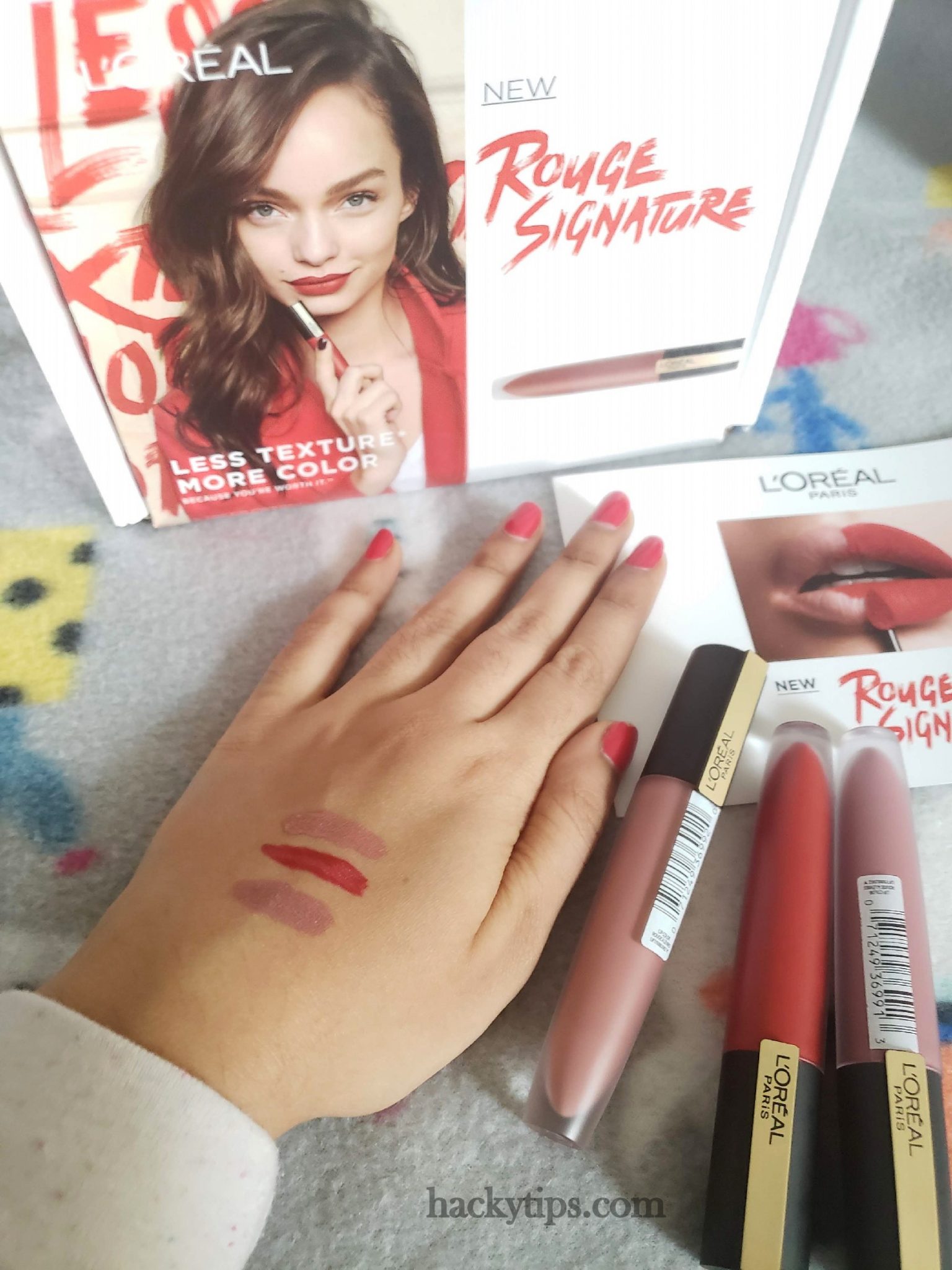 This Product was complimentary from Influenster Voxbox program. It's not a paid review and hence this is my honest review about these lipsticks.
I received 3 shades I Rule, I Create & I Am Worth it. I liked all 3 shades but my favorite is I Am Worth It (Because it is red!). Definitely, I will recommend this to my friend and they are worth trying. As I said, I don't generally buy many lipstick shades but these are tempting me to try other shades.
If you are looking for good lipsticks then try L'Oreal Paris #RougeSignature Lipsticks. I'm sure you will like them.
What is your favorite #L'Orealmakeup product? Share your opinion using the comment section.