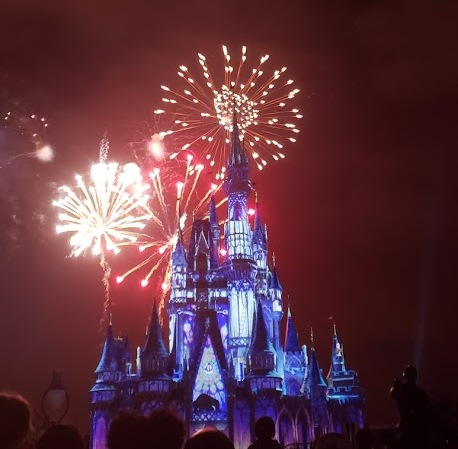 Walt Disney world is one of the must-see things if you are a wanderlust traveler. It is our responsibility to make maximum use of money that we have paid. There are many ways to save money. For example, refill a water bottle at drinking fountains instead of paying $3 for a 500ml bottle.
I carried Avocado, tomato & bread which saved us some extra bucks. I packed Guaca in a box with few slices of bread. In the park, while resting we had these Sandwiches which filled our stomach.
Before visiting make a list of must-see things. I prepared an excel sheet with things to do and their timings in all the four (Magical Kingodm, Animal Kingdom, Epcot & Hollywood studios) parks. This helped me to prioritize my favorite shows and saved a lot of time. Compared to other parks Magical kingdom has more activities.
It is difficult to finish all the parks in a single day. If you have enough vacation time then reserve 2 days for Walt Disney world. For single day plan, my advice is to cover Magical Kingdom only. This will save your money and also gives you sufficient time for the magical kingdom.
There is standard/general ($22) parking in all of the parks. If you are visiting all the parks in one day then single parking receipt should be enough.
Magical Kingdom
Park was overcrowded by the time we reached (Our flight landed at 10PM and it took 2 hours to reach the park). Google maps direction for Magical kingdom parking is not exact to the point. After maps, you have to follow the parking sign boards so don't waste time on finding the location (as we did).
Magical Kingdom has been segregated into many lands based on the type of activities. Mainstreet USA, Tomorrow land, Liberty square, adventure land, Frontier land, and Fantasyland.
Mainstreet USA is the first place you will see once you enter Magical Kingdom. Here you can meet Micky mouse & Tinker Bell (2 Different shows). Both are available from morning to night hence you can visit based on wait time. There will be many stage shows running in front of the castle. Firework 'Happily ever after' (9PM) is one of the amazing show which itself is worthy of your ticket money.
Tomorrow land has a few rides and attractions which are good for kids. I liked the 'Space Mountain' ride which is a roller coaster ride inside a dark tunnel. Don't miss this one.
Adventure land has only three rides and wait time is generally more here. We almost waited for 1 hour for 'Jungle cruise' & 'Pirates of Caribbean'.
Frontier land is very beautiful with all built-in mountains. 'Splash mountain' & 'Big thunder railroad' are the two rides which you shouldn't miss. Be prepared to get wet in splash mountain.
Liberty Square is just a roaming area, there are no rides or shows here. Hall of the presidents is worth to visit if you want to know about American presidents.
As the name says Fantasyland is filled with Disney characters such as Ariel, Cinderella etc. Kids will thoroughly enjoy this. It's a beautiful place to walk hence it is mesmerizing for adults as well.
We had lunch in 'Picos Bill restaurant', rice veggie bowl was worth the price.  Also, there are mobile charging points in this place. Our mobiles were charged in the meantime we had food.
In liberty square, there is a popcorn stall where you can buy a popcorn basket for $10. Then you can refill for n number of times for just $1. Isn't it cool?
Animal Kingdom, Epcot & Hollywood Studios
All these three parks can be finished in a single day. Since the Animal Kingdom is the busiest place compared to other 2, I suggest to visit this first, then Epcot & at last Hollywood studios.
Animal Kingdom
There is 'Pandora- world of Avatar', 'Discovery Island', 'Oasis' & 'Dinoland' in the Animal Kingdom. Oasis is the first place you will see once you enter into Animal kingdom. This doesn't have any rides or attractions. From there go straight to Discovery island which has a BIG tree and there will be little surprises as you walk in. Ride 'It's tough to be a bug' can relax you from the long walking. From here, I suggest taking Africa (On your left) route instead of Asia! (You will understand the terminology once you're out there). Take 'Kilimanjaro Safaris' ride in Africa (If there is enough time and less wait time). Since wait time in Pandora is high so it's better to finish before it gets overcrowded.
Pandora is truly amazing with Avatar tree & Avatar flight of passage. 'Na'vi river journey' is another slow ride which takes you an undersea world. Meet octopus, mermaid and lots of other stuff.
Once you finish Pandora you have to walk all the way through Africa (Again) & Asia to reach Dinoland. Mount Everest is the must-see attraction in Asia. There is not much in Dinoland to spend time. Only two rides, one for adult and one for kids.
Epcot
Epcot is a visual treat with its beautifully constructed infrastructure. 'Frozen ever after' is a thrill ride on water which immerses you completely inside a snow world. I'm sure kids are gonna love this!
I liked the 'Test track' ride which gives the feeling of a real race. Half of the track is built with indoor training and remaining runs on outdoor visuals.
'Soaring around the world' is a 4D thrill ride where you can see a forest, snow mountains, Ocean, Austrailia, China, India and what not! Who misses a chance of exploring wonders of the world in just a few minutes.
'Mission: SPACE' is built similar to NASA training. Don't miss it, it's your only chance to touch the moon, go to mars and be a star!
Remaining 'Spaceship earth', 'Seas with Nemo' etc are small rides which you can explore if there is time.
Walk to 'World showcase' from Epcot to see Canada, Japan, United Kingdom, Italy, Germany, China, Norway, Mexico spots where you can roam around and click pictures.
Hollywood Studios
In Hollywood studios, main rides which I can list are 'The Twilight Zone', 'Rock n Rollercoaster' & 'Toy Story Mania'. Kids will enjoy 'Muppet Vision 3D' & 'Celebrity spotlight'. 'Star war Guided tour' inside Hollywood studios is a 5 and half an hour paid ($92.95) tour which gives an end to end the tour with access to each and every star wars themed adventure.
Sunset Boulevard, Hollywood Boulevard, Animation courtyard etc are the places inside Hollywood studios.
Guest services inside Walt Disney world
Free Services:
Phone charging facilities
Baby care facility
First Aid
Restrooms
ATM
Animal Relief areas
Free smoking areas
Package pickups
First Aid mosquito prevention
Paid Services:
Stroller, wheelchair & ECV Rentals.
Locker rentals.
Keep in mind
Selfie sticks are not allowed inside Walt Disney world: There is a security scan at the entrance. You need to handover selfie stick and collect at the end of the day from the Mickey shop (Don't forget!)
Remember the parking slot: Monorails will drop to ticketing location where you can catch Hero or Villain trams (Depends on your parking slot). You need to remember exact parking slot to get down from the tram. We forgot this and searched for our car for almost half an hour.
Keep a water bottle (Empty)
Install official Walt Disney app for maps, wait times, events list etc.
If looking for money-saving options then choose nearby Airbnb instead of hotels.