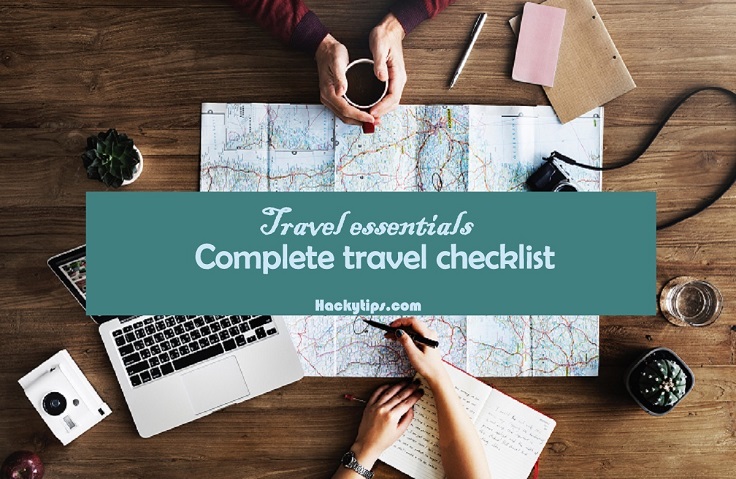 After months of hard work, traveling reboots life, allows people to enjoy the fresh air and gives new memories to cherish. Life is full of work,  busy schedules, deadlines, meetings, business hence traveling has become one of the basic necessity to refresh ourselves.
Traveling is magical when everything goes smoothly otherwise the whole trip would turn pathetic. From toothpaste to lip balm, sunscreen to beach towel, water bottles to protein bars, city maps to camera everything is required to have a fabulous trip.
First thing you need to do is;
list out the locations, search the internet to see people reviews about places, book well in advance for any shows & entry tickets, make an excel sheet with all the details, check on the parking facility..
Based on my experience I have listed basic travel essentials for all kinds of trip. Be its a road trip or a camping or a long flight journey, this checklist be your perfect travel guide.
1. Basic Travel Essentials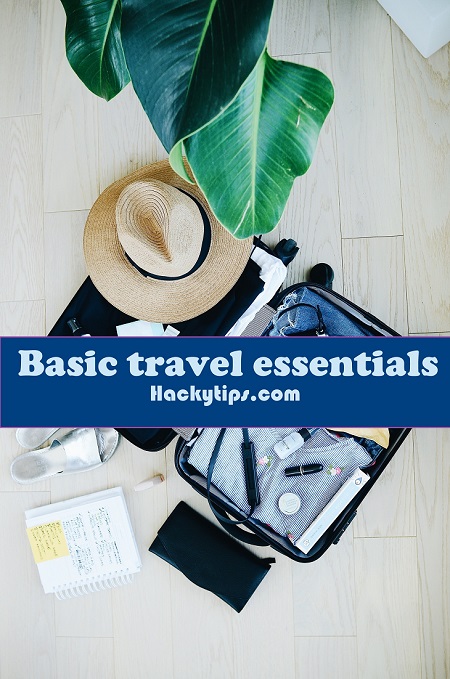 We know that travel checklist depends on summer, winter and the rainy season but few things are mandatory for any trip. Irrespective of any season we need to keep these in our bag without fail.
Before going into different types of travel essentials let's see the basic essentials list;
Charger/ USB Chord – Never ever forget your charger.
Powerbanks – these are life saviors!
Bluetooth device – Having a Bluetooth device is a must.
One or two books – Not only during flight journeys books can be a good companion on every trip.
A book & pen – In the mobile era very few people carry a pen and book. Trust me, keeping a book and pen during the trip is a smart tip.
Camera – How that will be called a trip if there are no photos right? The camera is the most essential.
Reusable water bottle – We can fill this in the airport instead of spending money on costly water bottles or fill on the go during road trips.
Hand sanitizer: An essential!
Medication – Anything might happen during trips. Changed weather or food can create unhealthy situations. Having basic medicines like fever, cold, loose motion tablets, band-aids, painkiller, and the inhaler can save you.
Lip balm – Required!
Toothbrush & toothpaste – Must & should
Hair ties, clutches, Sunglasses, caps
Shampoo sachets, moisturizer, hair oil, shaving set, Body soap/gel
Shaving kit
Selfie stick
2. Summer Travel Essentials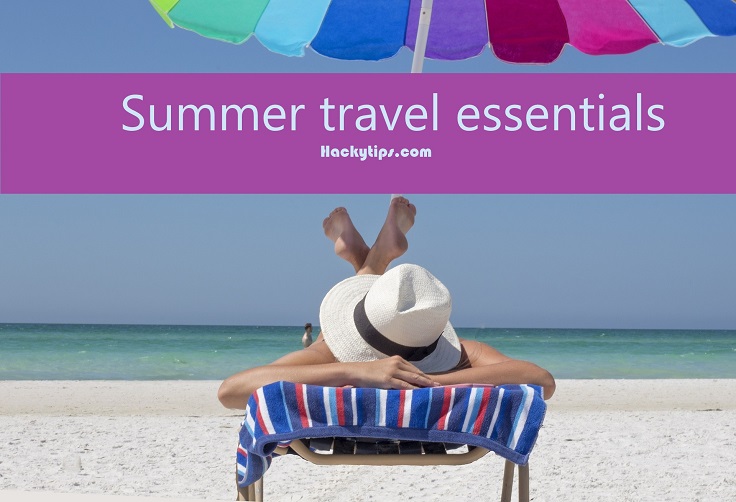 For travellers, summer is the perfect time to roam around. The things you need to carry during summer vacation is less compared to monsoon travel essentials. And family trips are more fun during summer.
Beaches, State parks, camping, waterfalls etc are the best locations for a summer trip. Most of the people wait for the summer to go on a long vacation. Sunburn, tanning, dehydration should be taken care to avoid major problems.
If planned well summer trips can be a great vacation for the whole family. Booking hotels, flights well in advance can save a lot of money which can be spent on enjoying other travel perks.
Here is the checklist for a summer trip;
Sunshades, sunscreen with good SPF, moisturizer, lip balm
Beach towels
Foldable chairs, Mount umbrellas, Beach blanket (If you are going by drive)
Water bottles, Energy drinks, Protein bars, Chips, and popcorn
Flip flops and an extra pair of shoes
Footballs, Basketball net, and any other play games.
Travel crib, lightweight strollers, carrier, diapers, bathtub, throws, and food for the babies.
Extra covers to keep wet clothes.
Hairdryer
3. Camping Essentials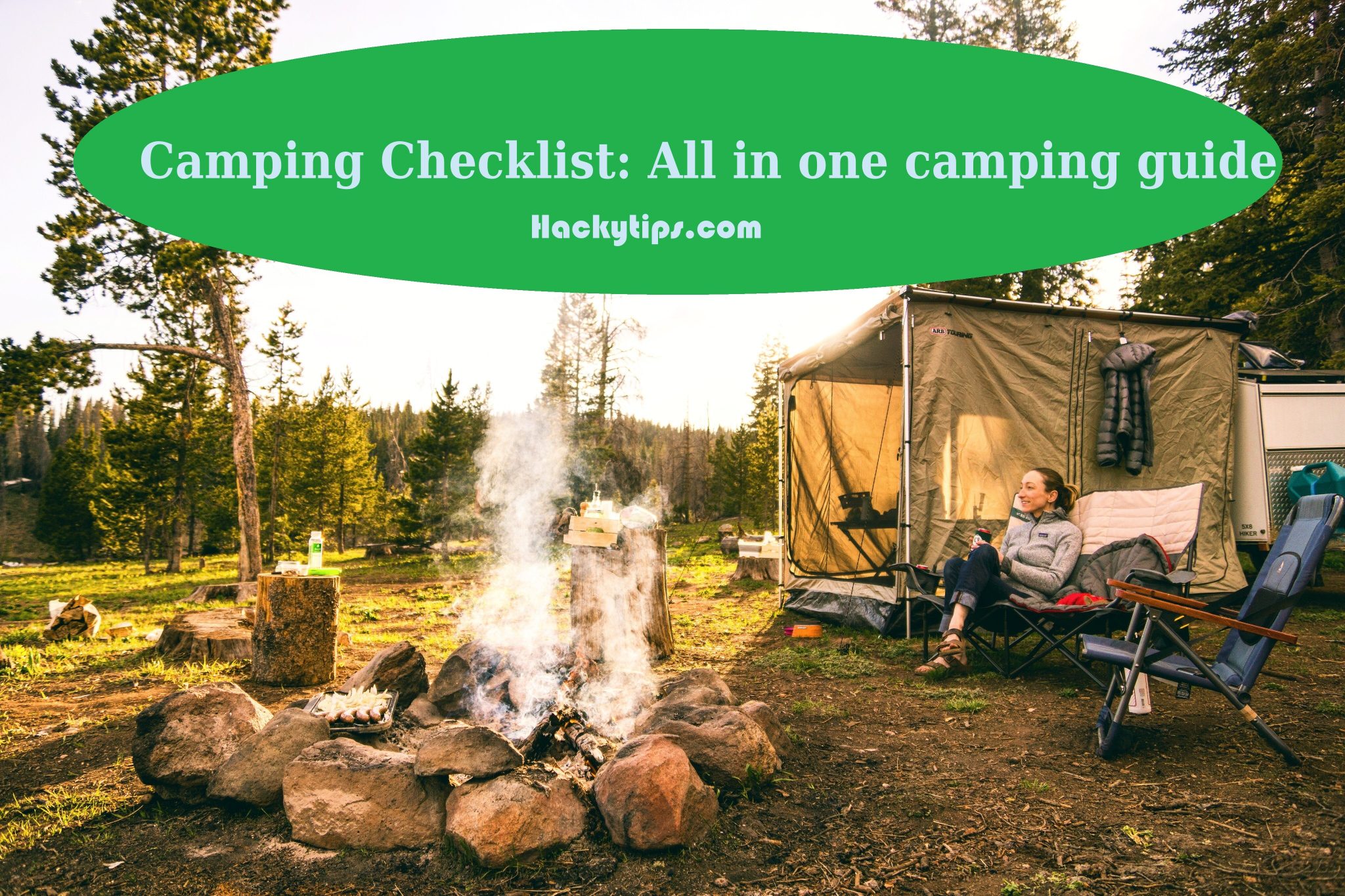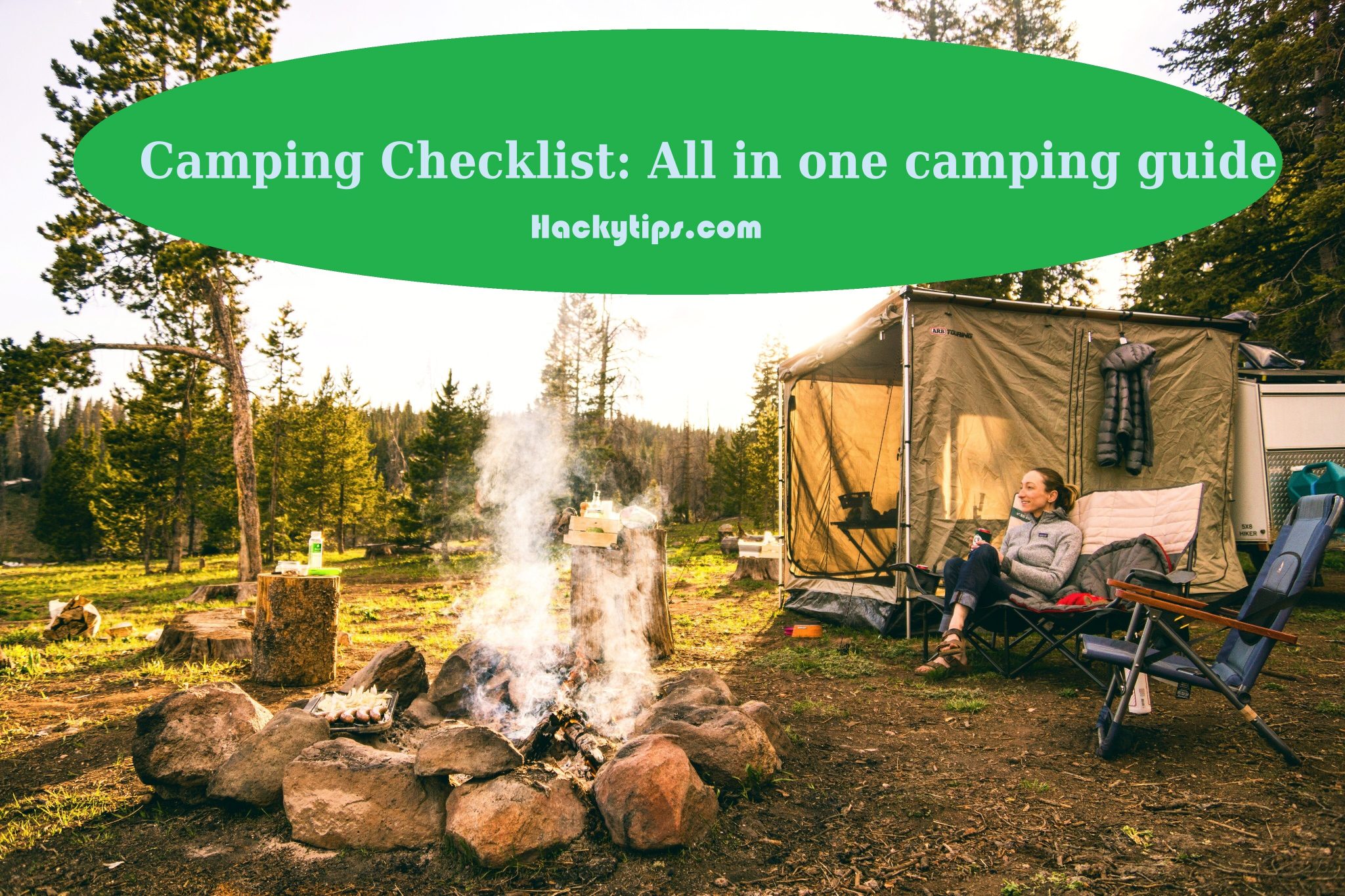 Campings are fun-filled occasions to spend time with family and friends. Generally, camping sites are located far from the city. If you forget anything then it will be difficult even if you want to buy from the shops.
Hence before going for camping have a checklist. Especially people with kids should be taken extra care to avoid major hiccups at the camping sites. Check for the in and out timings, water facility, restrooms, ambiance, reviews before going to any campsite.
Check out whether you have taken;
Tent and hammer to set up the tent
Torches
Bedspreads, pillows, Shawls, and comforter
Jackets, Nightdress
Grill, Grill set such as brush, utensils, mat, forks etc.
Fire setup – Woods, Coals, Propane or any gas
Aluminum foil
Paper plates, glasses, cups, napkins, tissue rolls, Dustbin covers, Hand sanitizer
Water bottles, Energy drinks, Protein bars, sandwiches, packed food, tea/coffee in a thermo-glass
Bluetooth device, charger, Power-bank, and laptop
Mosquito spray
Knives and scissors
Medical kit
4. Road Trip Essentials
You can stop anywhere you want, take a stay if you are tired, eat where you like, watch what you want.. Advantages of going on a road trip are nobody can stop you, no flights to catch, adjustable itinerary and exploring more.
Road trips are comfortable for everyone. You can mix up with friends families to share the drive, expenses and also the fun. During road trips, you can keep any food, no restriction on luggage, flexibility, and it is budget-friendly.
Let's look at the essentials that are required to have a luxurious road trip;
City maps, travel guides, detailed what-to-see, when-to-see planners.
Don't drive until your fuel tank cries out. Fill the tank well before warning to avoid further problems.
Helmet, Sunglasses, Scarf to avoid dust on the face (If you are traveling by bike)
Napkins and tissue rolls
Reusable water bottles, travel mug, energy drinks, Gums and Protein bars
Throws/Comforters and travel pillow
Jackets
Window shades
Hand Sanitizer
5. Flight Travel Essentials
Sometimes I prefer flight journey over the road trip. It is a kind of luxurious travel experience. You don't need to worry about fuel or GPS or driving or travel time. Everything will be taken care which gives more energy and time to spend on travel destinations.
You need to be very smart to save money from costly food/water/drinks inside an airport. Being on time is very very important. Before booking a flight check on the hotel locations and the travel distance from the hotel to the airport to avoid last-minute hurry.
Let's see what are the must-carry things for a flight trip;
Travel pillow
Throws/Comforters
Charger/USB, earphones, headphones, and Powerbanks
Lip balm and moisturizer
Download one or two movies (Depends on travel time)
A Good Playlist
Books to read
Reusable water bottles.
Wet wipes
Socks, jacket, cap, and scarf
Eye mask
That's it! Hope that covers all travel essentials and help you to have a memorable trip. Safety is very important. Be safe, keep traveling and keep extending your horizons!