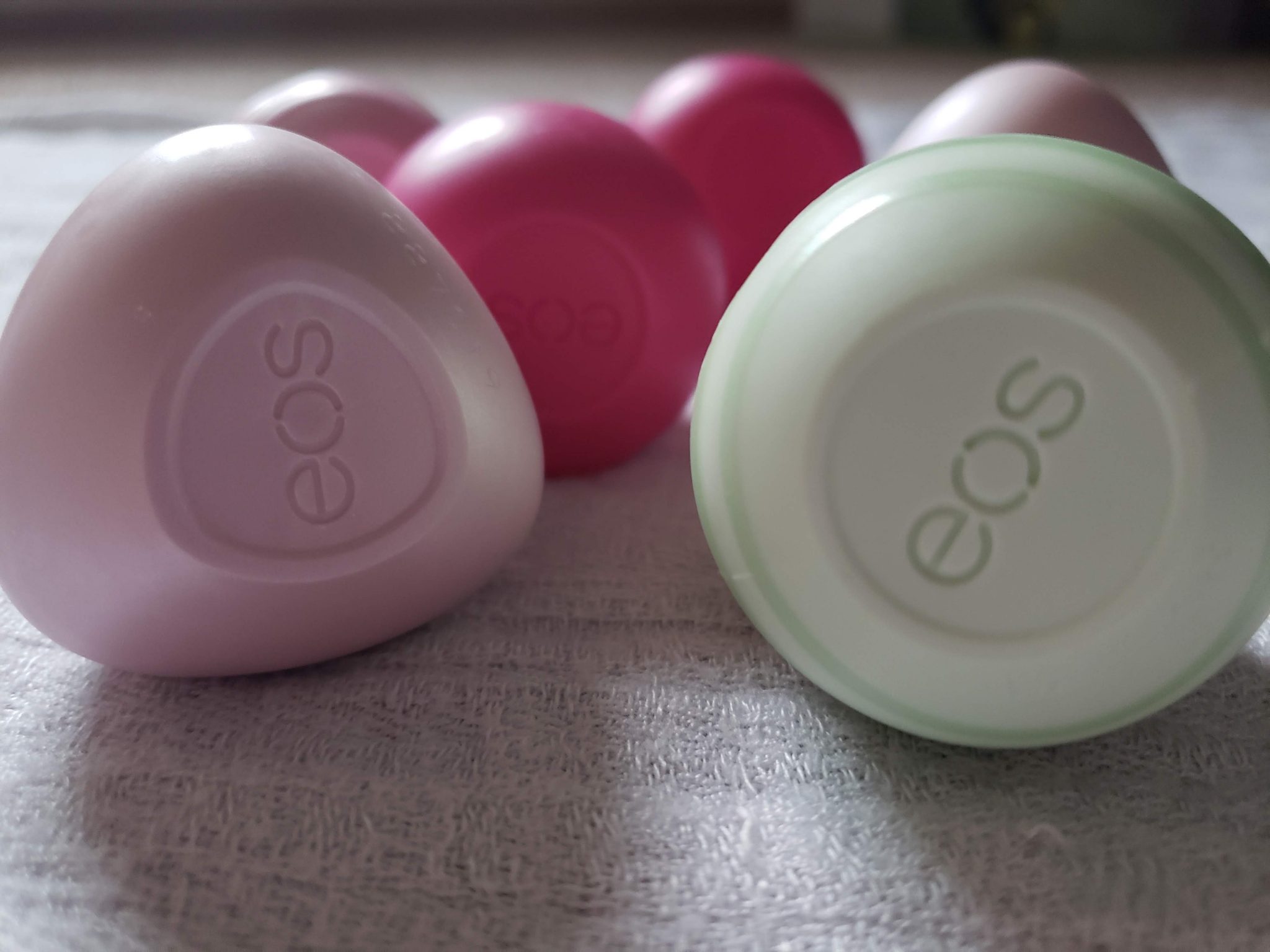 Most of the people forget the fact that even our lips need daily care. Lips also need to be exfoliated, nourished and moisturized just like our skin.
If you think lips don't need any care then you are completely wrong!
Summer or winter, irrespective of season lip care is very important to have soft baby lips. There are a wide range of lip balms and also budget-friendly lip balms to help you take care of your lips.
One of the popular lip care brands is EOS. Not just the packaging but also a huge collection of lip balms based on the requirement of people is what makes EOS top the list.
EOS had bought a collection of their lip balms under one package 'Lasting Hydration Lip Care Collection'. This pack contains a total of 6 lip balms; 2 Hibiscus peach, 2 cucumber melon & 2 Organic Wildberry. In some packs Instead of 2 cucumber melon, they have mixed with Cucumber melon & Coconut milk lip balms.
This bundle is perfect for both men and women who care for their lips.  One pack can nearly be lost for a year thus economically it is the best deal!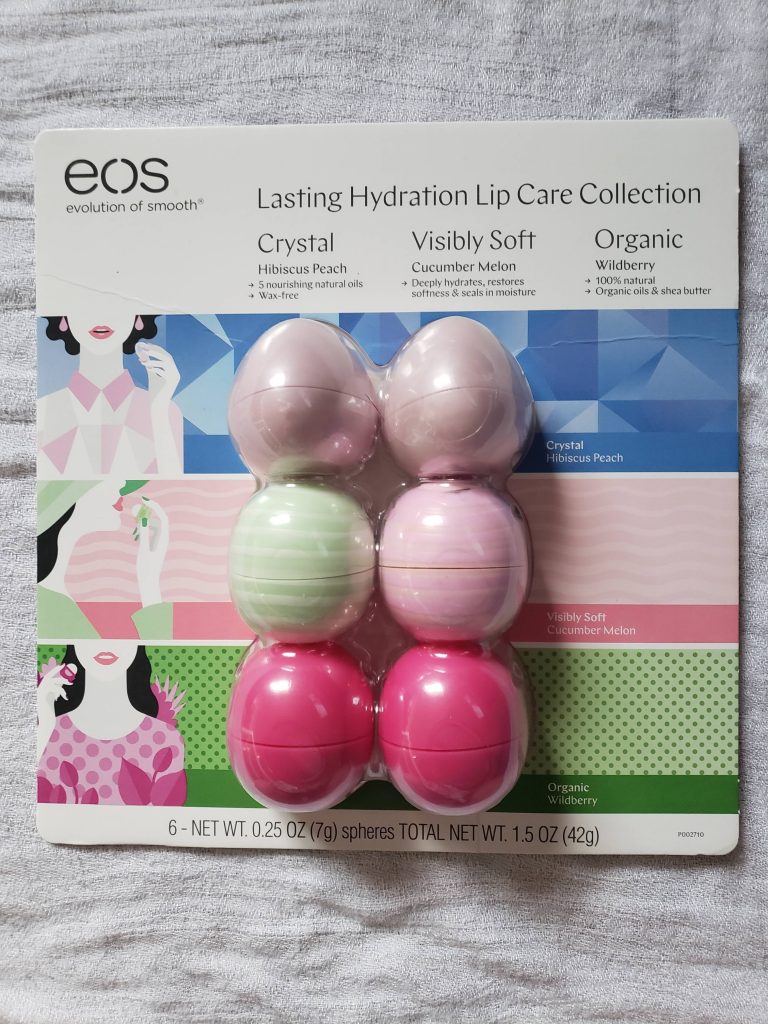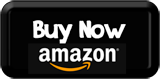 Some people like the cute shape of these EOS lip balms while some don't like it because once it gets into the bottom it is difficult to apply the lip balm. If you are one such person then no no need to worry! EOS has a solution! There are sticks available with similar flavors for the people who love to apply with the stick.

1) EOS Crystal Lip Balm
Lipstick has taken a variety of forms over the years. Nude shades, glitters, saucy, matte, Vegan and many other varieties. Crystal lipstick or lip balm is one such form that impressed lipstick junkies with its crystal clear form.
EOS has introduced lip balms with a new crystal clear formula by including natural oils. They smell great, look great and feel great on lips adding them to the best lip balms.
5 nourishing oils coconut, avocado, castor-seed, sunflower and aloe oils are the main ingredients of these lip balms. Coconut oil moisturizes the lips, Avocado nourishes, Castor seed provides required vitamins, Sunflower oil soft and smoothens and finally aloe oil is the source of amino acids for complete lip care.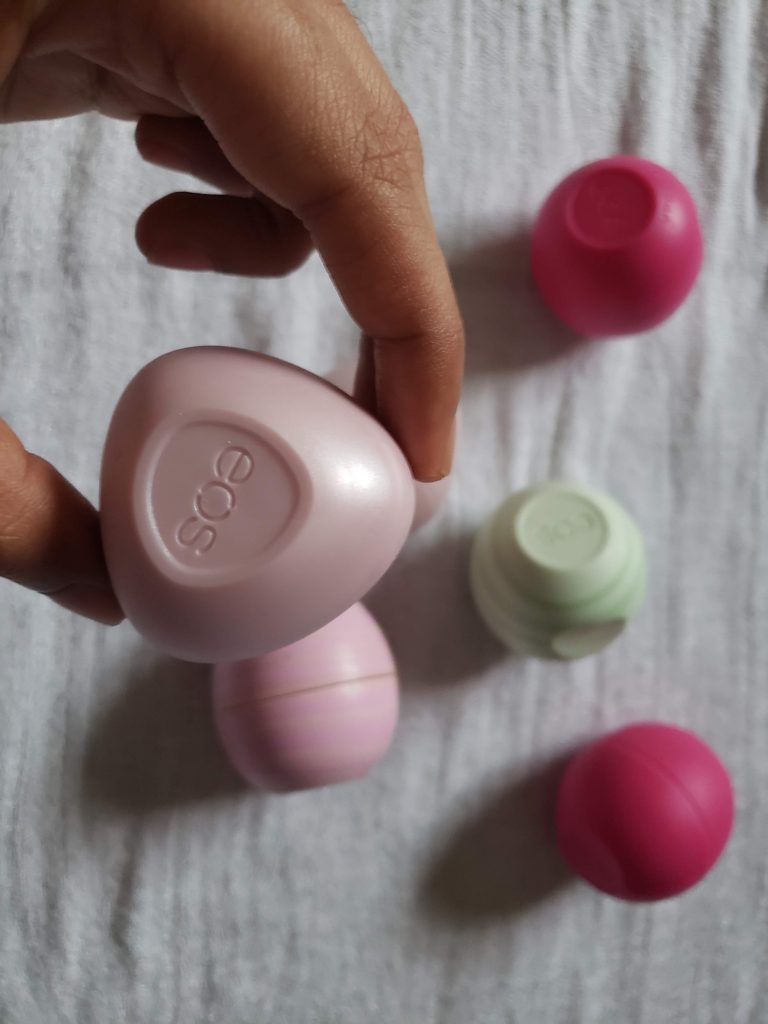 There are two types of EOS Crystal lip balms; Vanilla Orchid and Hibiscus Peach. They differ only in scent where Vanilla is dominant in Vanilla Orchid lip balms & Fruity scent is dominant in Hibiscus Peach lip balms.
Pros:
Natural oils help with the best lip care.
Shea butter helps to nourish the lips in all seasons.
EOS Crystal lip balm is completely Vegan (Wax-free).
Applying on top of the lipsticks provide added shine to lips.
They have a divine scent.
Cons:
People with very dry lips have to apply along with lip serum or hydrating serum.
The scent is not longlasting.
2) EOS Visibly Soft Lip Balm
It's been years EOS has introduced a collection of Visibly soft lip balms. There is Vanilla Mint, Coconut milk, and cucumber melon. The main formula of these lip balms is hyaluronic acid which helps to hydrate, restore softness and seals in moisture.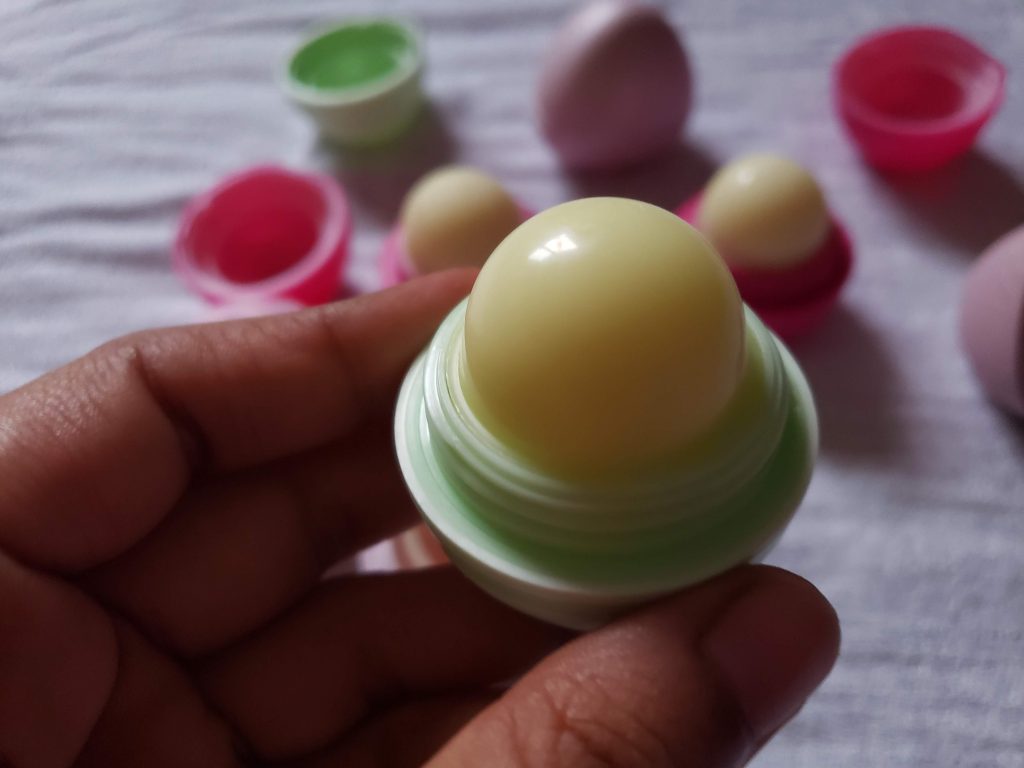 They come with a non-sticky formula making it feel lighter when applied. Each of these balms has their own scent thus people can choose according to their choice.
As the name suggests this lip balm instantly makes your lips soft thus helping with the hydration of lips. Moisturization is long-lasting along with the light scent of the lip balm.
The packaging is a little different compared to the regular design of EOS lip balms. The striped design makes it look cute!
Pros:
99% natural.
Naturally nourishing Shea and cocoa butter.
Gluten-free, Paraben-free & Petroleum free
Long-lasting lip balm
More hydrating compared to regular EOS.
Cons:
The scent feels little artificial
The lip balm dries out very quickly.
3)  EOS Organic Wildberry Lipbalm
The very basic and original lip balms from EOS. There is no Paraben, wax and artificial color in this lip balm. Along with shea butter, this lip balm is infused with fruit extracts.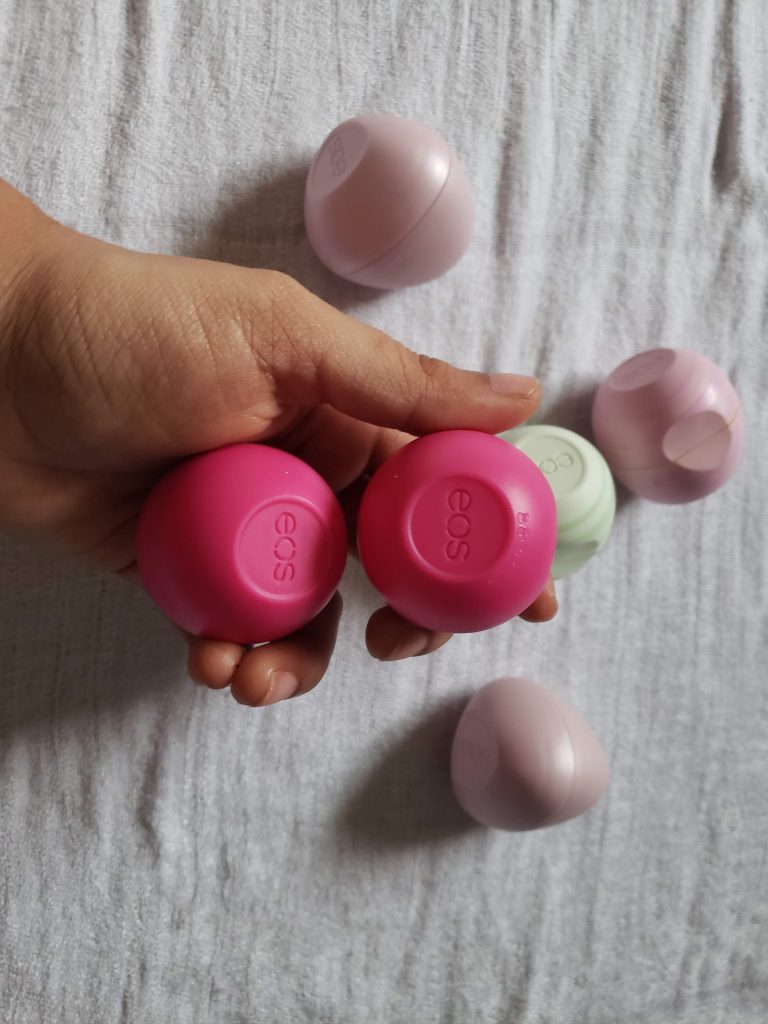 Sunflower oil, coconut oil, Jojoba oil, Olive oil, Shea butter, cranberry extract, Blueberry extract are the main ingredients of Organic Wildberry lip balm. Thus the scent is more fruity and satisfying!
If you belong to 'lipstick eaters' type then go for this one! It tastes yum. It rubs on lips smoothly leaving them soft and hydrated.
Pros:
This lip balm 100% natural
Paraben and Petroleum free.
Shea butter, Jojoba oil, and other oils are perfect in providing the best lip care.
It smells great!
Long-lasting hydration.
Cons:
Not suitable for all skin types.
Not long-lasting compared to other lip balms.