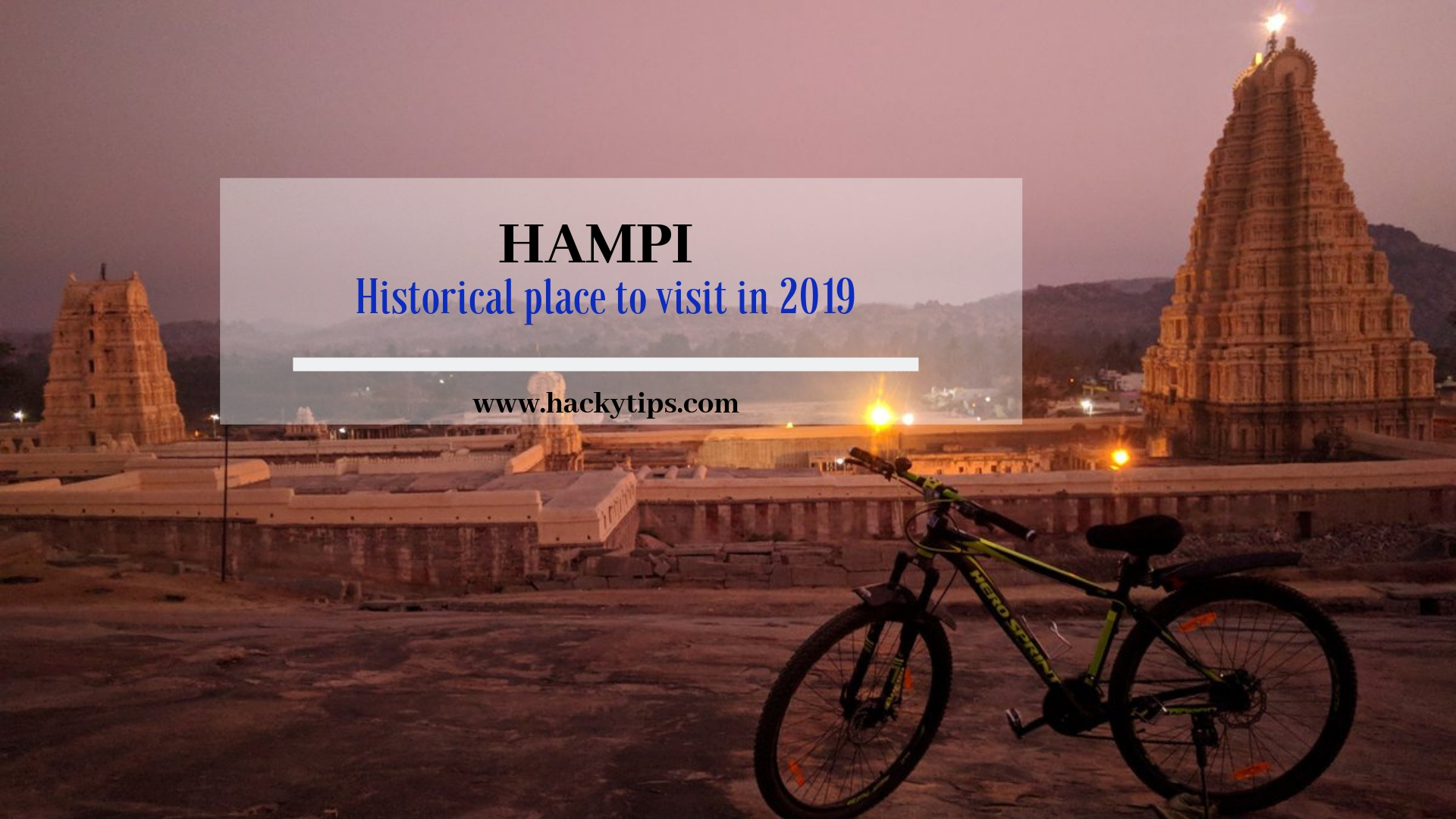 If you are a historical person then you are very well aware of Hampi. Hampi is one of the beautiful tourist locations in Karnataka state. With its history and glory, Hampi grabs a must-see-place title in Indian tourism.
I'm gonna take you all to the historical place, the great HAMPI.
Hampi, UNESCO world heritage site is standing on the banks of the Tungabhadra river on the East side of Karnataka.
Surrounded by tall Coconut trees, Tungabhadra river, Hampi has made its mark in Hindu Epic Ramayana. According to Ramayana, Rama met Hanuman in this place.
Recently Newyork Times Published 52 places to go in 2019 & guess what! Hampi is in Top 2. In this worldwide list, while Puerto Rico is in Top position Hampi succeeded to get the number 2 position.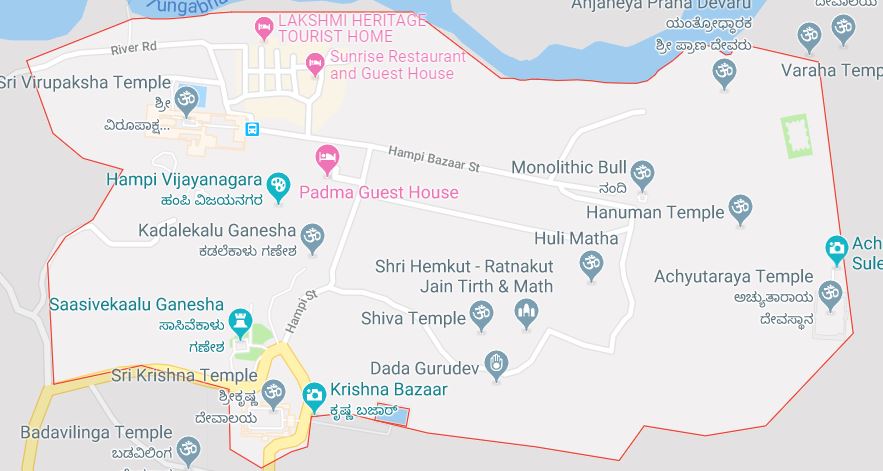 History
There is no great way to start writing about Hampi other than looking into its History.
Hampi is traditionally known as Pampa kshetra. Pampa is another name of Parvathi, who pursued her Yogini lifestyle in this place. That is how Hampi got its name Pampa Kshetra.
Hampi was the kingdom of the Vijayanagara empire, a kingdom that was so rich that people used to sell pearls on streets.
At the end of the day, sellers used to cover the Pearls with a cloth and go home. By the time they come early morning to start Busines everything will be intact, as it is as they left on the previous day.
Muhammad bin Tughlaq looted the Kampili Kingdom and destroyed it completely. The Hindu women of Kampili committed Jauhar (ritual mass suicide) when the Kampili soldiers faced defeat by Tughlaq's army.
From the residues of the Kampili kingdom, Hampi was built which became one of the biggest and richest kingdoms that India has ever seen. Many traders attracted to Hampi by its fortune, architecture, rivers, gateways, memorial structures, kings and many other facilities that Hampi offered.
Let's take a tour to Hampi;
Hampi ruins are scattered over 26km. You need a complete day or two to see every temple which tells you a story of an extinct Kingdom.
You can rent a bicycle or a moped to explore Hampi on your own. But be careful about the uneven and stoned surfaces.
Virupaksha Temple
As soon as you enter Hampi, the first thing you will see is the pinnacle of Virupaksha temple. This temple is a collection of smaller temples such as Shiva, Parvathi & Durga temples.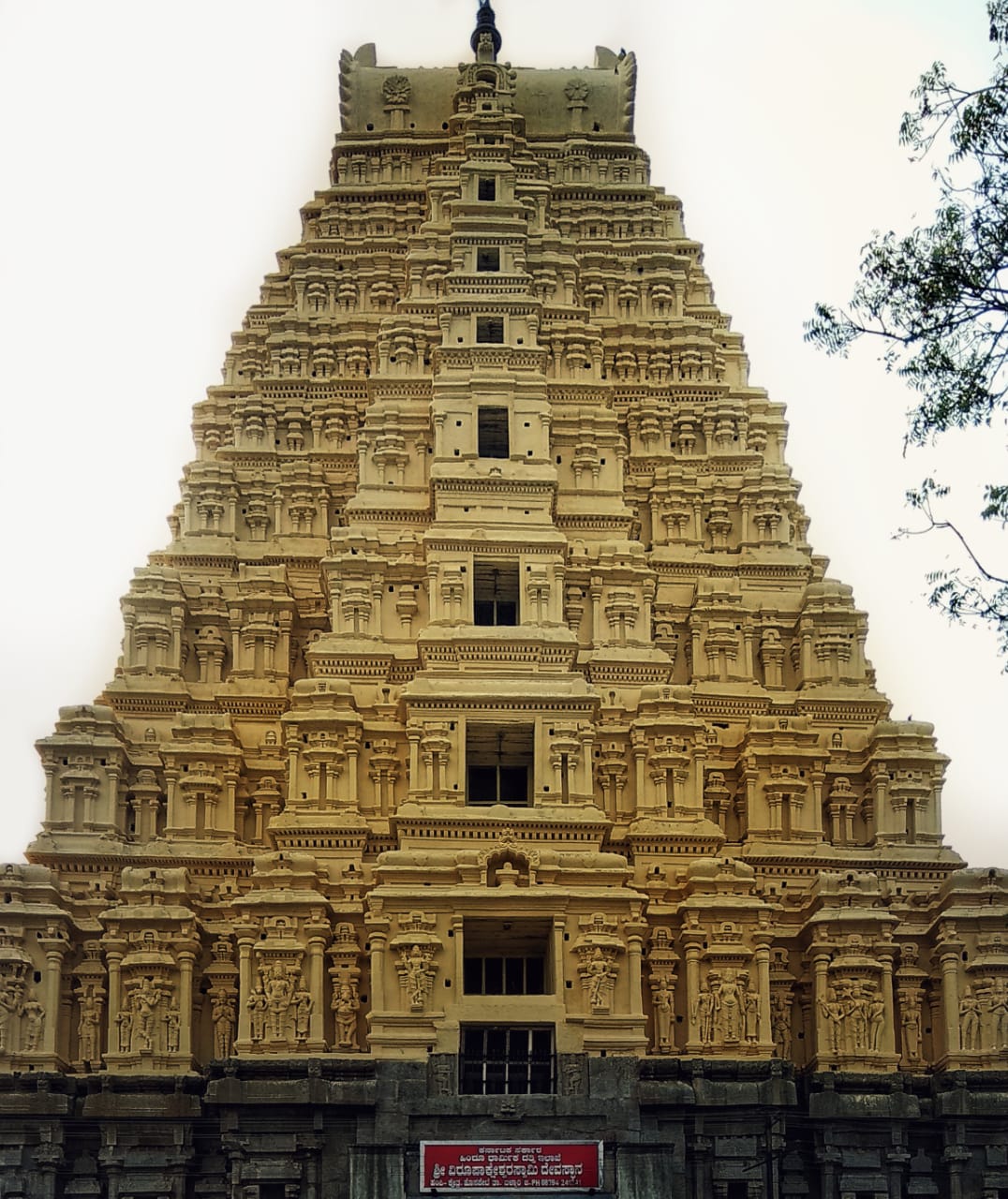 Here worship is performed ever since the temple was built and tradition has been continued till today. No wonder this Dravidian architecture has listed on the UNESCO heritage list.
Once you enter the temple, you can see Elephant Lakshmi who welcomes everyone with her blessings. Inside the temple, Rangamantapa (Hall) is built with Vijayanagar Art inscription on the roof making it a place for events such as marriage ceremonies.
Goddesses and Hindu symbols are craved beautifully on each and every pillar.
Vithala Temple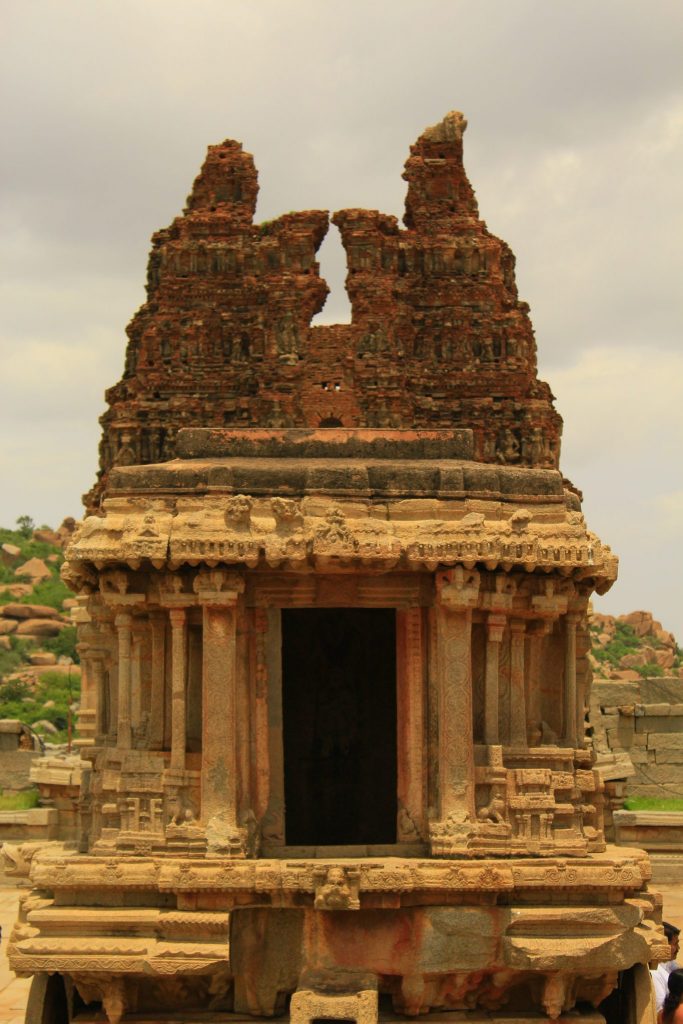 Also called as Vijaya Vithala temple, this temple is an extraordinary example for the Vijayanagar dynasty and their unlimited love towards architecture. Krishna or Vithoba is worshiped daily in this temple.
An enormous chariot sculpted in stone is standing in front of the Vithala temple.
The pillars of the temple produce musical tones. Can you believe it? Nicely designed musical notes on a stone pillar! How intelligent were those sculptors & architects! One big salute to them.
Hemakuta Hills
Standing in between Virupaksha temple & Krishna temple, Hemakuta hill has a collection of the world's greatest monuments. You can see the almost entire city of Hampi standing on the Hemakuta hills.
Vijayanagar empire has built stone walls on this hill. Today all we can see is the imprints of such great constructions.
According to mythology, during Shiva-Parvathi marriage there was a rain of gold on these hills. Since Hema in Sanskrit means gold, these hills got the name Hemakuta.
Kadalekaalu & Saasivekaalu Ganesha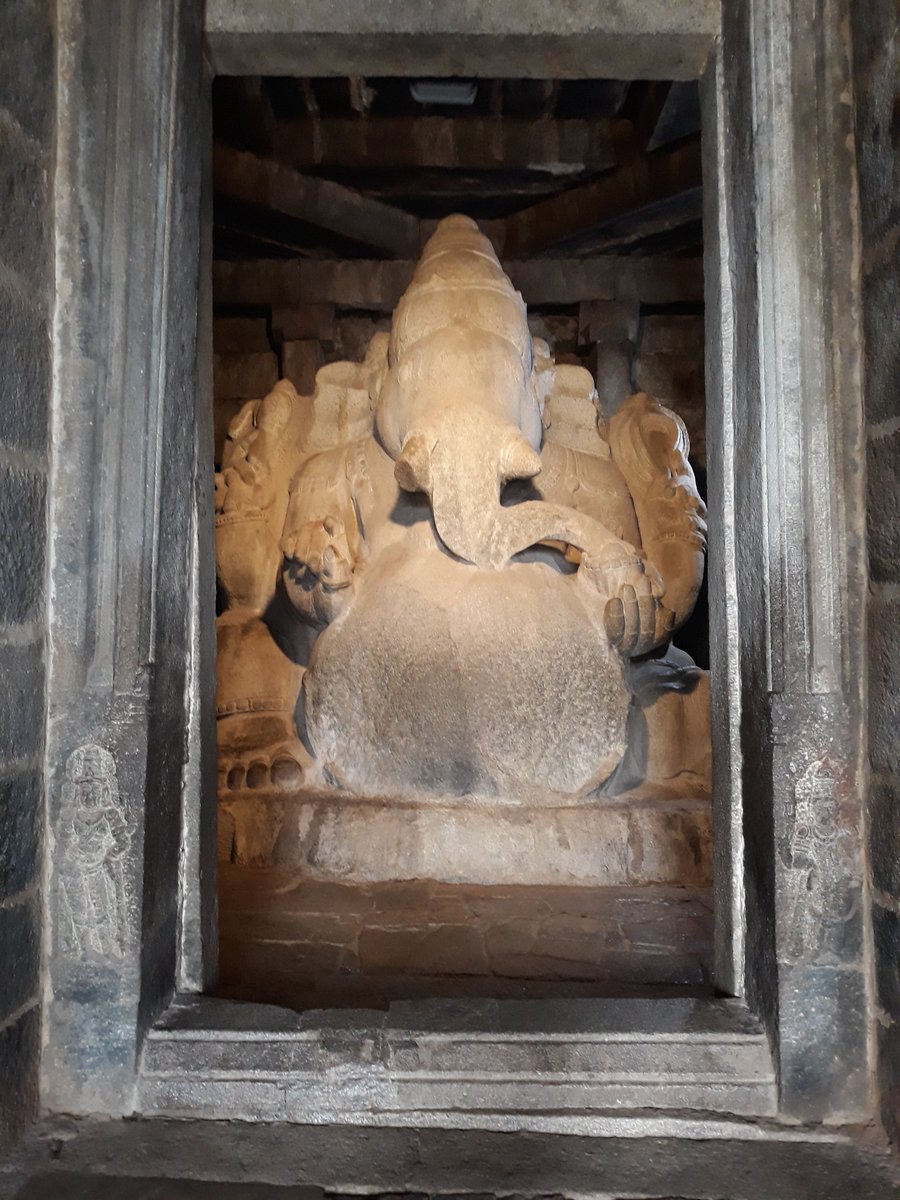 On top of the Hemakuta hills, there are statues/Monolithics of Kadalekaalu & Saasivekaalu Ganesha. As you can see in the image, a few parts of these statues are damaged.
There is a very slight difference in the structure of these Ganesha statues. Carved on a single rock they are the dazzling beauty of stone art.
Their naming is quite interesting! Kadalekaalu Ganesha is named based on his gram shaped belly (Kadalekaalu in Kannada) & Saasivekaalu Ganesha is named after his mustard shaped belly (Saasivekaalu in Kannada).
Shivalinga & Yoga Narasimha
                                                          PC: Sunil Gowda
Almost one km from Virupaksha temple, Krishna temple is on the other side of the Hemakuta hill.
Krishna temple exterior has two largest monolithic, one is Shiva Linga and another one is Yoga Narasimha statue.
Shiva linga also is known as Badavilinga temple is on the Southside of the Krishna temple. According to sources, a poor (Bada) women constructed this to show her devotion towards Shiva. This ShivaLinga is standing on the water that comes from the Tungabhadra river.
Yoga Narasimha Statue, the dire look of Vishnu in his Narasimhan Avatar (Half man, half lion) is craved in one single rock! This statue is 6.7 meters in height.
Pushkarani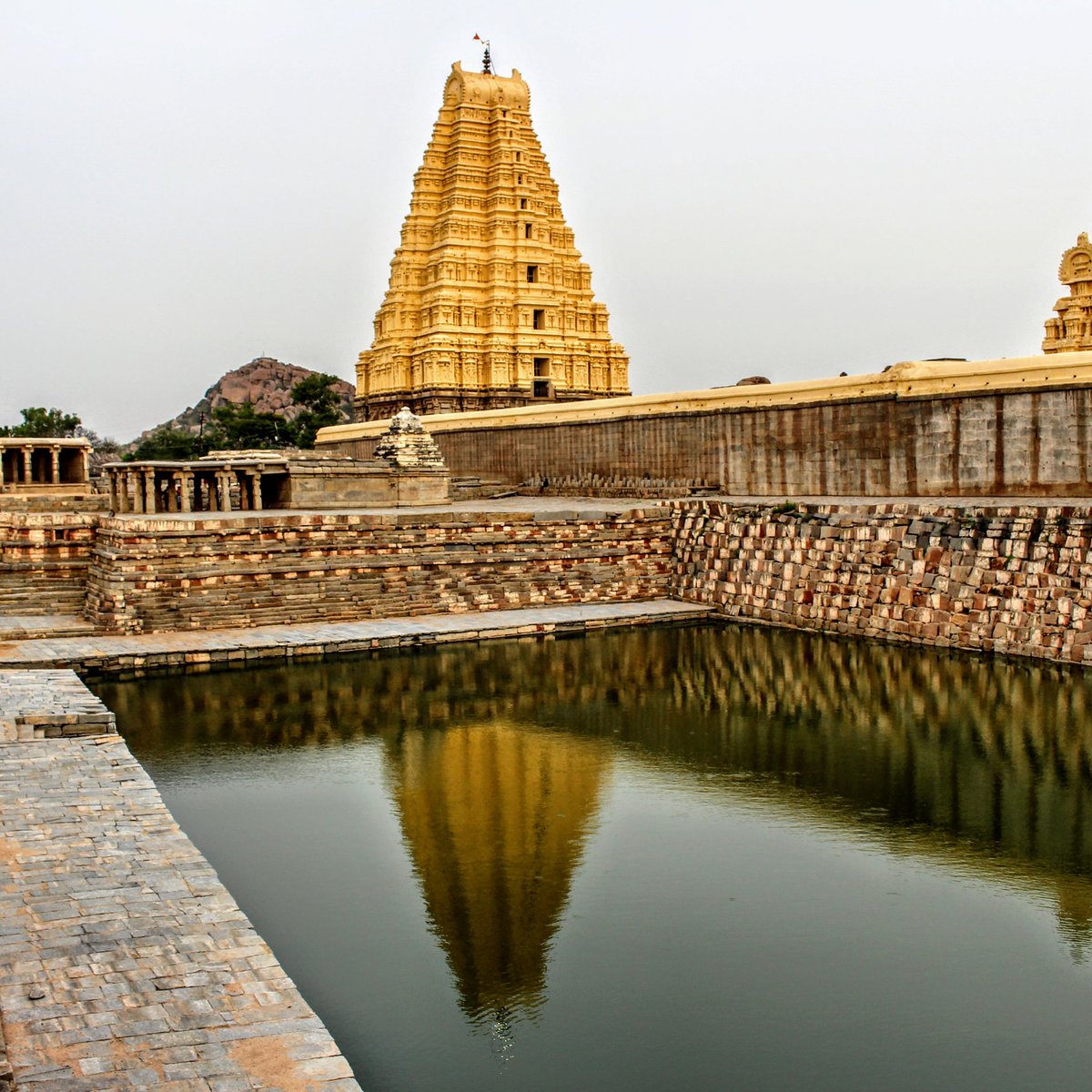 Pushkarini is the sacred water stored in front of a Hindu temple. It is said that if we drink this water or sprinkler it on our head, all the sins will be washed away.
Hampi also has Pushkarani in one of the market roads and there is water till today.
Bazaars (Markets)
In Hampi, every temple has a large outstretched market in front of it.
Abdul Razzaq, who visited from Persia, described Hampi as a city with seven layers of forts, with outer layers for agriculture, crafts, and residence, the inner third to seventh layers very crowded with shops and bazaar.
Today we can see Long ruined markets in front of Virupaksha temple, Krishna temple, Achyutaraya temple, Vithala temple and imagine the vast amount of trading that happened centuries ago.
Achyutaraya Temple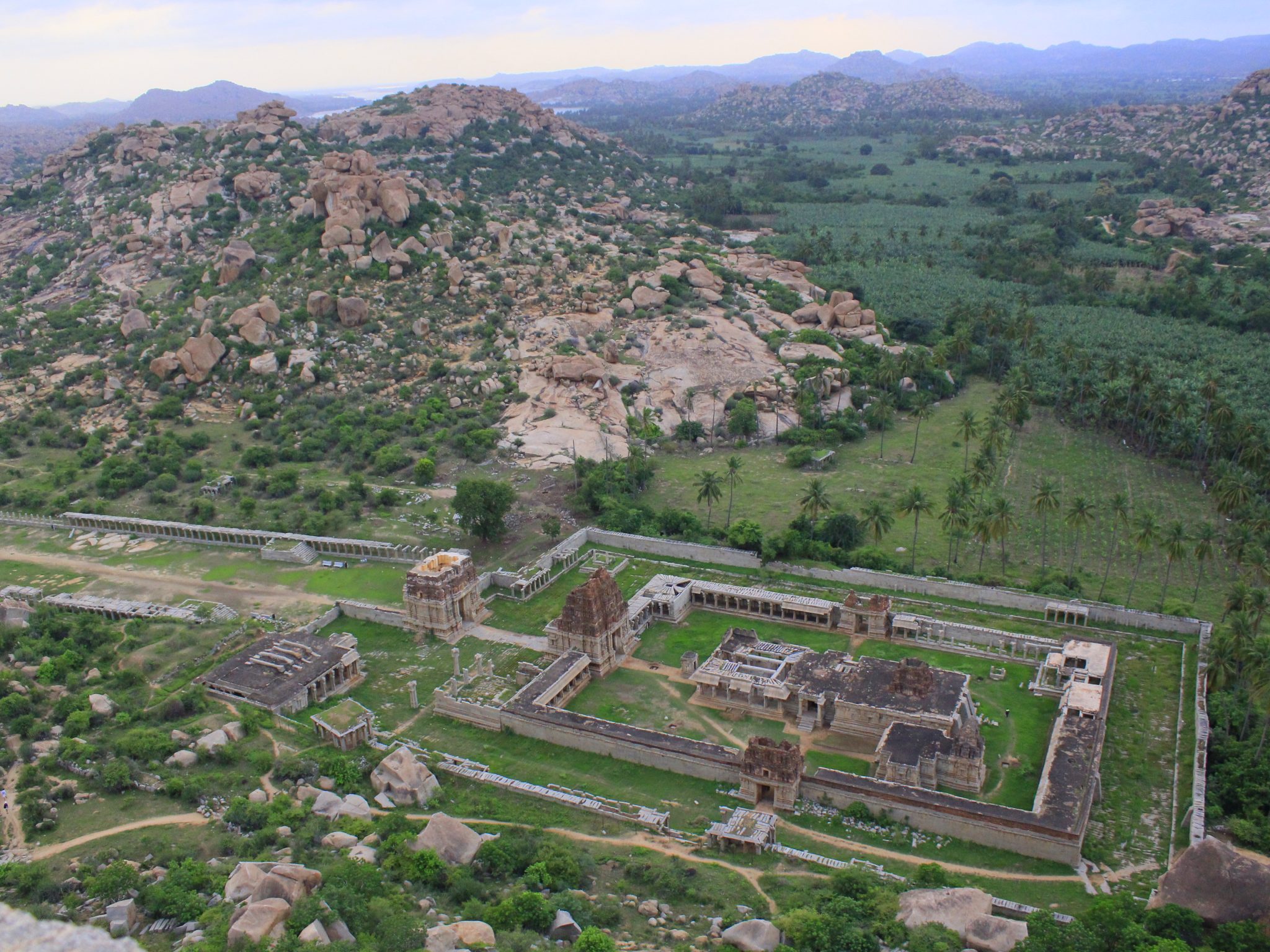 The main idol worshipped in Achyutaraya temple is Lord Tiruvengalanatha, another form of Shree Vishnu. Vijayanagar King Achyuta Raya built this temple.
Though it is majorly damaged by the Bahumanis, Achyutaraya temple still holds the magnificence of Vijayanagara architecture.
There is a big market in front of this temple. Temple gateway showcases the emblem of the Vijayanagar Empire, Varaha (one of the form Vishnu), a sword, moon & the son.
That's not all…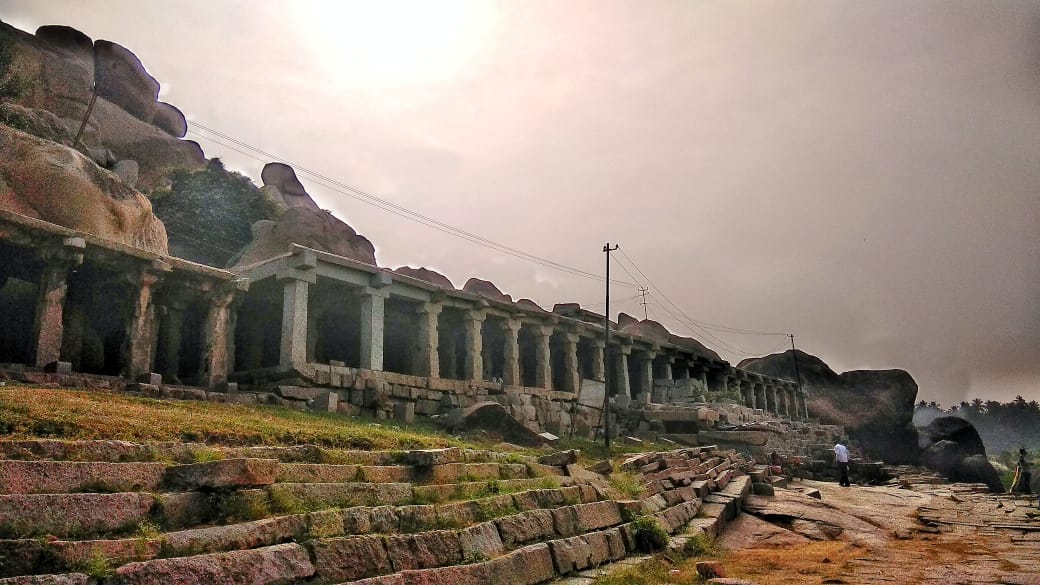 Yes, that's not it! There is so much more to explore in Hampi. If you go and wander yourself you might discover some new descriptions, small temples within temples, arts on stones and many other things.
There are many pieces of research on this forgotten empire and many have written books on this architectural beauty.
How to reach Hampi
Located in the Andhra border, Hampi can be easily reached from Bengaluru (Hampi Express: connecting Bengaluru & Hubli), Hyderabad (Vasco Da Gama Express: connecting Goa & Vijayawada).
Other than trains, buses are available from every popular city till Hospet.
Closest Railway station is Hospet which is 12.7km from Hampi. There are buses, boats, auto-rickshaws available at a regular frequency and can be reached without much effort.
Though the Best Time to visit Hampi is winter, you can visit anytime since it has dry weather throughout the year. Just avoid the peak summer period. Otherwise, you won't be exploring all of it.
Things to remember;
Keep enough cash. Since there are no ATMs in Hampi, make sure you withdraw cash in Hospet.
Carry toiletries. Don't expect the guest houses and hotels to serve you these things. There also general stores available around Hampi who sell these at a reasonable price.
There are cloakrooms at Hospet where you can store your luggage for a nominal charge. One is at the Railway station & another is at KSRTC bus stand. For the railway station cloakroom, you need to produce onward journey tickets and luggage lock.
There is NO entry fee for any of the temple or attraction.
Most of the temple locations allow photography but do respect the boards "Photography is not allowed".
You can get travel guide services by visiting the tourist info office located near Virupaksha temple.
Be prepared to walk and carry a water bottle.
Few words before I wind up…
Many such forgotten and neglected places exist in India. We don't realize it until they list in Newyork Times or recognized by some foreign sources. They truly are a great blend of history and architecture which should be preserved and cherished forever.
Sadly we are not doing our best. Recently some goons have vandalized Hampi and it is disheartening to see how much we are valuing our own country and historic places.
Let's respect what we have and carry them as it is to the next generation.
Wherever you go, do remember that it is your place. Follow rules, say yes to cleanliness, respect history, maintain dignity and make India a great tourist place.
Hope you guys had fun exploring Hampi. I'm thankful to my Twitter family who helped me with all the pictures used in this post. 
Liked the article? Pin it 🙂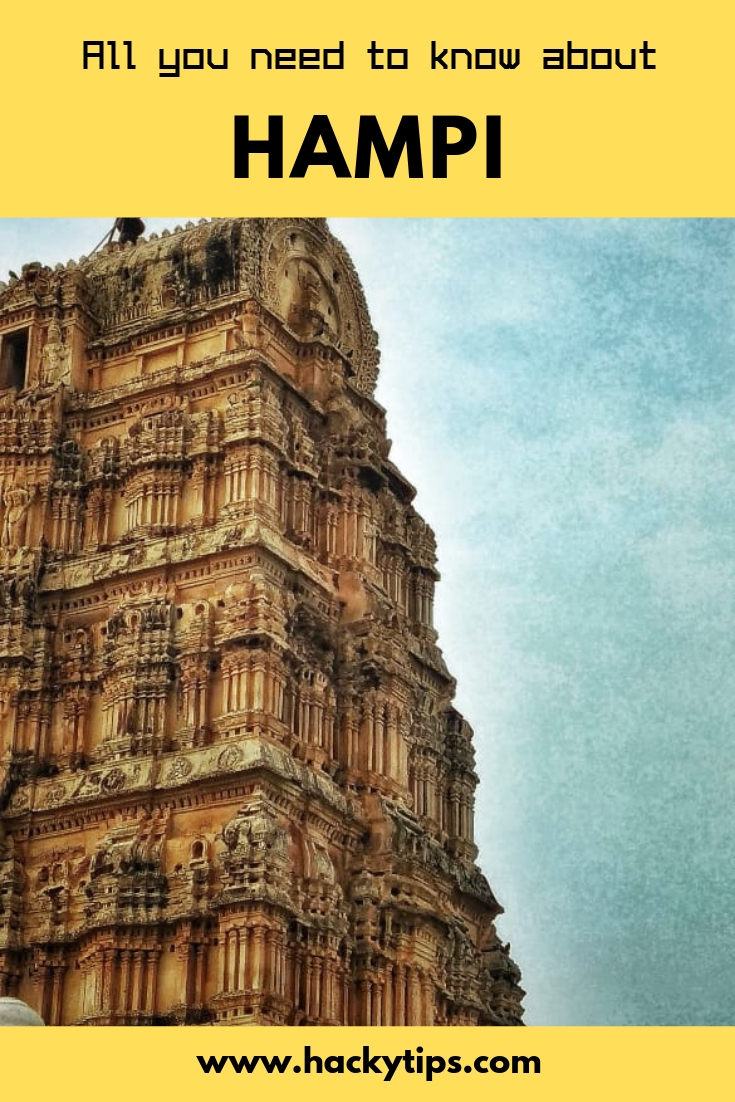 This post is a part of the #XploreBharat Blog Train hosted by
Aditi, Esha, Maheshwaran, PraGun, Preeti, Saba, Sanjota, Sudip, Suhasini, and Supriya and in association with Fabzania and BlogBoosterIndia.