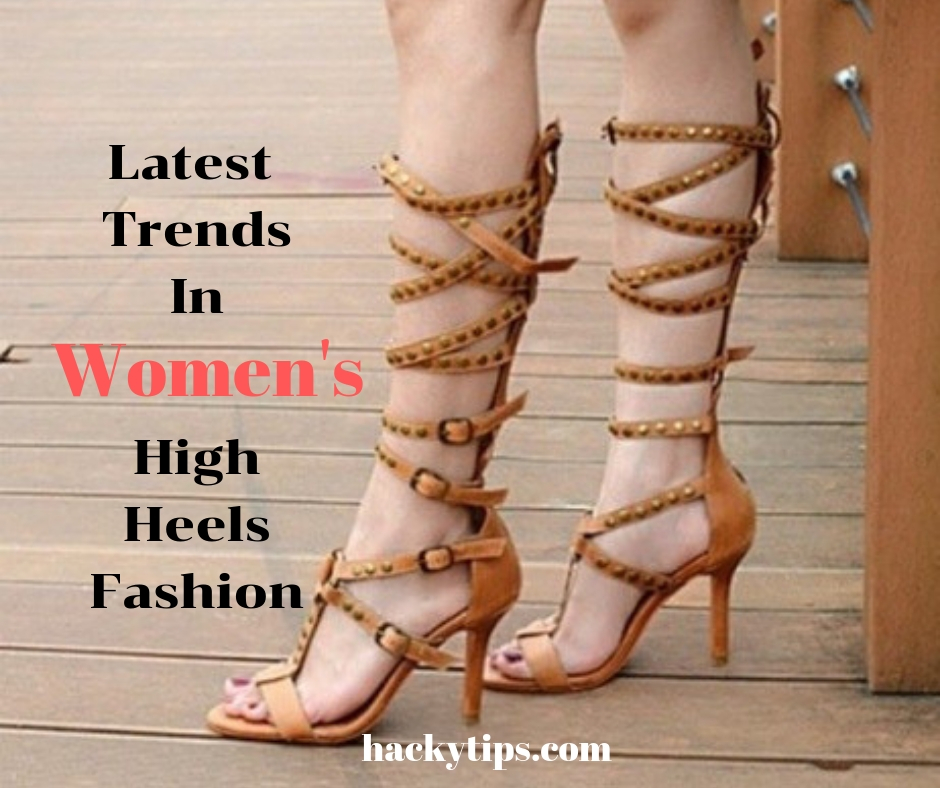 A lot of discussions, debates, researches, studies have been done on High Heels. There are 3 types of women; Women who wear High Heels & Walk with their head held high, Women who want to wear High Heels but not used to, Women who don't like High Heels at all!
I feel it is very rare to find the 3rd type of women because every other woman I have met either wears High Heels or want to wear them one day!
I belong to the second type! I'm comfortable with Wedges but scared of pointed Heels. However, the love for Pointed Heels will never fade away. I have got 4 pairs of them, even though I hardly wear them. Also, Black Chunky Heels are my favorite.
Which type do you belong to? Answer using Comment section!
There are a lot of trends in Women's High Heels in recent years. You can mix and match High Heels with your different types of clothing and rock the floor.
Before going to see the trends, let's understand the basic terms of Women's High Heels. I guess you need a Book & Pen to note down everything 😀 Yes! There are lot many terms to understand.
Type of Heels:
Basically, there are two types; With Platform & No Platform.
With Platform are the ones where there is a support to the front feet. Thus they reduce the relative height, perfectly relieving the pressure of heels, and showcase the elegance of lady without tiredness.
No Platform Heels has a flat front section. If you wear them for a longer time your feet start hurting because of the pressure on the heels. There are comfort cushions available which you can keep below your toes.
Heel Weight
Heel weight is an important aspect to consider before shopping High Heels. Some Women prefer Lightweight heels and some go for heavy weighted Heels. In both types, there are different styles available.
Stiletto Heel/ Pencil Heel
Cone Heel
Wedge Heel
Spool Heel
Chunky Heel
Heel Height
You can select the Heel height based on your personality. If you are tall you can opt for Heels below 6cm. Heels with less than 6cm height are called as Kitten Heels. Designed especially for tall women.
Mid height Heels starts from 6cm. If you have a good personality then perfect Hight is 8cm. Not too small or too high!
High Heels are called HIGH when they are about 12cm height. Then comes Super High heels with a height of 14cm. To wear High Heels & Super High Heels you definitely need more practice.
Wait, that's not it. There are Heels with a height more than 14 cm (5.51 inches!!!!). They are called Killer Heels.
Let's see the new styles in Women's High Heels Fashion.
1)  Chunky Heels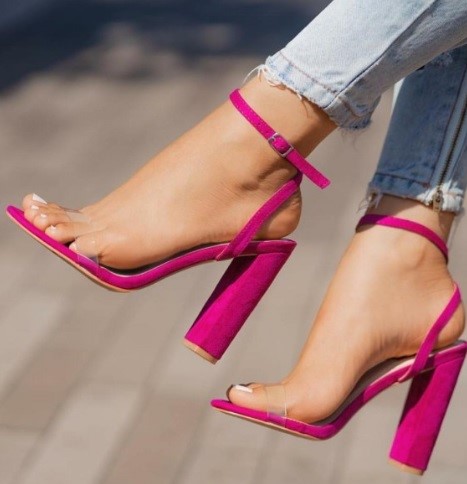 These High Heels has long square based Heels. People who are not comfortable with pointed or Pencil Heels can choose Chunky High Heels for more comfort and confidence.
A variety of Chunky Heels Sandals are available. Ankle strap, Boots, Peep Toe, Lace Shoes, Lace Up Heels, Leopard Prints, Platform sandals, and many other varieties.
2) Ankle Strap
These High Heels come with a strap near the ankle and provide an elegant look. They are generally made of a single color such as Pink, Blue, White etc.
These days ankle straps with jewels, pearls, and floral designs are trending in the fashion industry.
3) Pointy toe & Peep Toe
As the name says, Pointy Toe Heels are the ones which cover your toes completely. Because of their pointed look, they are called as Pointy Toes Heels.
Peep Toe Heels are just opposite to Pointy Toe Heels. Here your Toes are open and can be seen. Great way to exhibit your beautiful nails & nail polish 😉
4) Slingback Shoes
The name says 'Shoes' but they are one of the types of Heels. With a variety of Heel heights, Slingback shoes are the latest trends in the market.
These shoes have a belt/strap which covers your entire feet. They provide ultra comfort by letting you adjust the belt.
5) Pencil/Stilettos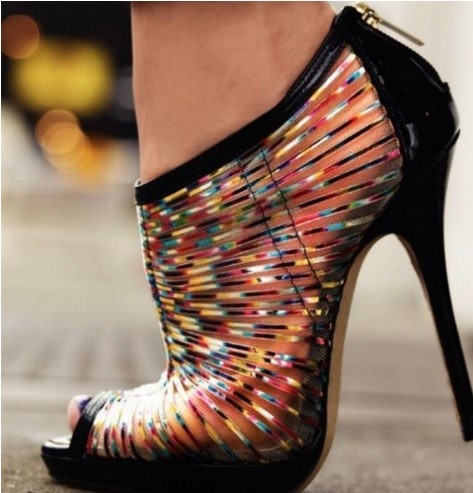 These are the long, pencil-shaped Heels with a height of 1 to 10 cm. These days 14cm (Killer Heels) Heels height is also available in Stilettos.
Over time Stilettos have seen many improvements. They are good for parties, dates, events and any other glamorous programs.
6) Pumps
People often get confused with Pumps & Stilettos. The basic Difference between Pump & Stilettos is the heels height.
Pumps are the shoes with low cut front, just a few inches of Heels height. Also, pumps are worn by both men & Women! They are good for casual wear, office wear and look great on Pencil skirts, Formals etc.
7) Tassels
As you already know, tassels are loosely hanging threads normally used for decoration purposes. Tussels captured the Women's Fashion designers eye, as a result, today we can see Tussles on every other sandal type.
Tussels look great on Stilettos, White Chunky Heels, Over the Knee Boots. There are a vast collection of Tussles with different colors, shapes, floral prints, color combinations etc.
8) Lace Up
These are my favorite! Especially Heels that have a lace up to knee length.
Lace-up sandals have a long threaded lace which can be tied or already tied. Bright colored Lace up sandals will never fail to give you a stylish look.
9) Gladiator
Don't get confused these with the Lace-up sandals. They are totally different. Unlike Lace-up sandals, Gladiators are not made up of thin thread or lace.
In Gladiator Heels a leather or a rubber or a Plastic is used to make multiple stripes which are interlinked. Some are ankle length gladiators and some are Knee length Gladiators.
Gladiators with medium Heels Heights are good to wear especially during winters.
10) Wedges
If you are tipping with Chunky heels or Pencil Heels then there is a better solution for you. WEDGES!
In Wedges, there is no separation from the Heels to the sole. Sole has a lesser height than the Heels. They are comfortable and will not cause tiredness.
Since wedges are mostly preferred by the Brides there are many Bridal designs available in this section.
11) T-Strap
The t-strap style is similar to Ankle-strap Sandals except there is a T shaped structure from Ankles to soles. These provide more comfort than the ankle strap.
Also, they are suitable for all kind of occasions.
12)  Loafers
There are a wide variety of women's loafers, including black loafers, tassel loafers, brown loafers, suede loafers, and heeled loafers!
Loafers are those Sandals which allows you to easily slip on. Basically, they are Sandals with no straps, Laces, belts or any other extra burden to put them on.
13)  Mary Jane
Mary Jane shoes (Also known as bar shoes & Doll shoes) is an American term for a closed, low-cut shoe with one or more straps across the instep.
They are low Heels and generally with pointy Toes.
14)  Mule
Mules are basic Sandals with little modification. They come with no back that means there is no covering on the heel side. Hence you can call them as Backless Loafers. They look like Shoes from the front angle.
Mule shoes come in a variety of styles and are perfect for women who love to walk high in their Heels.
15) Block Heels
Similar to chunky Heels but they are kind of restricted to a very simple design.
Block heels come with a comfortable square shaped heel and also a strap. Usually, a single strap gives ultra comfort and goes elegantly with every type of women clothing.
Suitable for long days and won't let your heels feel the pain. They have a very long history. Over the years Block heels have been modified and today we can see a lot of beautiful styles in Block heels.